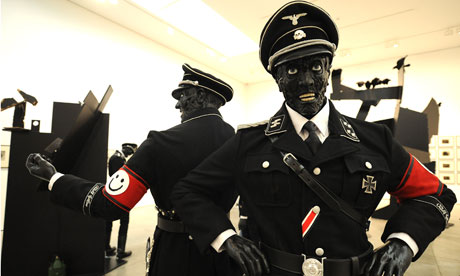 ---
This article titled "Jake or Dinos Chapman – review" was written by Adrian Searle, for The Guardian on Thursday 14th July 2011 15.05 UTC
Jake and Dinos Chapman's new show in both White Cube's London spaces is a world divided. Their art is always riven by something. If there's a gimmick it is that the brothers have been making work independently and in secret from one another – one show is Jake's, the other is by Dinos. Exactly how true this is we shall never know: the Chapmans are wind-up artists, in the best sense, and like many siblings the people they wind up the most are one other.
What unites them is that it is all in the worst possible taste. Things start decorously enough in the Mason's Yard gallery, in the West End, with lots of semi-abstract sculptures on plinths, small confections of corrugated cardboard, empty loo rolls and packaging. Some look like dinosaurs. There are phallic extrusions and portentous cavities, heads and houses and the sorts of things tutors once drooled over on the Saint Martins sculpture course, when there was one.
These small, cobbled-together objects are also knockabout takes on modernist sculpture – think Picasso bricolages, think 1960s heavy-metal abstracts in steel by the likes of Anthony Caro or William Tucker, but writ small and frangible and painted with the slapdash enthusiasm of a talented four-year-old. They're articulate and have a great lightness of touch.
More of these sculptures are in the big basement space, some beefed-up to the scale and material weight of plaza-dominating behemoths, big, black, and weighing tonnes.
The gag here is that the works have an audience of life-sized, ghoulish Nazis, immaculate in Waffen SS uniforms, with their death's head emblems and their daggers, but with smiley faces replacing their arm-band swastikas. They stand about, savouring the art like so many sophisticated high-ranking officers at the infamous Degenerate Art exhibition.
Hate the politics, love the uniform. The mannequin spectators are black-fleshed ghouls with worryingly flayed, pop-eyed heads. They peer and grimace at the art. They casually shag one another, they get spattered with the incontinent droppings from the birds roosting atop the sculptures – taking Maurizio Cattelan's flocks of pigeons at the current Venice Biennale one step further.
On one sculpture, a robin attempts congress with a woodpecker. Both birds are stuffed – there are some things nature abhors even more than taxidermy. The Nazis were tough on miscegeny too.
What would have happened to the history of modern art if the Nazis had backed the kind of art they affected to despise – radical modernism, Bauhaus rationalism, expressionism, abstraction and other freethinking footlings? Maybe these sleekly dressed thugs in fascist fetish-gear aren't so different from the rich collectors who buy from commercial galleries nowadays.
As Jeremy Deller once said, art fairs are great places to meet international arms dealers; and knocks at Picasso's studio door during the Occupation often came from admiring Wehrmacht officers, gagging for an audience with the great artist.
More weirdly, there's a genuine Breughel on the wall (by which Breughel I'm not sure). It signals a history of perversity in art, a perennial fascination with barbarity and horror that the Chapmans are happy to perpetuate.
Perversity and blasphemy continue at White Cube in Hoxton Square. A group of mannequin schoolgirls with animal faces, duck-bills and elephant trunks, look at the paintings.
The paintings themselves are brown and brushy, and have some sort of basis in children's colouring books. Pink bunnies, blobs, half-visible couplings, and other adult goings-on swim in the paint.
More worrying are the religious kitsch paintings and Catholic-tat plaster sculptures, which decorate an installation that's like some sort of dismal, Father Ted vestry. Baby Jesus has octopus tentacles squirming from his mouth, there are horror-movie Madonnas, saints with rotting faces, and reworked, junk-shop religious paintings, inscribed LOL (Laugh Out Loud) and LMFAO (I'll leave that one for readers to work out).
I've seen more shocking things in Spanish seminary collections. The boys aren't bothered by blasphemy: "We're Greek Orthodox," Dinos Chapman shrugged.
So who did what? On my visits Jake was among the Nazis at White Cube's Mason's Yard gallery, Dinos in Hoxton with the kiddies and the religious art, looking upset that someone had just egg-bombed his car. Maybe it was Jake, in a fit of artistic jealousy and brotherly pique.
guardian.co.uk © Guardian News & Media Limited 2010
Published via the Guardian News Feed plugin for WordPress.
Categories
Tags