Beck's Green Box Project – Overview from Beck's Green Box Project on Vimeo.
The Green Box Project is the world's biggest cultural commissioning programme commences in seven international cities: London, Manchester, New York, Miami, Los Angeles, Rome and Milan
A soaring, 200-foot high digital sculpture was unveiled on top of the flame of the Statue of Liberty in New York City on Independence day 4th July – to mark the launch of the Beck's Green Box Project, the world's biggest cultural commissioning programme of its kind.
The sculpture, created by celebrated Belgian artist Arne Quinze, marked the launch of the Beck's Green Box Project.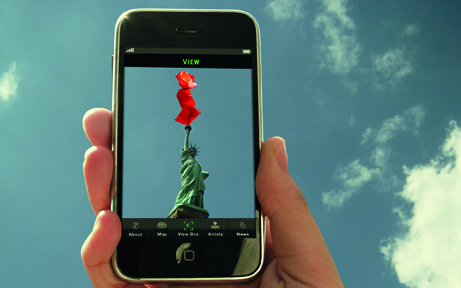 The world's first global networked Augmented Reality Gallery and an international commissioning project of unprecedented scale, which seeks to enable hundreds of new cultural commissions over three years. The ultimate champions of independent thought, Beck's will once again push the boundaries of innovation in art with the Green Box Project.
Thirty internationally renowned creatives from the worlds of art, design, fashion and music have been commissioned to lead the project. Artists include: Nick Knight, Sam Spiegel, Arne Quinze, Kate MccGwire, Shaniqwa Jarvis, Austra, Kenneth Cappello, Hussein Chalayan, Bompass & Parr, Lucky Me, Stephen Burks, Meryl Smith, Reed + Rader, Sage Vaughn, Kathy Grayson, Petra Storrs, Steve Harrington, Andrew Kuo, Warpaint and Hannah Barry.
Each of these outstanding collaborators was commissioned by Beck's for the Green Box Project as they represent the true spirit of independent thinking.
Beck's hopes that each Green Box will open the minds of its viewers to their own independent thought – and inspire them to take part in the global project.
With the initial works marking the start of something spectacular, Beck's seeks to commission hundreds of green boxes, conceived by members of the public, to be installed throughout 2012. For more information and to submit your own Green Box ideas, visit www.becks.com
Nick Knight commented: "This feels like a new art form; the juxtaposition between the world we see and the world we're going to be allowed to see through the technology. To me, art is the people's voice, it's about people expressing themselves and their position in the world and with this project everybody's voices can be heard."
The Green Box Project is co-curated, commissioned and mentored by Nick Knight and Sam Spiegel. Commissioned work will only ever appear in Augmented Reality; both online and around thirty Green Boxes, that measure twometres cubed, which will appear in specific locations across seven international cities: London, Manchester, New York, Miami, Los Angeles, Rome and Milan.
Freeing art from physical constraints and liberating it within the unlimited boundaries of a digital green cube, the Beck's Green Box Project heralds a new platform for independent thought and unlimited creativity. Using a custom built Augmented Reality app, available for iPhone, iPad and Android devices, members of the public will be able to look at any of the green boxes through their smart phone to reveal the unique content contained within it. The Augmented Reality uses a series of reference points around the box as well as GPS to display the content of the box digitally.
To experience the Beck's Green Box Project you must initially download the Beck's Key app for iPhone, iPod Touch or iPad from the Apple iTunes App Store. The app is free and available for download NOW. An Android version is being developed. Once you have the app on your phone search for the closest Green Box to yourself either through the app or by visiting Beck's website – becks.com – or the Beck's Facebook profile – facebook.com/becksvier. By visiting any of the Green Boxes you will be able to see the commissions come to life . Everyone can submit their ideas for what should be placed within the Green Boxes in 2012 by visiting: becks.com
Art Green Boxes
The 30 commissions that form the first phase of the Beck's Green Box Project are broken down into four key creative disciplines – art, design, fashion and music. Representing art globally are UK food scientists Bompas & Parr, London-based, Royal College of Art graduate Kate MccGwire will be applying her love of feathers to create a truly unique digital sculpture while US artist and illustrator Sage Vaughn will extend his renowned 'Wildlife' series to digitally transform urban and industrial environments into dynamic and fresh habitats using his Beck's Green Box, one of thirty across the five key cities.
Design Green Boxes
Making up the ranks in the design discipline will be UK artist, set designer and costume visionary Petra Storrs who will unveil the truly awe inspiring Sky Tetris game where building blocks of all different architectural types drop down from the top of the screen, slotting in to the existing real world skyline. One of the most recognised American industrial designers of his generation Stephen Burks will take the city landscape in which his Box stands and bring it life in a 'hybrid pile up'. Skyscrapers are replaced by material objects, totems, crowns and elephants and music will provide a rhythm to which the city moves and dances, shifting in scale and fully coming to life. The traditional landscape becomes an all encompassing celebration.
Fashion Green Boxes
Shaniqwa Jarvis is an original insider of the New York downtown scene. Now based between London and Los Angeles she continues to represent the coolest in subculture; she has photographed everyone from Mos Def and Jason Dill to Ciara and Johnny Rotten and her portfolio holds within it all the genuine underground heroes that have made it big. Her collaboration evolves her still photography project, "Charming Man" and takes it to an entirely new level. Her portraits of creative men from all over the world, shot in the surroundings of their own home will become animated, subtly shifting and changing as specially selected music plays in the background. British/Turkish Cypriot fashion designer Hussein Chalayan is well loved and respected for constantly pushing boundaries with new technologies within the world of fashion. His Digital Fashion concept surrounds his team's vision of shooting a model on film behind a blue screen wearing one of Hussein Chalayan's most iconic looks from the AW98 collection 'Panoramic', spinning slowly on a pedestal, so that the figure looks like it's in the midst of the cityscape.
Music Green Boxes
The final culture strand in the Beck's Green Box Project is music where musicians and bands from a diverse spectrum of genres have been commissioned. NYC all-rounder Andrew Kuo will make a recording of a live gig or stream a real-time show and add elements of his "ideal show" on top of what is really happening, meaning that you will be able to immerse yourself into an experience that you are not actually physically a part of. Glaswegian record label and art collective Lucky Me will be showcasing some of the most innovative new music of the moment with their Lucky Me Eye Green Box concept. A continual stream of music and visuals will explode from the Green Box featuring artists such as Hudson Mohawke, Machinedrum, Lunice and The Blessings. Austra is the operatic house movement led by Katie Stelmanis, with Maya Postepski and Dorian Wolf. The combination of beguilingly stripped down tunes and opera-trained vocals have seen Austra touted as 2011's dark horse smash hit. Austra will make familiar surroundings transform into something completely unfamiliar by taking viewers underwater. As the viewer looks at the Box the city scene becomes immersed in water. When fully submerged sea life such as fish and jellyfish emerge, swimming amongst the buildings and popping out from unexpected places.

Keyholders
Both Green Box Keyholders Nick Knight and Sam Spiegel will also have commissions of their own. Nick Knight commented: "This feels like a new art form; the juxtaposition between the world we see and the world we're going to be allowed to see through the technology. To me, art is the people's voice, it's about people expressing themselves and their position in the world and with this project everybody's voices can be heard. I think it's a really good thing and I'm very much behind a platform which allows people this freedom of expression."
Sam Speigel said: "The most important thing for me as an artist is independence; the freedom to create exactly what I want. And it's not easy to find funding for this; especially not for more intellectual projects so this is a very exciting opportunity. The Green Box Project will allow artists the freedom to explore a relatively new medium."
Peter Van Overstraeten, Global Marketing Manager, Beck's said: "Beck's Green Boxes once again demonstrates Beck's commitment to innovation in art. We are thrilled to be creating the world's first augmented reality art gallery and cannot wait to see each of the artist's commissions come to life without the usual constraints of conventional art. Beck's is also delighted to invite creators across the world to become champions of independent thought and submit their creative projects to our Keyholders for consideration. We are committed to making the dreams of creatives worldwide come true."
Categories
Tags