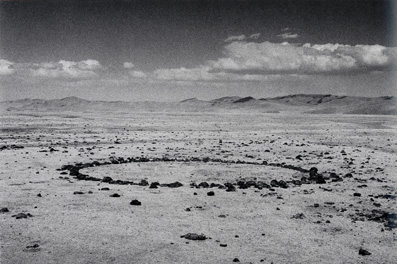 This is the fourth exhibition that Richard Long has had with Haunch of Venison . Long is widely recognised as one of the most important artists to have emerged since the 1960s and is a pioneer of Land and Conceptual art.
Walking in the landscape is the basis of Long's practice but over the past 40 years he has extended his concerns to encompass photographic and text-based work, sculptures made in stone and wood, small-scale works using handprints and fingerprints on paper and driftwood, and monumental wall drawings made using mud and clay. Richard Long's work is characterized by simplicity, precision and economy, yet explores conceptually complex themes and ideas. His works articulate ideas about time and space, relativity, natural forces and human experience.
'Human Nature' is Richard Long's first exhibition in London since his acclaimed retrospective at Tate Britain in 2009. The exhibition features new works made in Spain, Switzerland, China and South Africa, as well as in Long's home landscape of Dartmoor.
Categories
Tags