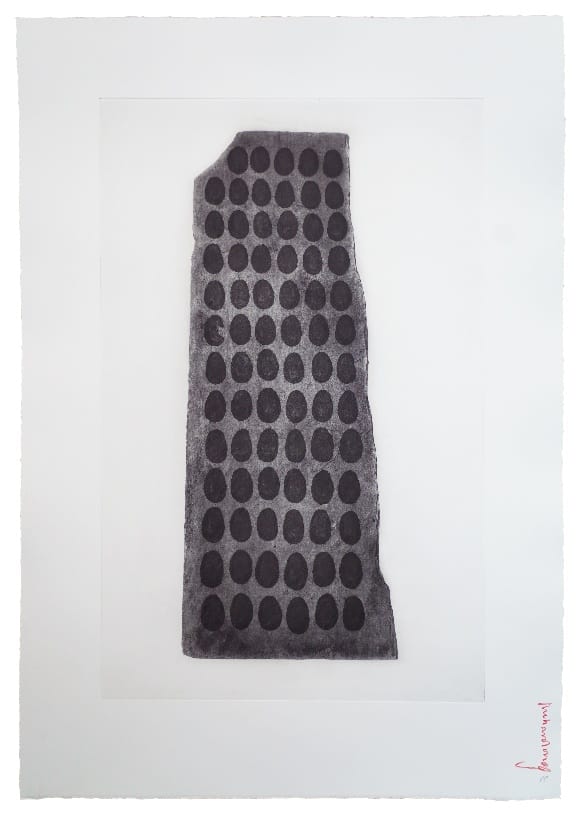 Richard Long and Migrate Art are pleased to announce WAR PAINT ON SLATE, a new limited edition photopolymer etching to raise funds for emergency earthquake relief efforts in Syria and Lebanon. Proceeds from the sale of these prints will be donated to the White Helmets in Syria, and The Great Oven in Lebanon.
I first heard about Migrate Art from Simon Butler. He explained he had collected black ash from the
burnt crop fields of the Iraq war in Kurdistan. He had made it into black paint for artists to make
works to raise money for the refugees from that war. A great idea. That was my first work. When he
proposed a second work – a print using the same black – the refugee crisis had also become the
huge earthquake crisis from the same region. Humanitarian aid is much needed in our cruel and
fateful world. I often make drawings with my fingerprints : my human touch. Fingerprints are both
universal and individually unique.

Richard Long
Having first collaborated in 2020 to raise money for refugees in the Middle East, Richard Long and Migrate Art are working together to support the thousands of people impacted by the deadly earthquakes that impacted Turkey, Syria and Lebanon on February 6th. It is estimated that over 50,000 people have been killed, and tens of thousands more have been displaced.
A copy of the print will be available to see in person at Cristea Roberts Gallery in London from
Thursday, March 23rd- Saturday, March 25th. WAR PAINT ON SLATE will hang in the gallery's viewing
room and will be on show alongside prints by the artist from Cristea Roberts Gallery's archive. It
will also be on show at the London Original Print Fair from Thursday, March 30th- Sunday, April 2nd.
Syria and Lebanon have been struggling for many years due to war and economic crises, and it feels like the last place on earth that should be struck with such a devestating natural disaster. The impact of this earthquake will be felt for many years to come. I am thankful that we were able to adapt our work with Richard Long to raise funds for these two very important causes.'

Simon Butler, Migrate Art Founder
The print is a limited edition of 50, and will be available for £750 (plus VAT for UK buyers) from Thursday 23rd March, via migrateart.com/products/richard-long-war-paint-on-slate, and also available
24 hours early to Migrate Art's mailing list on Wednesday 22nd March.
About
Sir Richard Long is an English sculptor and one of the best-known British land artists. He is the only artist to have been short-listed four times for the Turner Prize which he won in 1989 for White Water Line. He represented Britain in the 1976 Venice Biennale with his ground-breaking installation A Line of 692 Stones. He lives and works in Bristol, the city in which he was born. richardlong.org
Migrate Art unites the artworld to help displaced people rebuild their lives, piece by piece. To date, Migrate Art has raised over £1.5 million, funded humanitarian projects across the UK, Europe and the Middle East, and worked with many of the world's leading artists including Sean Scully, Rachel Whiteread, Mona Hatoum and Antony Gormley. Migrate Art Editions have released editions with artists including Anish Kapoor, Loie Hollowell, Mona Hatoum and Shepard Fairey. migrateart.com

The White Helmets, officially known as Syria Civil Defence, is a volunteer organisation that operates in parts of opposition-controlled Syria and in Turkey. Formed in 2014 during the Syrian Civil War, the majority of the volunteers' activity in Syria consists of medical evacuation, urban search and rescue in response to bombing, evacuation of civilians from danger areas, and essential service delivery. They have applied their search and rescue skills to find civilians following the earthquakes in Turkey and Syria. SCD's stated mission is "to save the greatest number of lives in the shortest possible time and to minimise further injury to people and damage to property."
whitehelmets.org
The Great Oven has been building giant community ovens and sending them to places of need for over four years – to refugee camps, war-torn communities, and inner cities in crisis. Born in Tripoli, Northern Lebanon and operational in the refugee camps of the Bekaa Valley, their work is also responsive to the earthquakes in Syria and Turkey. The Great Oven provides sustainable food relief and creative community building by leveraging the power of cooking, art and music. They do not follow the path of traditional food relief. They are not in the business of temporary handouts. Their ovens are designed to feed many people, by empowering communities to feed themselves. greatoven.org
Categories
Tags