Lots and Lots of amazingly achingly impossible to believe cool stuff from Dazed and some of their millions of creative friends far to much for us to detail in any way apart from these three events: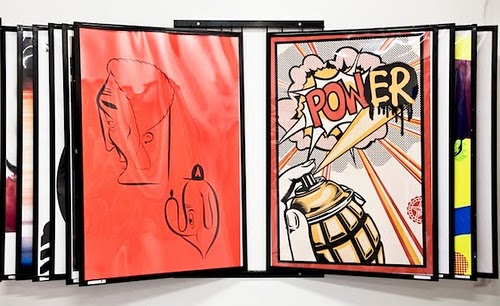 Kathy Grayson / Postermat
Saturday 9th April
Grayson's much talked-about Postermat exhibition comes to London from New York. With posters from artists including Yoko Ono, Barry McGee, Bruce LaBruce, Harmony Korine, Aurel Schmidt and Assume Vivid Astro Focus.
For those of you not familiar with the project it was initially set up in the 104 Green Street space in New York and featured limited edition posters from artists both infamous and new to the scene – all curated by The Hole, Kathy Grayson's art outfit with Meghan Coleman.
The two former directors at the legendary and now-closed Deitch Projects got the idea for POSTERMAT from A-Ron Bondaroff, who frequented Postermat (a shop on E 8th St in the Village where kids in the 80s/90s got the best punk, indie, whatever-cool posters) and enlisted his help to get the right feel for the show.
POSTERMAT | 18 Hewett Street | EC2A 3NN
theholenyc.com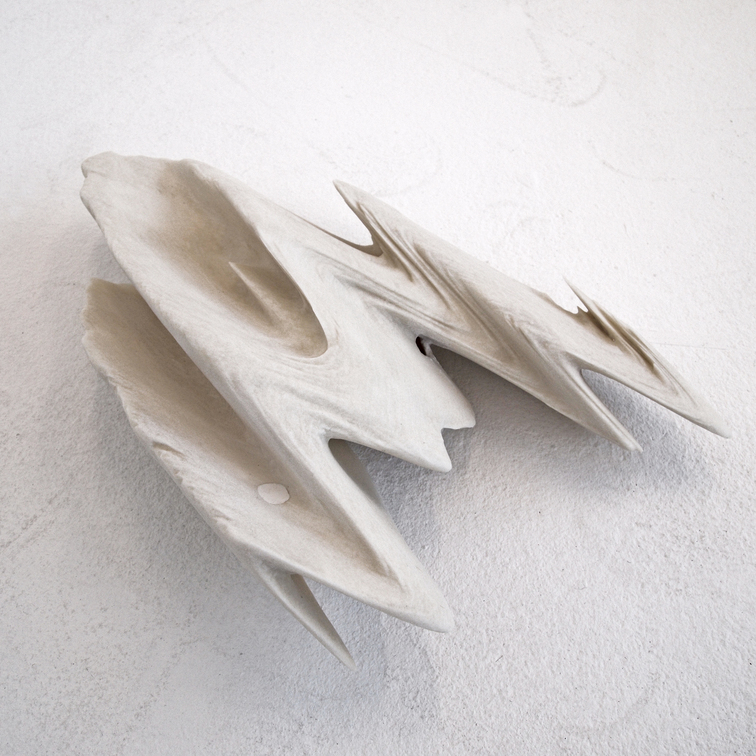 2 ELF-SHOT: An exhibition by Hudson-Powell
Jody and Luke Hudson Powell have a practise that encompasses book design, music promo direction and interactive design. The St Martins graduates originally started a studio after collaborating on a video for PJ Harvey's 'Shame'. Working around technology, art and architecture, the studios recent projects have included invite designs for Richard Nicoll, an augmented reality commission for And Festival, a cookbook for Canteen and promo for Underworld.
The term 'Elf-Shot' meaning the 'sharp pain caused by elves' was coined in the 17th century to describe chipped flints and later Neolithic flint arrowheads. Hudson-Powell were attracted to using these 12,000 year old examples of early human technology as the starting point for their exhibition. "Neolithic flints represent a turning point (albeit a very slow one) in our species… It can reveal how humans have developed – or not developed – through time". They are interested in the ancient manipulation of naturally occurring elements as something in dialogue with to the contemporary scientific desire to explore atoms and molecules.
Using a large format photocopier Hudson-Powell have replicated images of a flint arrowheads, manipulating the original 3d scans scale and form. Expanding the ancient object – only 30mm in length – across a large expanse of paper, the flint is transformed into something both familiar and unnatural. They have also created two sculptural models – one CNC'd (Computer Numerical Controlled) from polystyrene and the other rapid prototyped. Strong advocates of open source technology, the idea of 3D printing for mass use was a deliberate choice. "Although 3D printing is very limited in the materials it can use, it's an early step towards creating machines that can print any physical object. As a culture we are often interested in the authenticity of objects, these new technology's begin to blur that line".
The exhibition is accompanied by a primal-electric audio soundtrack specifically curated by Hudson-Powell for the show.

www.hudson-powell.com
hudson-powell.com
and Finally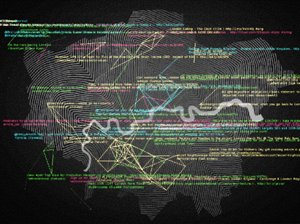 ABSOLUT LONDON: A CELEBRATION OF THE CITY THROUGH SELF- PUBLISHING
SATURDAY 9 APRIL 2011
A collaboration between ABSOLUT Vodka and Dazed & Confused, the
installation explores what makes the capital uniquely inspirational and illustrates
this through the medium of self-publishing.
The centrepiece of the installation is based at the central hub of the festival – The
Tramshed. This is an interactive data-visualisation console in the shape of
London that will reflect the thoughts of the Dazed Live audience, who are invited
to respond to a series of questions about the city, via Twitter. Their answers will
be compiled to create a visual representation of the city?s mindset, hopes and
visions – embodying the very core of London culture as viewed by Londoners.
ABOUT THE INSTALLATION/ HOW IT WORKS:
The installation centres on a 'self-publishing interactive map', which the Dazed
Live audience can contribute to by posting their thoughts about creative London via Twitter.
From Wednesday 6th of April and over the days leading up to the festival Dazed
Digital will ask its audience key questions about London. Londoners are encouraged
to answer each question individually in a tweet, creating a conversation through
Dazed's twitter
The questions are:
#absolutlondoninspired
– A live portrait of what creatively inspires Londoners. Help build a true reflection:
send photos of what inspires you!
#absolutlondonstyle
– What do you wear in London that you couldn't get away with anywhere else?
– Which up-and-coming fashion designer do you think will have the greatest impact
on London's style over the next 10 years?
#absolutlondonvision
– If there were an empty space near where you live, how would transform it? What
would do with it?
#absolutlondonarts
– London's most forward thinking contemporary artist? Tweet us who and why!
– Shoreditch, Dalston, Notting Hill, Peckham? Where is the capital's true
contemporary arts hub? Why?
An accompanying exhibition will chart the history self publishing , as well
as a radio show focusing on its future – hosted by Ned Beaumen and with guests
including Veronica So and Simon Whybray (LAN), Liam Young (Tomorrows
Thoughts Today) and Alex Zamora (Fever Zine).
From the 60s underground magazine OZ and the punk fanzines of the 1970s, including Jon Savage?s The Secret Public? and Paul Morley?s Girl Trouble, to the London and New York mail art dialogue from VILE magazine and Ray Johnson, plus zines that have evolved into publications such as Art Rocker – the exhibition will celebrate, in particular, the best London zines of past and present, alongside a selection of iconic international titles. It will also feature very early issues of Dazed & Confused, which began life in zine format, and still retains its DIY, independent ethos today.
ABSOLUT LONDON: A Celebration of the City through Self-Publishing? is
produced on behalf of ABSOLUT Vodka and Dazed & Confused by JOTTA – the
online and offline community of the University of the Arts, London.
?ABSOLUT LONDON? will take place at the Tramshed, 14 Garden Walk, EC2A 3EQ
on April 9, 2011 (12-8pm). For more information on ?ABSOLUT LONDON?, please visit www.twitter.com/absolutuk
You need a £25 ticket to see anything- I think but the ticket gets you in to lots of other stuff info:www.dazedlive.com/
Categories
Tags