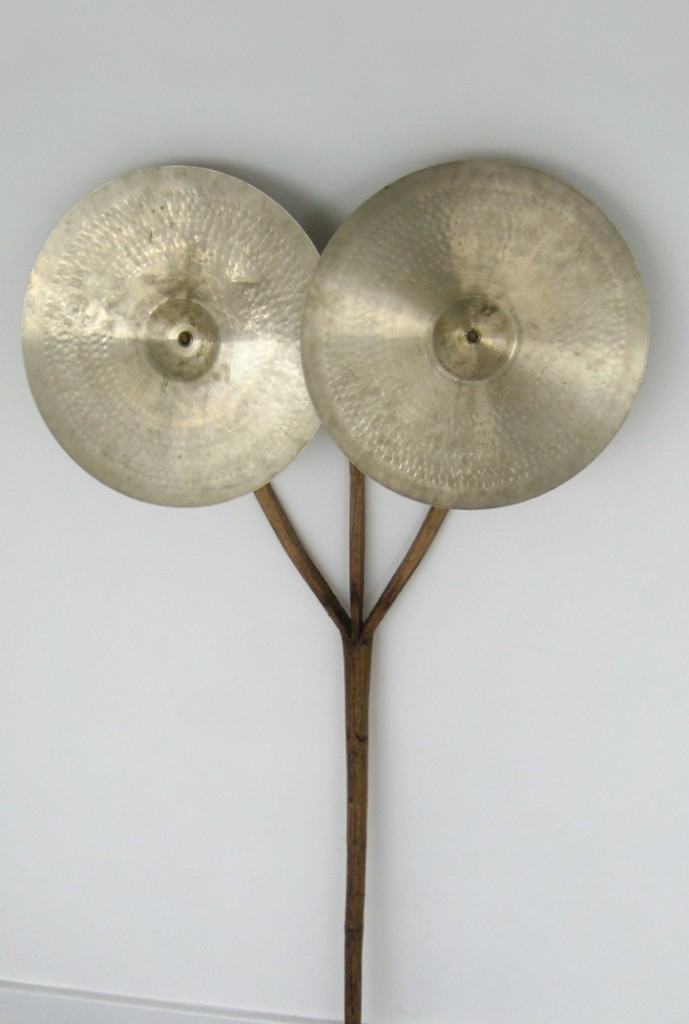 Image: Nicky Hirst, Nocturne, 2010, metal and wood, copyright the artist.
7th April – 1st May 2011
Cécile Emmanuelle Borra, Roberto Ekholm, Nicky Hirst,Pablo A Padilla Jargstorf,
Adrián Navarro, Neil Gall, Michael Petry, Daniel Pettitt
To be sagacious is to have a keen discernment, an almost prophetic knowledge. The sagacious character of the wise old man is an archetype described by Carl Jung. This figure is represented as a wise person with a personal knowledge of people and the world to tell stories and offer guidance in mystical ways. In some cases this persona can even be seen as a liminal being. In The Crock of Gold by James Stephens, the philosopher talks about the "owls, who are a venerably sagacious folk", who do not sleep at nights compared to humans. The vision and myth of the artist is to see in the dark, to penetrate the unintelligible and find new forms of language.
The group of artists presented here deals with ideas around altered perceptions, exploring the interior of both the physical space as the psychological dimensions of the complexities of perception. It is their "wisdom" which challenges our sight and our view around us. In the mechanics of juxtaposition, comparison and the superimposed it is not these techniques, which inform our perception, it is what the artist is trying to unearth. The symbol or the metaphor is not the actual work; it is what exists beyond the given structure. Here the grid is both concealing the impulsive as well as allowing a sense of meditation or where the organic forms play on the uncanny.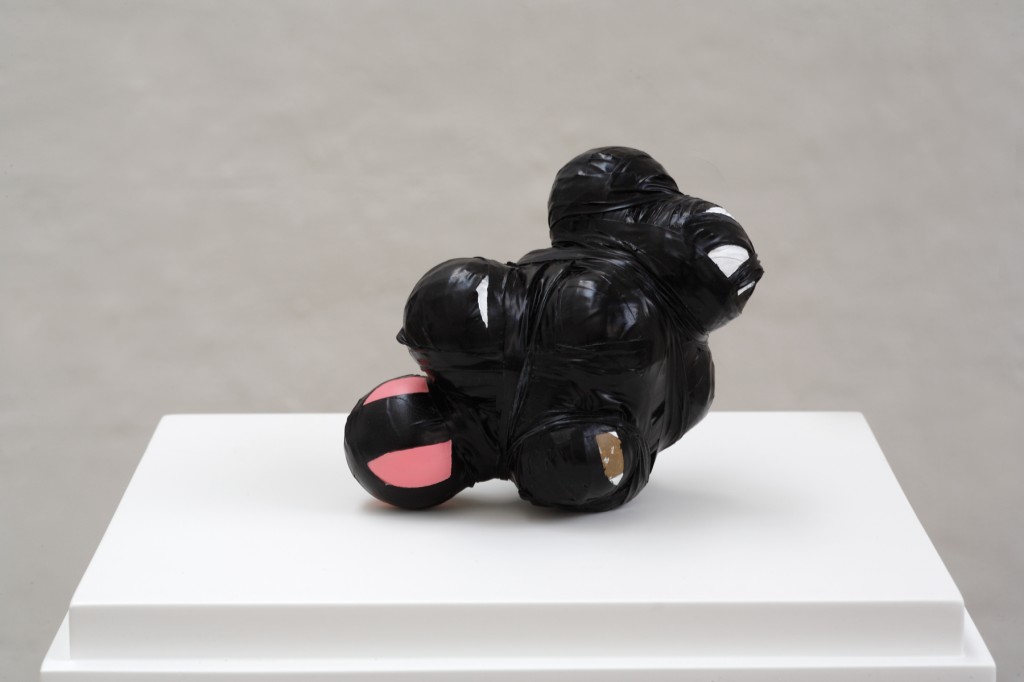 Image:Neil Gall, Performance
We are asked what we bring to the works, for it functions, but the self-reflection makes us leave with a new sense of knowledge. In their use of paint, colour and emotive imagery, or in the use of sculptural material such as glass, there is an idea of beauty, but with an anxious state. These artists give us a sagacious insight to the world around us and our place within.
Curated by Roberto Ekholm
About The Artists
Cécile Emmanuelle Borra's work seeks to challenge the scopophilic gaze of advertising, fashion and cinema. Her use of everyday objects and paraphernalia allures to the absurd and sometimes the surreal, while echoing the familiar. In Kaleidoscopes, a cyclical metamorphosis of the male genitalia ambiguously refuses any systematic categorization or coherent recognition. The spectacle of a myriad of revolving penises competing for attention and contemplation gives lead to the curiosity and perversity of voyeurism.
Cécile Emmanuelle Borra (France), graduated from Goldsmiths. She has been exhibiting nationally and inter- nationally, including solo show at Sketch and group shows at the ICA and the Royal Academy, London. Borra co-curated and exhibited in The Show at Sobreático, Barcelona (2010) and exhibited at Supermarket, Kulturhuset, Stockholm (2011). She lives and works in London.
Roberto Ekholm's work derives from concepts surrounding illnesses and quasi-medical narratives. He explores facts, fictions and myths, using sculpture and object-based installation as a way of communicating these ideas and the visual language that evolves from these false certainties. Garnering inspiration from newspapers, online resources and medical journals, as well as art history, politics, philosophy, Ekholm weaves together a narrative, which flirts with fantasy and reality.
Roberto Ekholm (Sweden), graduated from Laban Centre and Goldsmiths. Recent solo show include Mosquito Man & Other Stories, Stockholm (2009); group shows and performances include Mosquito Man, SLCC, London; ArtVilnius, Lithuania; Inspired by Soane, Sir John Soane's Museum, London (2010), Crash Open, London (2010) and The Show, Sobreático, Barcelona (2010). He is publishing Where the Men Met in 2011. He Lives and works in London.
Neil Gall's use of un-monumental objects such as ping-pong balls rapped in tape become both performative 'characters' in and of themselves, as well as a practice of abstraction through a layering practice of drawings, paint- ing, photography and sculpture. This oscillation between abstraction and figuration plays on the uncanny. Gall's work reveals references to art history from Dutch still life to surrealism; exploring the confluence of art and play in his object making and the relationship to abstraction and the grid.
Neil Gall (UK), trained at Gray's School of Art, Aberdeen, and the Slade School of Art in London. He has had solo exhibitions in Europe and the U.S.A., with important recent group shows including Something Less, Some- thing More, David Roberts Art Foundation, London (2008) and Undone: Making and Unmaking in Contemporary Sculpture, Henry Moore Institute, Leeds (2010). He lives and works in London, UK.
Nicky Hirst makes subtle and elegant work, which has a mixture of morality and pragmatism. She incorpo- rates commonplace and domestic materials designed to draw attention to the idiosyncrasy and psychological dimensions of a given site or context. Through the use of dislocation and displacement her work acknowledge
the different contexts it operates in: historical, political as well as emotional and formal. Hirst is interested in the language of the metaphors and in her work she suggests several metaphors but fulfils none of them.
Nicky Hirst (UK) studied Fine Art followed by Art and Architecture. She has pursued a parallel practice within her own studio and working collaboratively with architects. Recent projects for the public realm include the new Biochemistry building for the University of Oxford, the New Pharmacy Manufacturing Facility in Guy's Hospital in London, Oxford Eye Hospital and The Royal Albert Memorial Museum in Exeter. She lives and works in London.
Pablo A Padilla Jargstorf's interest in architecture has led him to work with the medium of sound installation and to explore the spatial quality of sound. Jargstorf 's sound craft is complex and uses a deep perspective of noise interiors working with textures, sound manipulation as well as traditional composition. His work on sound- scapes builds on the different stimuli of our senses and their interaction, with a focus on a spatial perception through sound and synaesthesia.
Pablo A. Padilla Jargstorf (Madrid) is an architect, sound artist and composer. His installations has been shown and experienced by visitors internationally. Exhibitions includes Biennial di Venezia, Venice 2002, MNCARS, Madrid (2008), Pendel Experiment, Stockholm (2010), Hot Art Fair, Basel (2010), and at The Gallery Soho, Zabludowicz Collection and Halcyon Gallery in London (2011). Future performances will be in London and Amsterdam later in the year. He lives and works in London.
Adrián Navarro's pictorial work traces a line of creative investigation which delves both into the systems of perception of the image and into the mechanisms of construction and symbolic representations. On the one hand Navarro's pictures cry out their two-dimensionality, then on the other they show themselves as a window to a piece of weightless space, to a virtual and illusory landscape where geometric volumes demonstrate their time and three-dimensionality in a rhythmic pulse.
Adrián Navarro (Spanish, born U.S.A) started his artistic activity in New York in 2001, after graduating from the Polytechnic University of Madrid, School of Architecture. From 2006 he establishes himself in London, where he has completed his art studies in Central Saint Martin´s College of Art & Design (2008). Navarro has exhibited in several solo and group shows internationally. His works can be found in art collections such as UBS Bank, Circa XX and Caja Madrid. He lives and work in London.
Michael Petry's oeuvre is characterised by a reverence for the object, its material and its form. Petry's work plays with association and the tension between natural and human forces, metaphorical and literal meanings. In his glass pieces there is formal simplicity but references memory and sexual energy with a bawdy sense of hu- mour, which makes the works intellectually digestible and sublime. Pieces like Memory Strings are designs to work conceptually but to act differently in each space it is exhibited. There is a dialogue across time with references to art history, politics, the private and the poetics of the space.
Michael Petry (USA) is an internationally exhibited artist, co-founder of the Museum of Installation, and is curator of the Royal Academy Schools Gallery. Petry authored Installation Art (1994), Abstract Eroticism (1996), A Thing of Beauty is…(1997), Installation in the New Millennium (2003), Hidden Histories: 20th century male same sex lovers in the visual arts (2004) and Golden Rain (2008). His new book, The Art of Not Making: The New Artist Artisan Relation- ship (Thames & Hudson) is published April, 2011. He is the first Artist in Residence at Sir John Soane's Museum (2010/11), and will be in Glasstress II for the 2011 Venice Biennale. His one-man show The Touch of the Oracle is at the Palm Springs Art Museum, March, 2012. He lives and works in london
Daniel Pettitt's work operates on multiple frequencies; as stand-in, as backdrop and as para-painting. A concept of subtractive plasticity informs works populated with appropriated marks coerced to form an arsenal of lyrical leitmotifs. Pettitt plays with the viewer inviting them to his world, tempting them to relate themselves through an indexical language of mark making. At odds with the incongruity of reality, the works move beyond the cul-de- sac of performative pastiche and ironic distance, generating visual spaces in which different signs can ceaselessly connect, intersect and reproduce.
Daniel Pettitt (UK) studied at Bath School of Art & Design, graduating in 2008. Recent group shows include Use and Mention, University of Greenwich, London (2010) and East Sussex Open, Towner Gallery, Eastbourne (2011).
He lives and works in London.
Categories
Tags