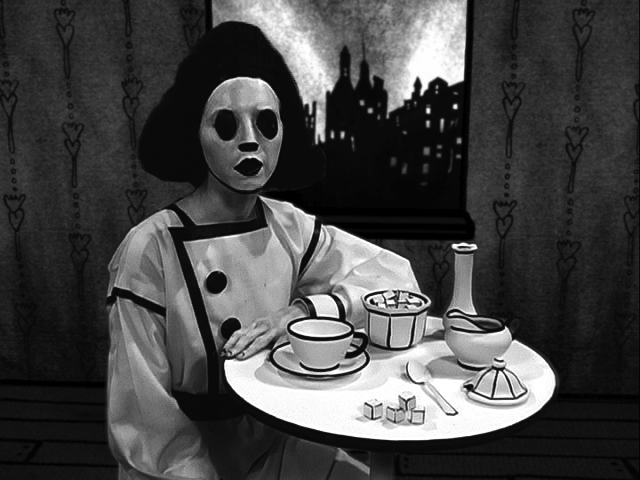 Image:MRK Sadie The Saddest Sadist
Screenings of artists' films & videos
Artprojx Cinema is FREE.
This March at the SVA Theatre in Chelsea, New York, Artprojx Cinema, a new collaborative venture with The Armory Show and VOLTA NY, will screen a program of over 90 artists' films from over 20 participating galleries alongside a public program of artists' films from leading international arts organizations and curators.
"We are delighted to collaborate with such an outstanding quality of artists, galleries and organizations from such a diverse scope", says David Gryn, Director of Artprojx. "Artprojx Cinema is not only an important opportunity for participating galleries and arts organizations to screen their artist's films within the focused context of the cinema but also for the collectors, dealers, curators, artists and film enthusiasts flocking to New York during the week of The Armory Show and VOLTA NY to see an exceptional program of artists' film."
Feedback from participating organizations, artists and galleries indicates that Artprojx Cinema is adding a much desired kudos and credibility to screenings of artists' films and a new and valued initiative on the NY cultural landscape. "We are passionate about creating a new buzz around the art fairs, engaging with local artists and students and enabling them to be part of the excitement in the city. The cinema is free to everyone and we want as many people to see this fantastic program," says David Gryn.
This new venture has already proved a huge success with galleries participating from 14 cities with either and artist focus programme or as part of a compilation of shorts: New York (Allan Stone Gallery, Andrew Edlin Gallery, Charles Bank Gallery, Fredericks & Freiser Gallery, LTMH Gallery, Nicole Klagsbrun Gallery, Number 35 Gallery, Peter Blum Gallery), Philadelphia (Fleisher/Ollman), Los Angeles (Susanne Vielmetter), Chicago (Rhona Hoffman Gallery), Oakland (Johansson Projects), London (Pilar Corrias, Nettie Horn, The Cynthia Corbett Gallery), Dublin (Kevin Kavanagh Gallery), Lisbon (Filomena Soares Gallery), Copenhagen (Galleri Christina Wilson, V1 Gallery), Lima (Galeria Lucia de la Puente), Helsinki (Galerie Forsblom), Vienna (Galerie Krinzinger), Berlin (carlier | gebauer) and Geneva (Gowen Contemporary).
The public art organisations, curators and artists involved include Adelaide Bannerman, Megan Cump & Carolyn Monastra, Electronic Arts Intermix (EAI), Film & Video Umbrella, Filmarmalade, FLAMIN (Film London Artists' Moving Image Network), Kim Burgess-Driver Collection, LUX, Marie Losier, Peckham Space, tank.tv, Terry Smith, The Woodmill, Video Data Bank, Wellcome Collection, You Know Limited.

Image:Tony Conrad DreaMinimalist
ARTPROJX CINEMA Programme: (full details at www.artprojx.com/cinema ) SVA Theatre, 333 West 23rd Street between 8th & 9th Avenues
Tues 1 March: LUX, Wellcome Collection, The Woodmill, Video Data Bank, Marie Losier, Terry Smith, tank.tv
*
Wed 2 March: Terry Smith, Filmarmalade, Nick Laessing, Jessica Voorsanger, Electronic Arts Intermix, Video Data Bank, Phil Coy, Jacob Boeskov, Elaine Byrne, The Armory & VOLTA NY Gallery Compilation, Marie Losier, Carolyn Monastra & Megan Cump, Kim Burgess-Driver Collection
*
Thurs 3 March: boyleANDshaw, Simon Pope, Jennifer Levonian, Wellcome Collection, Johan Grimonprez, The Armory & VOLTA NY Gallery Compilation, Carolyn Monastra & Megan Cump, Brent Green, PREMIERE "New York Influence City" You Know Ltd, Marie Losier
*
Fri 4 March: Filmarmalade, Jesper Just, Adelaide Bannerman, Jessica Voorsanger, The Armory Show & VOLTA NY Gallery Compilation, Jacob Boeskov, Oliver Pietsch, Nick Laessing, George Kuchar, PREMIERE – Matthew Day Jackson, Artprojx Cinema Late: Alfred Leslie, João Pedro Vale
*
Sat 5 March: You Know Ltd, Phil Coy, Elaine Byrne, Kim Burgess-Driver Collection, Jennifer Levonian, Oliver Pietsch, Jesper Just, Shoja Azari, George Kuchar, The Woodmill, Matthew Day Jackson, Brent Green, Artprojx Cinema Late: Alfred Leslie, João Pedro Vale
*
Sun 6 March: Simon Pope, Shoja Azari, Adelaide Bannerman, boyleANDshaw, LUX, Electronic Arts Intermix
* * *
The Armory Show & VOLTA NY Gallery Compilation Programme artists: Mary Reid Kelley, Diego Lama, HC Berg, Erik Schmidt, Tadashi Moriyama, Ezra Johnson, Frederick Hayes, Adrian Paci, Luis Guispert, John Zieman, Christina Benz, Kasper Sonne
www.artprojx.com/cinema
Categories
Tags