The Armory Show has revealed its 2023 Platform projects- 12 large-scale installations to be displayed at the fair's centre- curated by Eva Respini, Deputy Director and Director of Curatorial Programs at the Vancouver Art Gallery.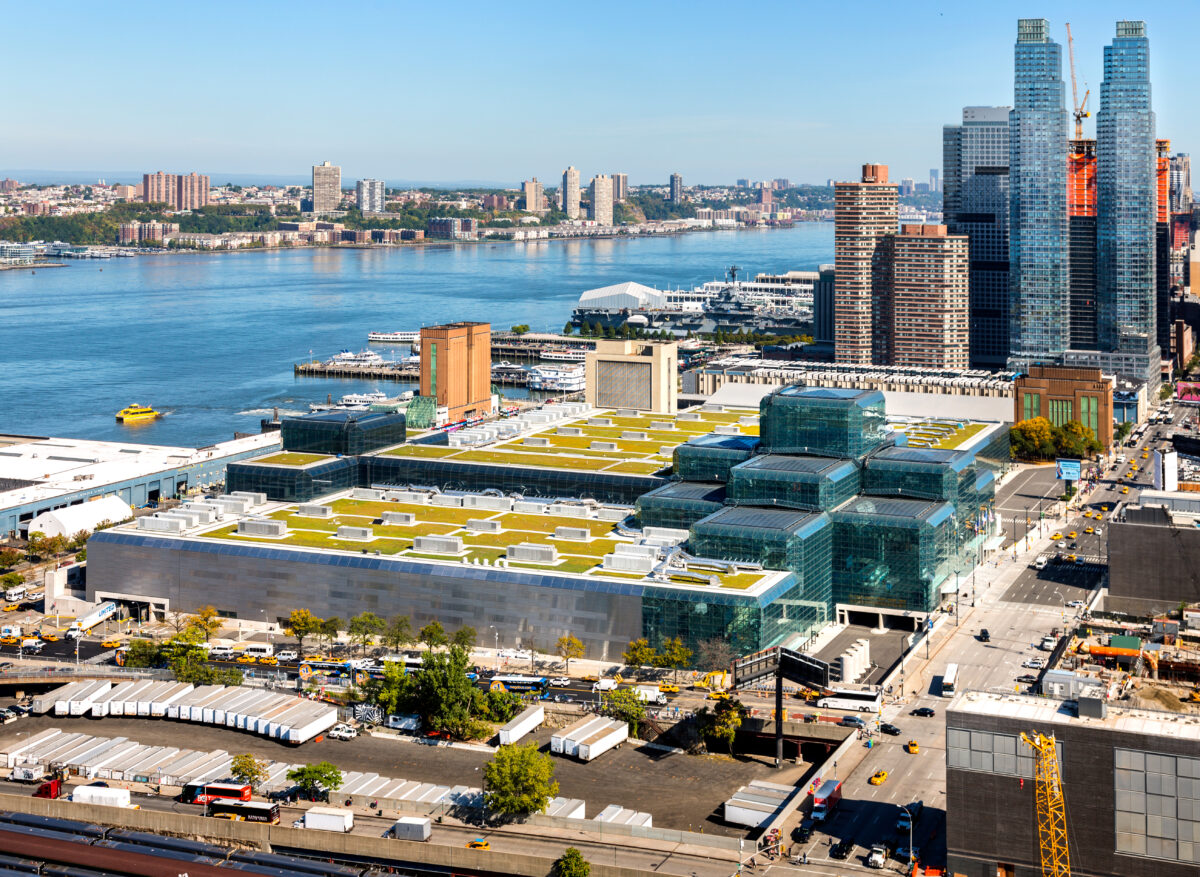 Platform 2023 is dedicated to large-scale installations and site-specific works under the theme of "Rewriting Histories," spotlighting artists who expand or challenge the canon of art, history, or culture. The section delves into artists' responses to the constraints of official archives and narratives, utilizing sculptural forms to address the gaps and omissions in history.
Respini has chosen twelve artists for Platform 2023: Agnes Denes presented by Leslie Tonkonow Artworks + Projects (New York) and Marc Selwyn Fine Art (Los Angeles); Woody De Othello presented by Jessica Silverman (San Francisco); Teresita Fernández presented by Lehmann Maupin (New York, Seoul, London, Palm Beach, Hong Kong; Barthélémy Toguo presented by Galerie Lelong & Co. (New York, Paris); Devan Shimoyama presented by De Buck Gallery (New York); Jean Shin presented by Praise Shadows Art Gallery (Boston); Yinka Shonibare CBE, RA presented by James Cohan (New York); Shahzia Sikander presented by Sean Kelly (New York, Los Angeles); Vaughn Spann presented by David Castillo (Miami); Pae White presented by Jessica Silverman (San Francisco); Hank Willis Thomas presented by Ben Brown Fine Arts (London, Hong Kong, Palm Beach); and Xu Zhen® presented by James Cohan (New York).
These works will be prominently featured throughout the fair's Agora, running through the center of the event. Under Respini's curatorial vision, the section aims to embrace a polyphonic perspective, considering previously disregarded or marginalized artists and geographies, artists engaged in communal dialogues, self-taught artists, artists working within craft traditions and hand-made processes, and those practicing spiritual and healing-based approaches.
Are we living at the hinge of history, as has been theorized? The last few years have been a period of enormous instability and uncertainty. How do artists help us navigate this moment, reframe the past through the present, and account for history's omissions and erasures?
said Eva Respini in her curatorial statement.
Under the loose theme of 'Rewriting Histories,' this presentation features artists expanding or challenging the historical canon, which is often preoccupied by inclusion and exclusion. These artists use history as material, imagine speculative futures, and employ a variety of material traditions as means of history-telling. Topics include the complex histories tied to colonialism, land, and power; the legacy of labor and migration movements in the 20th century; the combining of disparate accounts to underscore history's subjectivity; and how materials carry their own cultural values and meanings. Although their materials and approaches vary, collectively, the artists in Platform 2023 are invested in world-building.
Eva has selected an extraordinary group of artists whose work we eagerly anticipate seeing on display at the fair this fall, this wonderfully diverse group of artists vary in age, nationality, and artistic practice, yet they share a mission to use their work to elevate overlooked perspectives, introduce untold narratives, and highlight missing history.

Nicole Berry, The Armory Show Executive Director
Presentation Details:
Hank Willis Thomas, Strike, 2021, Ben Brown Fine Arts (London, Hong Kong, Palm Beach)
Hank Willis Thomas reframes images that circulate widely in the world. Strike is based on the 1934 lithograph Strike Scene by Ukrainian American painter and printmaker Louis Lozowick, which depicts a charged confrontation between worker and authority. Thomas has isolated a single element from the print—one hand stopping another's swing of a baton—transforming this disembodied gesture into a large-scale bronze. Through cropping and reframing, Strike prompts questions about the enactment of justice: Is justice the arm swinging the baton, or the force stopping it?
Yinka Shonibare CBE, RA, Man Moving Up, 2022, James Cohan (New York)
In this mis-en-scène, Yinka Shonibare CBE, RA, collapses various material cultures to explore the complex, interwoven colonial histories of Africa, Europe, and the Americas. The single figure carrying his worldly possessions references the Great Migration—the exodus of six million Black Americans from the South to cities in the North, Midwest, and West from 1916 to 1970. The staircase's ornate design is based on that found at Chatsworth House, a long-standing seat of aristocratic power in Britain. The figure wears 19th-century attire made in Shonibare's signature Dutch wax fabric, underscoring the contradictions and complexities of cultural origins, while the Victorian cut of his costume alludes to the foundations of the sharecropping system and Jim Crow.
Teresita Fernández, Island Universe 2, 2023, Lehmann Maupin (New York, Seoul, London, Palm Beach, Hong Kong)
In Island Universe 2, Teresita Fernández combines the globe's landmasses to create a continuous and meandering mass without borders. Evoking Pangea, the supercontinent found on earth 300 million years ago, Fernández visualizes the interconnected geological, cultural, and historical relationships of geographies and challenges the typical north-up = superior / south-down = inferior presentation found in most world maps. Made with charcoal, Island Universe 2 illustrates the artist's interest in uncovering what she refers to as "stacked landscapes," the conceptual framework that allows the work to reveal the often invisible, buried layers of historical violence embedded in land.
Jean Shin, Huddled Masses, 2020, Praise Shadows Art Gallery (Boston)
Jean Shin uses the detritus and discarded elements of our everyday lives to create her installations. Fashioned from obsolete cell phones, Huddled Masses is rough-hewn and irregular in shape, recalling the scholar's rocks found in Zen gardens or traditional Chinese painting. Embedded like fossils in a ground of computer cables, the phones form an archive of 20 years of technological history, mapping our ever-growing digital footprint. The work invites us to reflect on e-waste's impact on the environment and the planned obsolescence central to our consumer culture.
Devan Shimoyama, The Tower, 2023, De Buck Gallery (New York)
The Tower card is one of the most powerful in the tarot deck—it signals transition, turmoil, and unexpected change. Devan Shimoyama's imposing Tower is extrapolated from the card design by Pamela Colman Smith, a London-born artist and children's book illustrator whose legacy has been overlooked. The work appears charred yet is embellished with glitter, fabric flowers, and delicate slivers of silk ivy, suggesting rebirth or renewal, the possibility of cracks in the towering structure, or a makeshift memorial.
Woody De Othello, thought in mind, 2023, Jessica Silverman (San Francisco)
Invested in the ways that everyday objects carry their own cultural values and shape human experience, Woody De Othello creates the monumental from the mundane. Sculpted in bronze and standing at nearly seven feet tall, De Othello's blown-up rotary telephone receiver and comb lean against one another, as if to support the weight of their shared domestic roles. Playful and surreal, these tools and technologies extend our physical forms to create tender moments of connection.
Xu Zhen®, Eternity – Standing Bodhisattva, Statue of Nike of Paionios, 2017–2022, James Cohan (New York)
Eternity – Standing Bodhisattva, Statue of Nike of Paionios is a composite of facsimiles of the Nike of Paionios (425–420 BC), one of the most famous statues of Western antiquity, and the Buddhist devotional sculpture of the bodhisattva, a being who selflessly guides others to salvation. In this playful fusion of classical sculptural forms, the artist explores the differences and similarities between cultures, while also carrying the archaeological weight of history with its attendant cultural and religious values.
Shahzia Sikander, NOW, 2023, Sean Kelly (New York, Los Angeles)
Shahzia Sikander's multivalent bronze sculpture offers an abstracted and amorphous notion of the female body that refuses to be fixed, grounded, or stereotyped. The figure emerges out of a lotus plant, ubiquitous in many cultures as a symbol of humility, awakening, and clarity. Originally created as part of a public art collaboration between Madison Square Park Conservancy and the Courthouse of the Appellate Division, First Department of the Supreme Court of the State of New York, NOW is the first female figure to adorn one of the 10 plinths on the courthouse roof. Situated in a prominent position of power, the sculpture, whose title makes reference to the National Organization for Women, offers a reimagining of the feminine as an active agent, thinker, and participant as well as a witness to the patriarchal history of art and law.
Vaughn Spann, Monument, 2023, David Castillo (Miami)
Comprising three 10-by-10-foot paintings, Monument creates a complete environment that envelops the viewer in layers of textured paint and color. In an extension of Spann's Marked Man series, the X featured in each canvas is serially repeated, alluding to the forms of modernist painting, minimalist sculpture, or pop art. Spann is interested in assigning new meaning to an extremely recognizable form. Depending on context, this symbol might be read as a reference to police brutality, a sign of negation, a designated location, a signature, or an allusion to Malcolm X.
Agnes Denes, The Debate, 1969/2023, Leslie Tonkonow Artworks + Projects (New York) and Marc Selwyn Fine Art (Los Angeles)
The two seated skeletons featured in Agnes Denes's The Debate are engaged in conversation within the confines of a box whose mirror-coated interior panels create the illusion of infinite space. The glowing acrylic cube suggests a museum display of an archaeological relic excavated by a future species studying the extinct human race. In this expression of mortality and infinity, Denes captures the endless debate on the nature of humanity throughout history and into the future.
Barthélémy Toguo, Urban Requiem, 2015, Galerie Lelong & Co. (New York, Paris)
First commissioned for the 56th Venice Biennale, All the World's Futures, curated by Okwui Enwezor, Barthélémy Toguo's Urban Requiem comprises an arrangement of ladder-like sculptures featuring wooden busts. Hand-carved into their flat bases are slogans in multiple languages, sourced from protests and national movements, from #MeToo to #BlackLivesMatter. These works function as stamps, from which prints with the various slogans have been made. The stamps—or brandings—evoke the mechanisms of bureaucratic authority, such as border control as a mode of policing, and the flow of human bodies and capital that is tied to colonial and imperial histories.
Pae White, Titles Forthcoming, 2023, Jessica Silverman (San Francisco)
Working with a Jacquard loom, Pae White explores the tension between handmade and industrial processes in this suite of tapestries created for Platform 2023. The loom's invention in the 19th century allowed for the efficient reproduction of textile patterns and reduced the human labor required for production. White works against the loom's industrial function to create intricate, and individual, designs, incorporating motifs from the natural world. The artist says, "A Jacquard loom is a beast of an industrial machine. I love denying what it does, removing the repetition, and transforming its mindless speed into an intentional, thoughtful result." White's tapestries hang close to the ground, creating an intimate architecture to envelop and cocoon the viewer, transforming a historical technology to facilitate new encounters.
The Armory Show, Friday, September 8th–Sunday, September 10th, 2023 thearmoryshow.com
About Eva Respini
Eva Respini is Deputy Director and Director of Curatorial Programs at the Vancouver Art Gallery. She previously served as ICA's Barbara Lee Chief Curator from 2015 until 2023. Prior to this, Respini was Curator at the Museum of Modern Art for over a decade, and curator and co-commissioner for the 2022 U.S. Pavilion's historic presentation of Simone Leigh in the 59th International Art Exhibition of La Biennale di Venezia. She organized the first mid-career survey of Simone Leigh's work, which opened at the ICA in April 2023, and is currently making its tour across the country. Specializing in global contemporary art and image-making practices, Respini has organized at the ICA such critically acclaimed group exhibitions as Art in the Age of the Internet, 1989 to Today (2018); When Home Won't Let You Stay: Migration through Contemporary Art (2019); and ambitious solo presentations such as Deana Lawson (2021); Firelei Báez (2021); John Akomfrah: Purple (2019) and Huma Bhabha (2019). Respini has been a visiting lecturer, critic, and speaker at a number of universities, and currently teaches at Harvard University's Graduate School of Design. She has published numerous books and catalogues and her writing appears in museum publications and periodicals.
Categories
Tags