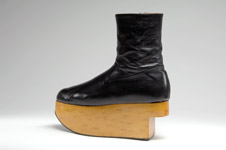 Image:Vivienne Westwood, "Rocking Horse" boot, black leather and wood, Harris Tweed collection, Fall 1986, England, gift of Francisco Melendez A.K.A. François Courtesy of The Museum at FIT
In Manhattan, a gem that deserves to be better known — especially among tourists with an interest in fashion — is The Museum at the Fashion Institute of Technology, at 27th Street and Seventh Avenue in the trendy Chelsea neighborhood, .
The Museum at FIT hosts special exhibits as well as a rotating themed show selected from its permanent collection of 50,000 objects dating back to the 1700s. Through May 10th, the museum's first-floor Fashion and Textile History Gallery hosts "His and Hers," a look at 100 items exploring the relationship between gender and fashion. The exhibit ranges from side-by-side displays of men's and women's outfits from the 1700s and 1800s — including 19th century wedding attire — to business suits from the 1980s. The women's power suit on display from that era, by Yves Saint Laurent, has the requisite blouse with pussycat bow, matching skirt and blazer. Other highlights include a Don Johnson outfit from the "Miami Vice" era, a 1945 zoot suit and an Elsa Schiaparelli 1930s women's suit with padded shoulders.
Through April 2 at The Museum at FIT, the "Japan Fashion Now" exhibit looks at contemporary Japanese fashion, from Lolita fashions — sugary-pink little-girl styles for young women that also have a black Gothic Lolita iteration — to the gauzy, flowing Forest Girl look. Works of famous Japanese designers such as Issey Miyake and Yohji Yamamoto are also on display. Visitors often pose for photos in the building lobby next to larger-than-life images of Hangry and Angry, a female pop music act whose spiked hair and bizarre costumes have made them Japanese fashion icons.
Categories
Tags