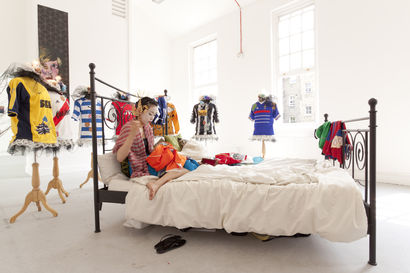 Image:Objects of Labour Lillian Suwanrumpha
13 January – 6 February 2011
The winner of the Zabludowicz Collection Future Map Prize 2010 will be announced at 7:30 pm
London's favourite annual exhibition of graduating artists and designers from the University of the Arts London returns with a show packed with performance, participation, sculpture and installation. This year's Future Map 10 participants have been selected from nearly 10,000 graduating students from across the University of the Arts London's six Colleges: Camberwell College of Arts, Central Saint Martins College of Art and Design, Chelsea College of Art and Design, London College of Communication, London College of Fashion and Wimbledon College of Art. Now in its thirteenth year, Future Map has steadily built a reputation amongst industry insiders for showcasing a discerning selection of the next generation of artists and designers who will define our visual landscape.
An expert panel of leading industry insiders comprised of 20 Hoxton Square Projects founder Alexander Dellal, Associate Director of International Programmes for the Emirates Sharjah Art Foundation, Judith Greer, Grazia Style Director Paula Reed and Time Out London Visual Arts Editor Ossian Ward has selected 28 Future Map 10 exhibitors representing 17 different courses from across this year's graduate and postgraduate shows. For the complete list of exhibiting artists, please see the attached release.
Future Map 10 is hosted by the Zabludowicz Collection at 176 Prince of Wales Road, a non-profit exhibition space which shares Future Map's commitment to providing a platform for emerging talent. Each year the Zabludowicz Collection awards one artist in the exhibition the Zabludowicz Collection Future Map Prize, making it the perfect partner for this exhibition.
The Zabludowicz Collection Future Map Prize was founded in 2009 to support one graduating student from University of the Arts London's annual Future Map exhibition. Selected from the exhibition by a panel of invited experts, the prize is a £3,000 award and a chance to make a commercial edition with the Zabludowicz Collection. The aim of the prize is to enable the winning practitioner to develop new work in the months following their graduation, by both supporting them financially and facilitating a new limited edition by them, fostering a sustainable future for the artist.
The selection panel for the Zabludowicz Collection Future Map Prize 2010 is composed of Zabludowicz Collection co-founder Anita Zabludowicz, designer Ron Arad and artist Toby Ziegler. For more information on the prize, please see the attached release.
For a preview of the works on show, and for more information on the artists exhibiting, visit
showtime.arts.ac.uk/futuremap/2010
Categories
Tags