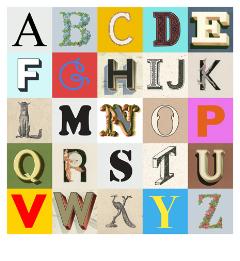 This beautifully produced book is published in a limited edition of 600 copies, each individually numbered and signed by Peter Blake.
The book is a complete record of Peter Blake's alphabets, including 18 alphabets produced by the artist (both published and unpublished), and a collection of found materials.Introductory texts and section openers written by Mel Gooding.Contains over 250 four colour images.
'Peter Blake has been a compulsive collector all his life, and his collections have provided him always with an inexhaustible source of popular materials for his art. His alphabets present us with a perfectly
paradigmatic example of this creative interplay between things found and things represented, between source materials and their transformations, between object and idea, thought and word, life and
art.' (Mel Gooding)
/The book retails for £150 and £300 with an limited edition print specially produced by Peter Blake to go with the first 100 copies.
SPECIFICATION
Format: 300mm x 240mm (Portrait) Extent: 224 printed pages in four colour. Includes three four page fold outs and one three page fold out.
Papers: Naturalis vanilla smooth 160gsm Naturalis absolute white smooth 150gsm PhoeniXmotion Zenon 150gsm PhoeniXmotion Xantur 150gsm
Weight: 2kilos, 4.5lbs
Binding: Cloth covered over 3mm boards Debossed panel with tipped on letterpress printed 3 colour label Head and tail bands Marker ribbon
Slipcase, paper covered 3mm board with label
Price: £150.00 Postage and packing extra, see below
ISBN 978-0-9547324-2-4
Categories
Tags