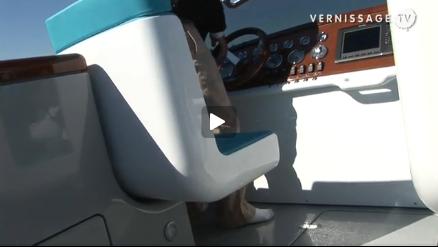 Aquariva by designer Marc Newson was part of an exhibition titled Marc Newson: Transport at Gagosian Gallery in New York. Vernissage.TV documented this exhibition that took place in September, and the boat looked already great then [FADmagazine] .
But a boat is meant to move through the water, and on the occasion of Vernissage's stay in Miami for Art Basel Miami Beach, they had the opportunity to film the Aquariva at full speed.
With the "Aquariva by Marc Newson" the designers chose a wood-like, textile-based laminate (phenolic composite) for the deck area and instrument panel. This material was developed in the first half of the 20th century, and was a precursor of fibreglass. It has an organic feel and aesthetic, but is more durable than wood. Newson also used anodized aluminium instead of stainless steel and chrome brass, to give the exterior a more high tech look.
The US launch of the "Aquariva by Marc Newson" took place during Art Basel Miami Beach at The Standard Hotel & Spa.
Categories
Tags