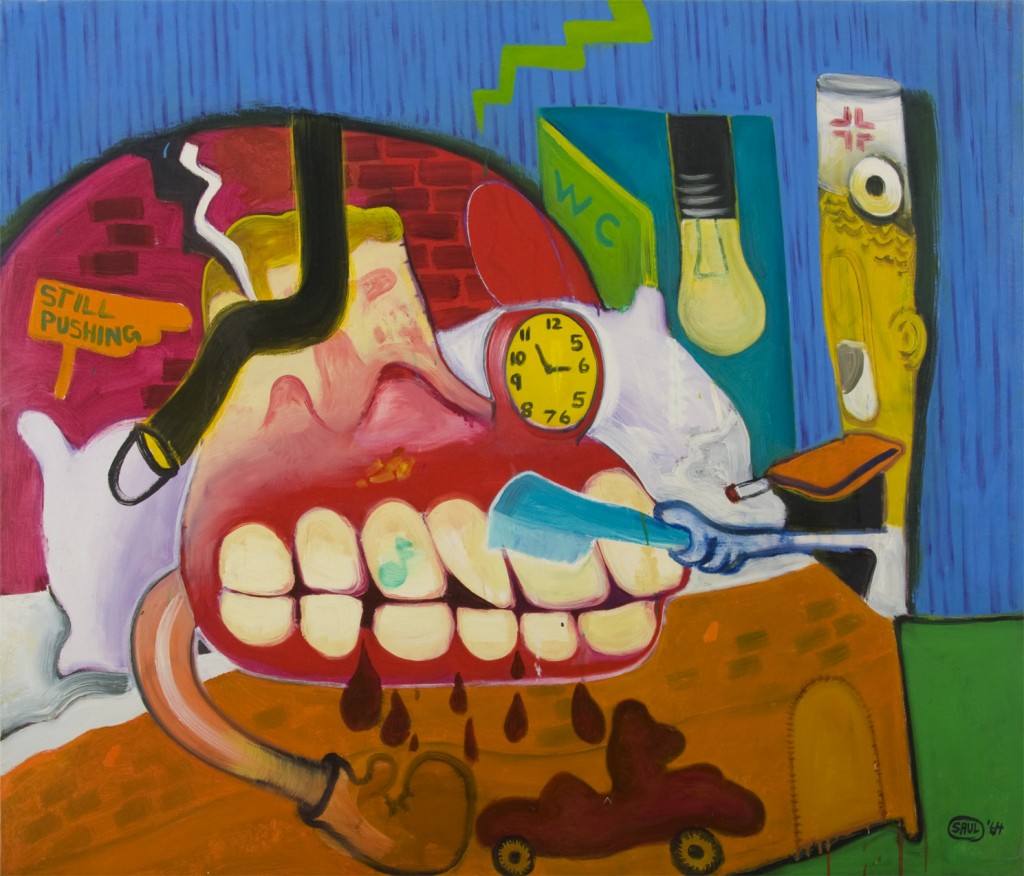 Image:Peter Saul Sickroom 1964 Oil on canvas 50.5 x 59 in
128.3 x 149.9 cm
1 If you weren't an artist, what else would you be?
If I weren't an artist, I'd be at home, lazy, watching reality t.v.
2. Name 3 of your least favourite artists.
I'm in a mood to like all artists these days unless they're personally rude to me, which hasn't happened yet.
3. Anytime, any place – which artist's body would you most like to inhabit?
I don't think most artists have very good bodies, so I don't want to inhabit one, and I think they tend to die young which is lousy.
4. What is your favourite 'ism'?
I think I like realism best because resembling something is the most exciting thing paint can do.
5.& 6.What was the most intelligent thing that someone said or wrote about your work? And the dumbest?
I sincerely don't know because what intelligent or dumb is very much a matter of opinion which changes over time.
7. Which artists would you most like to rip off, sorry, I mean appropriate as a critique of originality and authorship?
None.
8. Do you care what your art costs? State your reasons!
I want it to cost as much as possible which so far isn't much.
9.What are the three big ideas that you would like your work to express?
The important thing is for the picture to be interesting (whatever interesting means) to look at. Beyond that it's a matter of opinion.
10.Are you a political artist?
Politics is a great piece of subject matter which was overlooked for a number of years because there's a prejudice against it among intelligent people.
11.How do you start the process of making work?
First I draw an image on a piece of paper that shows where the paint is going to go, and if it doesn't promise to be interesting to look at, I stop right there and do something else.
12.What next?
I'm painting a picture called "Confusion" because I suspect that having no story is just as good as having a story, so I 'm gong to title it "Confusion."
13.If Moma and the Tate and the Pompidou wanted to acquire one of your works each, which would you want them to have?
Moma and Pompidou have some pictures of mine, but not enough. The Tate should have a big one to start with because I'm half English.
Peter Saul Wiki
Peter Saul Fifty years of Painting at Haunch Of Venison New York from November 5th
Categories
Tags