Featuring 100 Art Basel galleries from 28 countries and territories, 'OVR:2020' is exclusively dedicated to works made this year below are five artworks that caught our eye. The artworks on view give a unique insight into the work created over recent months and the themes which emerge from this period of intense creative focus.
1 Sculpture by Jimmie Durham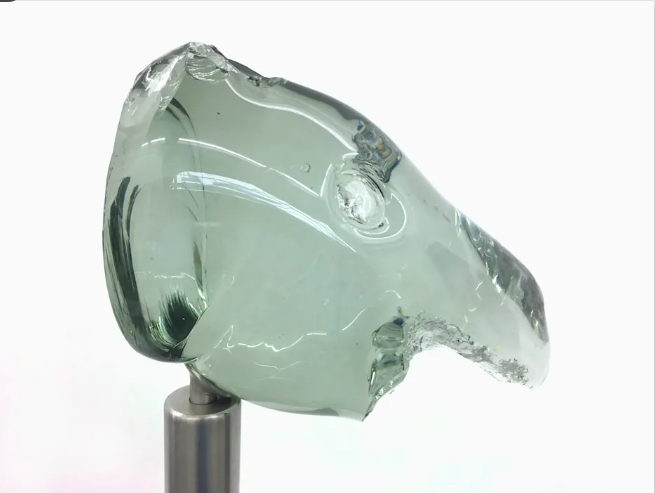 Jimmie Durham OPERA, 2020 Sculpture
Being shown by Barbara Wien a new sculpture: OPERA, a piece which Durham produced with glass blowers in Murano. They are also presenting sculptures by Nina Canell, an installation with paintings and objects by Ian Kiaer, and new photographs by Elisabeth Neudörfl.
Jimmie Durham (b. 1940) Aside from his sculptures and drawings, Durham reflects on the world in texts and poems. Barbara Wien will publish the third volume of his new poems in fall 2020.
2 Work on Paper by Jenny Holzer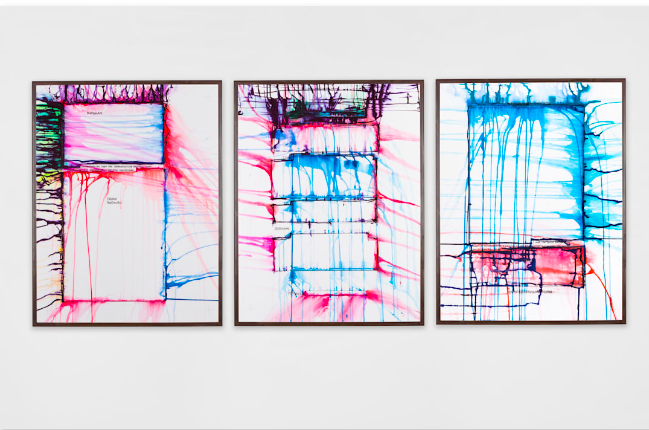 Jenny Holzer ultimately, 2020 Work on Paper
Being shown by Hauser & Wirth as wekll as Jenny Holzer Hauser & Wirth are focusing on three other outstanding artists: Rita Ackermann, Phyllida Barlow, and Mika Rottenberg. The presentation features a total of 24 works which will each be live to view for 24 hours only.
3 Mixed Media by Ryan Gander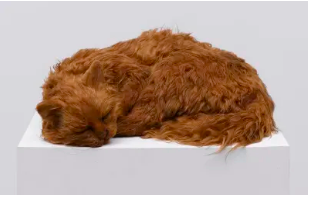 Ryan Gander Goodnight London, or The squatters (Misty meet Floyer's Mirror Globe (2014)), 2020
Being shown by Lisson Gallery who are focussing on new and recent work from Ryan who has established an international reputation through artworks that materialise in many different forms – from sculpture to film, writing, graphic design, installation, performance and more besides. From a continued fascination with what has become known as the 'attention economy', the selection of works explores Gander's focus on time as a currency, reflecting on how – in an age of identity politics, selfie culture and an incessant need to shout the loudest – the focus of our time should be on the value of our time itself.
All of the works on view in the OVR are being presented in Ryan Gander's solo exhibition, 'These are the markers of our time', at Lisson Gallery in New York now to 21st October.
4 Work on Paper Peter Saul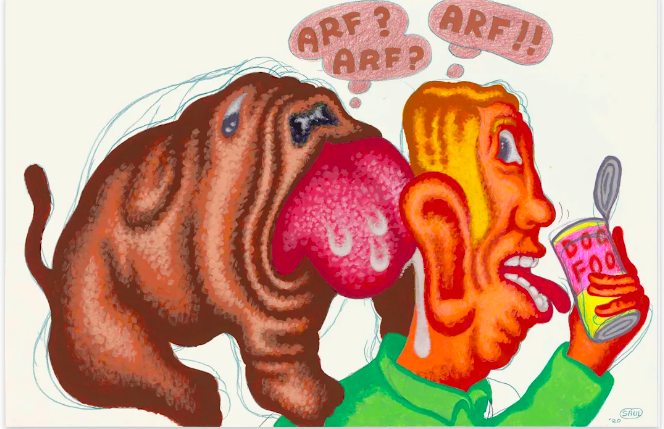 Peter Saul "Talking About Food", 2020
Being shown by Michael Werner Gallery who are also showing works from Markus Lüpertz, Enrico David, Aaron Curry, Florian Krewer, and Raphaela Simon .
Peter Saul (b. 1934, San Francisco, California) has exhibited his work internationally for sixty years. His works are found in numerous museum collections. Recent exhibitions have been held at the Schirn Kunsthalle, Frankfurt; Les Abattoirs, Toulouse; and Le Delta, Namur. A retrospective is currently on view at the New Museum, New York until next year. Saul lives and works in Germantown, New York.
5 Video/Film Taro Izumi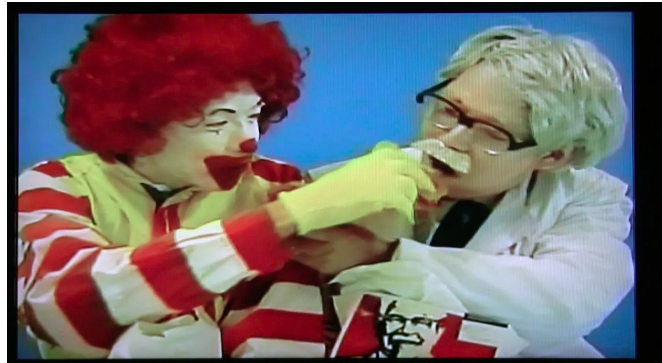 Taro Izumi Cartilage Flag, 2020
Being shown by Take Ninagawa a solo presentation of Japanese artist Taro Izumi. Working at the forefront of performance, video, and installation practice, Izumi shows works from his new Compact Structure series, currently on view in his solo exhibition ex at Museum Tinguely.
Born in Nara in 1976, Take Ninagawa lives and works in Tokyo. Graduated with an MFA from Tama Art University, Tokyo. Major solo exhibitions include Museum Tinguely, Basel (2020); the 21st Century Museum of Contemporary Art, Kanazawa (2017); and Palais de Tokyo, Paris (2017). His works are held in important international collections including the Dallas Museum of Art; the François Pinault Foundation; the Japan Foundation; the Kadist Art Foundation; M+, Hong Kong; the Museum of Contemporary Art, Tokyo; the National Museum of Art, Osaka; and the 21st Century Museum of Contemporary Art, Kanazawa.
The Online Viewing Rooms will be available via the Art Basel website under artbasel.com/ovr, as well as on the Art Basel App for the most mobile-friendly experience.
OVR:2020 Preview (by invitation only) Wednesday, September 23rd, 2020, noon (CET) – Friday, September 25th, 2020 noon (CET)
Categories
Tags