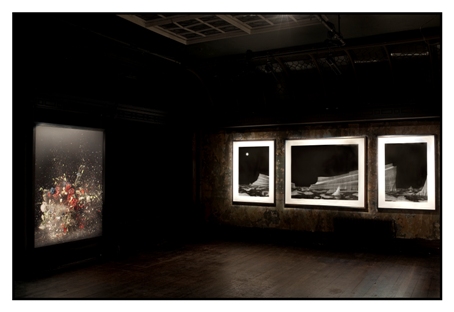 Image:Reece Jones. Habbakuk. 2010. charcoal on paper with polymer varnish in three frames. 140 x 420cm on wall. Courtesy All Visual Arts, Tessa Angus
The triptych that hangs in All Visual Arts' Vanitas exhibition is not a triptych. It's also not a series of photographs or photocopies, it's not concretely fantastical nor absolutely real. It is instead a piece which teasingly invites us to make these, and similar, assumptions as we attempt to get a handle on the tripartite (remember – this is not a triptych) landscape. Almost alien, almost real but teasingly, almost neither.
Reece Jones has arrived at this piece, Habbakuk, via a circuitous development. A development that reached a point where, he admits, he felt trapped by what he calls "a self completing theoretical loop". Addressing an audience at the Absolut Artists' Salon he speaks of college, where he claims everyone was preoccupied with the same thing, "I became fascinated with film, and that developed into an obsession with death scenes – the final moment".
His early work displays a photo-real precision when rendering the ever-preoccupying final moment. The subject matter was captured in an increasingly specific medium, charcoal and lacquer layered repeatedly, creating a surface which mimics that of a photograph or film. As a result, the death scene images sit somewhere between the real and a glamourised moment, a transformation of memory through its filmic treatment.
Increasingly frustrated with what he viewed as a succinct and overly ordered theoretical loop, Reece attempted to ignite a more dynamic dialogue within his work, deliberately fraught with tangents. This attempt became a physical assault on the work, taking sand paper and glass paper to the pieces, erasing what had been layered and fixed and, in turn, responding to this erasure.
This new direction was accompanied with works drawn together through repeated narrative motifs, halos hover over landscapes and divergent scenes are viewed through window frames. The works seem to suggest a reading with a narrative , but which, instead, constantly bring you to the same questions regarding the relationship between repetition and narrative: does repetition imply a narrative, and does this assumption move us to the creation of the story?
These motifs, most strikingly a haunting halo that too closely mimics the constricting theoretical loops that the work is an attempt to break free from, again explore notions of how memory works. In the early death scene pieces a filmic quality was established, these motifs go further in the exploration of memory, demonstratinghow it is often an attempt to create a coherent readings.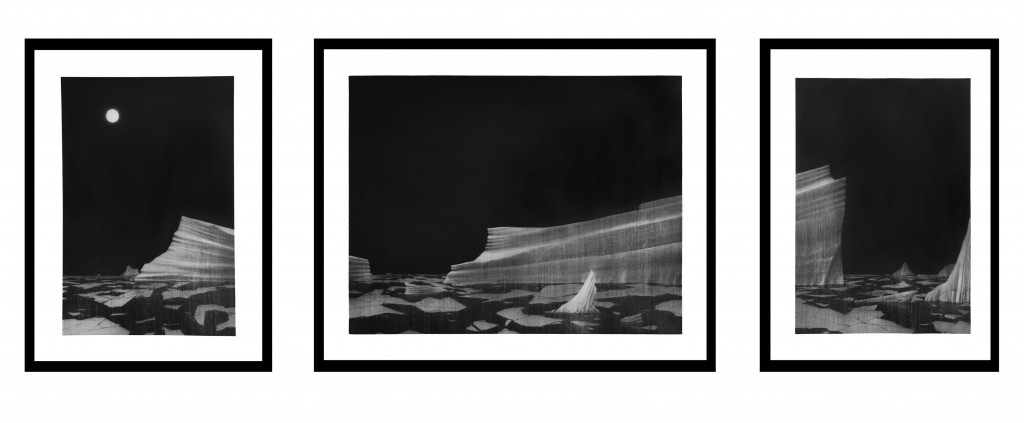 Image: Reece Jones. Habbakuk. 2010. charcoal on paper with polymer varnish in three frames. 140 x 420cm on wall. Courtesy All Visual Arts.
Habbakuk takes as its subject matter a failed World War II attempt to transform icebergs to air-craft stations for bombers, the stuff of science fiction which, appropriately, seems caught between reality and the fantastic. Form, content and medium are all subversive here, the three pieces hung adjacent to each other deny being viewed as a triptych but still invite us to do so. Similarly, without knowing that this photo-real image is in fact charcoal layered and lacquered, erased and reworked, it appears that what we are presented with is in fact a photograph of a deserted and fantastical scene.
Viewing Habbakuk is an unsettling experience, not merely because it "evokes a sense of awe, vulnerability and ultimate transcience through [the] foreboding appearance [of] sculptures in the dark," but because it is a piece which resists a certain response. The self-completing theoretical loop appears to have been broken, but you the viewer and your reading – and you're invited to engage in a deliberate interaction with what the piece presents – are keeping the work dynamic.
Reece Jones at All Visual Arts
Categories
Tags