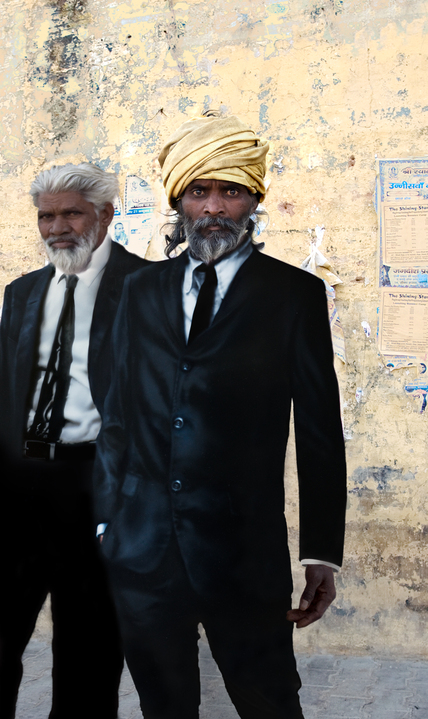 The Outsiders is delighted to announce What A Difference A Day Makes, the first solo exhibition of artist duo BeckerHarrison in The Dungeon. In this show, the pair will present a series of photographs based on the May 2008 bombings in Jaipur, India.
BeckerHarrison have developed a unique art-making process that defies media categorisation. Focusing on various topics of social and political conflict, Carolin Becker's photographs are worked over by Simon Harrison with his unconventional graffiti. This synergy of techniques offers complimentary social commentary that both emphasizes and creates new scenarios within the photographic realities depicted.
For their exhibition What A Difference A Day Makes, the duo has collaborated on a series of images of the temples and streets most affected by the Jaipur bombings in the days before and on the actual day of the attacks. The works are a retrospective view of religious conflict and aim to explore the powerful effect such devastation has upon the lives in the community.
We went to Rajasthan with the idea of capturing the role of Hinduism in daily Indian life and expanding the rich imagery of street life in Jaipur with traces, shadows and images of deities, symbols and spiritual objects. Instead we found ourselves in the middle of the conflict between two religions and inadvertently our trip and the images
we captured took on a different meaning. — BeckerHarrison, 2010
In their Indian series BeckerHarrison weave narrative, emotion and troubling reflection into the unsettling prophesies of the original photos. Silently volatile yet awash with sensitivity, the Jaipur works peel away the patterns and cycles of cultural conflict and whisper visceral insights into an all too painful humanity.
— LondonStreetartDesign (LSD), Issue 4 2010
BeckerHarrison
Carolin Becker and Simon Harrison are London based artists who have worked together as BECKERHARRISON since 2007. Formerly a fashion model, Carolin travelled the world working with renowned photographers including Patrick Démarchelier, Albert Watson and Herb Ritts eventually prompting an interest in taking her own pictures. In 2006, Carolin was introduced to Simon, a freelance cartoonist, illustrator and graffiti artist, who has lived, worked and travelled extensively in Switzerland, Northern Africa, South America and the Indian subcontinent. Shortly thereafter, the two discovered their common artistic interest and began their creative collaboration. Following a 2007 trip to photograph children in rural areas of the Atlas Mountains in Morrocco, BECKERHARRISON produced a book and raised over 100,000 for a charity dedicated to the education of girls in Morocco.
The work was later shown in 2008 at London's FUMI gallery. More recently, the duo collaborated on LUMINOSITY, a collection of large-scale photographic floral still lifes, and the portfolio LIVING WITH GODS, photographs portraying life in Rajhastan. Their work has been published in Art Review, AD Architectural Digest and LSD Magazine.
www.beckerharrison.com
Categories
Tags