WEEK: 1st – 7th September
There are loads of art events such as private views, artists talks, and screenings happening around London. To help you with the choice Jenny Judova from Art Map London will be advising on what events seem worth attending during the week.
WEDNESDAY 3 SEPTEMBER
Private view 'You cannot step twice into the same river' @ Pump House Gallery at 6:30-8:30pm 
Battersea Park London, England SW11 4NJ 
http://pumphousegallery.org.uk/
Artists: Patrick Coyle, Ellie Ga, Laura Pawela, Holly Slingsby and Alia Syed
You cannot step twice into the same river is a video and photography exhibition of international artists that explores the history of the River Thames. Through the work of artists Alia Syed, Ellie Ga and Laura Pawela, the exhibition looks at the reliability of documentary forms and devices. You cannot step twice into the same river challenges the notion of truth content amid intersecting narratives, historical and pictorial evidence and first hand recollections of events. As part of this exhibition, the Pump House Gallery is commissioning new performances by artists Patrick Coyle and Holly Slingsby that will take place on the evening of the private view.
Private view Carlyle Reedy 'Icons of a Process' @ Flat Time House at 6-9pm
210 Bellenden Road London SE15 4BW 
http://flattimeho.org.uk/exhibitions/icons-process/
A solo presentation of works by Carlyle Reedy, also featuring materials, documents and fragments of a career in art, writing and performance that spans five decades. Curated by Karen Di Franco.
Private view Lynda Benglis 'Planar Device' @ Thomas Dane Gallery at 6pm 
3 & 11 Duke Street St. James's, London SW1Y 6BN 
http://www.thomasdanegallery.com/exhibitions/83/overview/
Thomas Dane Gallery is pleased to announce Planar Device, an exhibition of new work by acclaimed American artist Lynda Benglis (b. 1941). Ceramics appear to be an ideal medium for Benglis, combining the pictorial surface of painting with the sculptural form in space. Rather than using a potter's wheel, Benglis manipulates extruded tubes and slabs of clay directly with her hands by pinching, pulling, squeezing, punching, crushing, and stacking them into complex sculptural compositions. With little predetermination, the works appear through certain intellectual and manual actions, involving the eye, the hand and the body, flowing out of information in the material itself.
THURSDAY 4 SEPTEMBER
Private view 'End of Summer Show' @ The Graffiti Life Gallery at 6-9pm
26 Cheshire Street, London, E2 6EH 
http://thegraffitilifegallery.co.uk/upcoming/
This September's show is set to inspire and entertain, with four very different but equally dedicated artists. From the UK to Australia we look forward to showing you new works from CURTIS HYLTON, G87, KROOKS and SWERFK.
Join us for the private viewing of our 'End of Summer Show' on the 4th of September from 6.30pm. Drinks will be being provided by our wonderful sponsor Auchentoshan Whisky.
Private view 'Elemental Perspectives' @ Art House1 at 6:30-8:30pm 
45 Grange Road, London SE1 3BH 
http://www.arthouse1.co.uk/whats-on.html
Complexity in nature and natural form: Elemental Perspectives at ARTHOUSE1 touches on the tactile nature of sensory experience.
The most striking aspect of this show is the immediate tactile response elicited by the works; you just want to touch them. The tantalising desire of wanting to plunge a hand into the soft downy tangles of Ione's paintings, and an irresistible urge to caress James' vessels greet visitors to Elemental Perspectives. It's not by accident these tactile yearnings are aroused, Ione sources her own body-memories of touch and tactile experience in nature when she paints and James spends long hours touching, sanding and smoothing his vessels. It is a sort of 'body knowing' underlying the creative process. It also harks back to the heuristic approach to experiencing our childhood environment.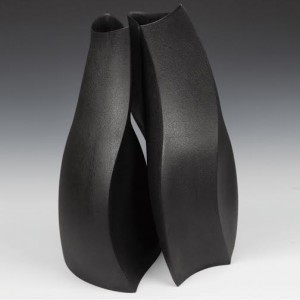 Private view Nathaniel Mary Quinn 'Past/Present' @ Pace Gallery at 6-9pm
6-10 Lexington Street London W1F 0LB 
http://www.pacegallery.com/london/exhibitions/12684/past-present
Pace London is delighted to present Past/Present, an exhibition of new works by Brooklyn-based artist Nathaniel Mary Quinn from 5 September to 4 October 2014 at 6-10 Lexington Street. Quinn's vivid, large-scale paper works are an assemblage of facial features which can be read as abstract-figurative works. The pieces deal with the complex construction of identity, inevitably influenced by past memories and present experiences, but executed in the moment.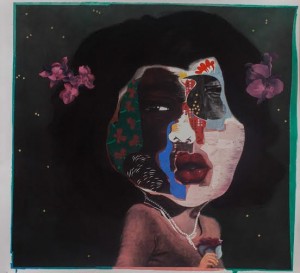 Private view John Hilliard 'Not Black and White' @ Richard Saltoun 
111 Great Titchfield St London W1W 6RY 
http://www.richardsaltoun.com/exhibitions/36/overview/
Richard Saltoun Gallery announces a solo exhibition of British conceptual artist John Hilliard, curated by artist and writer Duncan Wooldridge.
This is the first solo exhibition of John Hilliard in the UK since 2000, and the first in any context to draw out a long recurring motif: the puncturing and interruptive monochrome at the centre of many of his works. The exhibition will present key artworks spanning forty years of his practice.
Private view Sophie Lee 'Sugars, Protein and Salt (Perfect Fried I)' @ IMT at 6-9pm 
Unit 2/210 Cambridge Heath Road London E2 9NQ UK 
http://www.imagemusictext.com/exhibitions-archive/sophie-lee-sugars-protein-and-salt
IMT Gallery is pleased to present an exhibition of new work by Sophie Lee. For her latest project Lee has created a two-part video work with individual parts shown simultaneously at IMT Gallery and Gowlett Peaks, which operate as both sides of the same coin with bleeds and crossovers between the two. The works combine video, animation, text and sound.
Private view Ian Francis 'Endless Summer' @ The Outsiders at 6-8pm
8 Greek Street, Soho, London, W1D4DG 
http://www.theoutsiders.net/exhibition/134,ian-francis-endless-summer
Ian Francis will make a guest appearance at The Outsiders London this September with Endless Summer, a unique showcase of intimate studies encapsulating a collection of multiple narratives and disparate moments in time.
Following his last large-scale exhibition 10,000 Years From Now at Lazarides Rathbone, Endless Summer continues the artist's ongoing investigation into contemporary issues facing the human condition, presenting a new body of identically-sized studies that capture suspended snapshots of modern life. After spending the past few months oversaturated in summer photos and bombarded with random imagery, Francis began his exploration into how these moments collide and the way in which we interact with and relate to them. Fascinated by the circumstances enabling such randomly selected images and ideas to coexist, the artist questions the result of this crosssection in time, whether they align or fall apart and their reference point in history in relation to our past and future.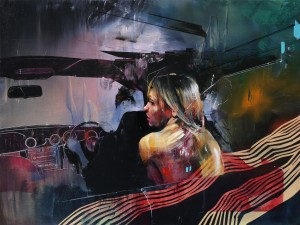 FRIDAY 5 SEPTEMBER
Private view 'As Wide as a Door is Open: Material Images' @ Fold Gallery at 6-9pm
15 Clerkenwell Close London EC1R 0AA 
http://www.foldgallery.com/exhibition/as-wide-as-a-door-is-open-material-images/
At its richest abstract art involves the simultaneous discovery and creation of new visual worlds, territories that provoke an obscure recognition but ultimately remain unknowable, enigmatic. Picking up on hints hidden in the accumulated conventions of the strange class of objects we call pictures, the early abstract artists began this exploration. The five artists in As Wide As A Door Is Open extend it, each developing personal formal languages which go beyond form.
Abstract art needs its own newly found reality, or at least a vivid sense of unreality. Dominic Beattie, Stephen Buckley, John Bunker, EC and Christopher McSherry do not share a single approach to achieving this, beyond a desire to anchor their illusions of space and structure as tangible physical presences.
Late opening 'Sonic City' @ Museum of London (Docklands) at 7-10pm
Museum of London Docklands 150 London Wall London EC2Y 5HN 
http://www.museumoflondon.org.uk/docklands/whats-on/adult-events/late-events-docklands/
We're being taken over by international artist Scanner! Explore sonic London through creative installations, intimate gigs, workshops, and talks and discover the hidden noise of our modern city. You'll also be the first to hear Scanner's new immersive sound installation, Bridging the World, inspired by our exhibition, Bridge. With an after-hours view of Bridge, a soundtrack co-curated by Brian Eno and Scanner and late night bars.
SATURDAY 6 SEPTEMBER
Film screening 'Where is my Territory?' @ Whitechapel Gallery at 3-4pm
77-82 Whitechapel High St London E1 7QX
http://www.whitechapelgallery.org/shop/product/category_id/1/product_id/1978
This screening follows contested landscapes as they transform through urbanisation, pollutions and natural disaster, forming new cities, dreams and imaginaries. Featuring work by Monira Al Qadiri, Ali Cherri, Köken Ergun and Basim Magdy. Followed by a Q&A with Ali Cherri.
Booking essential. £8.50/£6.50 concession (£4.25 Whitechapel Gallery Members). *Proof of concessions and membership to be shown on the door.
SUNDAY 7 SEPTEMBER
Angel Canal Festival 
Danbury Street, Islington, N1 8JX 
http://www.angelcanalfestival.org/ 
'This annual one-day festival is based around the City Road Lock, Basin and towpath alongside the Regents Canal, also local streets and a park, in Islington, North London.
Attractions include Stalls, a Children's Fun Fair with Rides & Bouncy Castles, Punch & Judy, Story-teller, Boat Trips (20mins & 45 mins), Art Projects including free 'Have-a-go-at-Pottery' sessions, an Outdoor Art Gallery, Live Music (Folk, Ska, Brass, Jazz, Ukuleles) & Street Theatre. There is also a Regatta with free 'Have-a-go-at-canoeing' sessions and Bell-Boat Racing. Arsenal in the Community stage their 'Penalty Shoot-outs. There is a free Lucky Programme Draw at 4pm, with 2 prizes: £100 cheque or an Arsenal signed T-shirt or Football.'
Categories
Tags