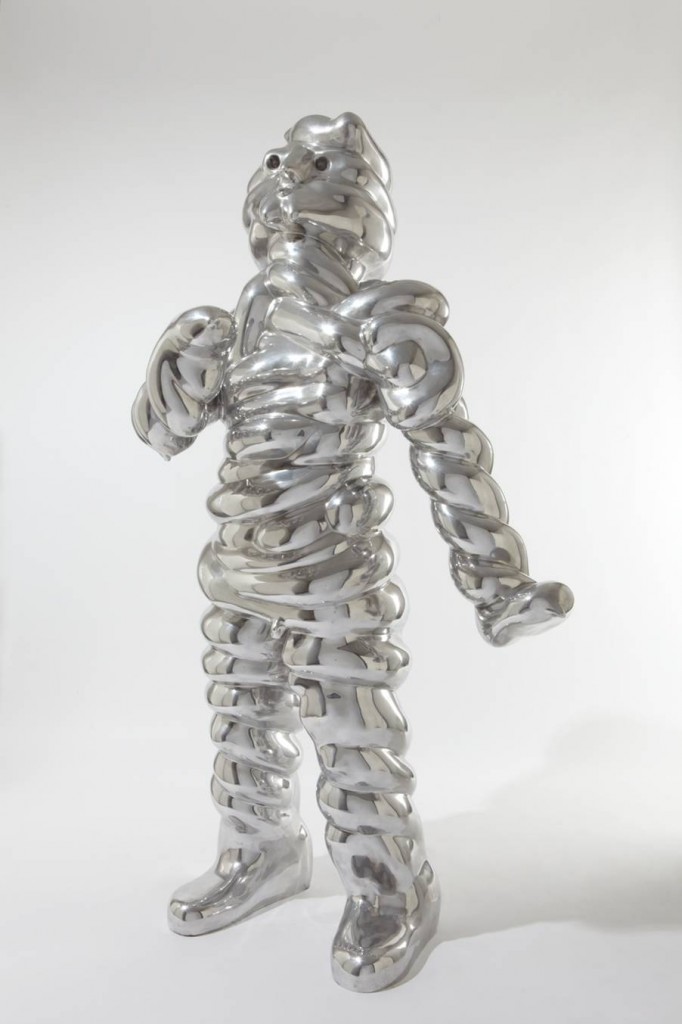 Image:Thomas Schütte's, Grosse Geist No. 16, 2000, estimated at $1,000,000-$1,500,000
Phillips de Pury & Company is proud to announce the launch of its new auction and exhibition gallery at 450 Park Avenue. The landmark space will open on the 30th October with the preview of the groundbreaking first auction comprising Carte Blanche and Contemporary Art Part I.
The auction on the 8th November will feature significant works with a low estimate of approximately $100 million and will be a milestone in the history of the company.
Located at the corner of 57th Street and Park Avenue, the auction and exhibition gallery has undergone an
extensive nine month renovation and will feature three floors with 20,000 square feet of exhibition space. It will
play host to exclusive curated auctions, high-end Contemporary Art, Design, Photography, Jewelry and single
owner sales as well as exceptional events and will become a destination for discerning art lovers and
enthusiasts worldwide.
"We are extremely proud about the launch of 450 Park Avenue and together with 450 West 15th Street, we will
now have two outstanding spaces to showcase the exciting spectrum of our auctions." Simon de Pury,
Chairman Phillips de Pury & Company.
The Carte Blanche sale is comprised of 33 works with a low estimate of approximately $80,000,000 /£51,000,000.
Carte Blanche is an innovative, new series of sales curated by notable art world figures that will début with
the much anticipated sale organised by Philippe Ségalot, a distinguished art advisor who has worked closely
with collectors and artists to help form some of the world's most significant private collections of
contemporary art.
Philippe Ségalot is the former international head of contemporary art at Christie's and has been an art advisor within his company Giraud Pissarro Ségalot for the last 10 years. He has developed the Carte Blanche sale with the same focus and attention to quality that a private collector would develop their own collection.
"I have always been interested in the concept of curated sales, where the artworks are selected not for their market value but for their artistic quality, historical importance and coherence within the group. Here, I tried to push this idea further by bringing together a small "collection" comprised of my favorite works by my favorite artists. The result is a true self-portrait, a close representation of my life as an art lover, an art collector and an art advisor."
Philippe Ségalot.
With highlights rare to the market such as Andy Warhol's, Men in Her Life, 1962, Maurizio Cattelan's, Stephanie, 2003 and Takashi Murakami's, Miss ko2, 1997, the inaugural auction promises to be an electric and unmissable event for collectors and art lovers worldwide.
Highlights from the sale include:
Andy Warhol's, Men in Her Life, 1962, estimate on request. Men in Her Life is an outstandingly important work from one of the most significant and creative moments in Andy Warhol's career. Made in the fall of 1962, arguably the artist's breakthrough year, the picture is among his earliest silkscreen paintings, and it combines in one image many of the central themes of his oeuvre: celebrity, wealth, scandal, sex, death, Hollywood, icons of American life. The present painting, moreover, is one of only four works in the Men in Her Life series; it is one of only two of these works on a large-scale, multi-image format; and it is the largest of all the four pictures in the series. It is a work of great significance, fascination and beauty.
Felix Gonzalez-Torres', "Untitled" (Portrait of Marcel Brient), 1992, estimated at $4,000,000 – 6,000,000. The candy pieces are the most celebrated and iconic series by Felix Gonzalez-Torres. "Untitled" (Portrait of Marcel Brient), 1992, is an especially important example from the series and an unconventional portrait of the artist's close friend, the important French collector, Marcel Brient. It is one of only two such works all in blue — a color especially beloved by the artist and the only one in the series to bear a word on the original wrapper — PASSION. While his other candy portraits have an element of elegy and lamentation mixed in with the beauty, the present work instead seems to focus more exclusively on joy and celebration.
Jean-Michel Basquiat's, Self Portrait, 1982, estimated at $4,000,000 – 6,000,000. "SELF PORTRAIT" is one of Basquiat's most intimate and autobiographical works. In it the artist depicts himself as a man-child. The materials and the anatomy of the figure directly evoke the style of children's drawings, and yet the picture manifests a depth of self-analysis that has few rivals in modern and contemporary art. Self Portrait is a votive and reliquary, a tabernacle of memory and desire, hope and loss, making the work as much a fetish or a sculpture as a painting.
Takashi Murakami's, Miss ko2, 1997, estimated at $4,000,000–6,000,000. Miss ko2 is the first large-scale sculpture Murakami ever made of a character inspired by the fantasy world of otaku, the obsessive Japanese subculture of anime, manga and video games. It is hyper-sexual and emphatically artificial – Miss ko2 embodies both ancient Japanese traditions, and their contemporary transformation in otaku culture; and it points to some of the same transformations emerging in the hybridization of culture all over the world today.
Robert Morris', Untitled, 1967, estimated at $400,000 – 600,000. Untitled, 1967, is one of Robert Morris's earliest felts. A central figure in the New York art scene since the mid sixties, this work is from Morris' 'permutation' series — minimal sculptures based on elements that were regrouped daily in order to calculate all
possible configurations. Two layers of felt are juxtaposed on top of one another and hung eight feet high from the floor.
Maurizio Cattelan's, Charlie, 2003, estimated at $2,000,000 – 3,000,000. Charlie, 2003, was created for the international exhibition of the 50th Venice Biennale. He is a remote-controlled, doll-like self-portrait of Cattelan as a child who pilots a small tricycle. By way of the work's remote control, the Cattelan doll, can be
made to drive the tricycle in any direction desired, and can also be made to move its eyes, or even roll them in cartoonish exasperation. Charlie is an iconic example of what Cattelan has dubbed his "mini-mes" – works that act as Cattelan's physical and emotional surrogates and as tools to both deconstruct and elaborate his public persona.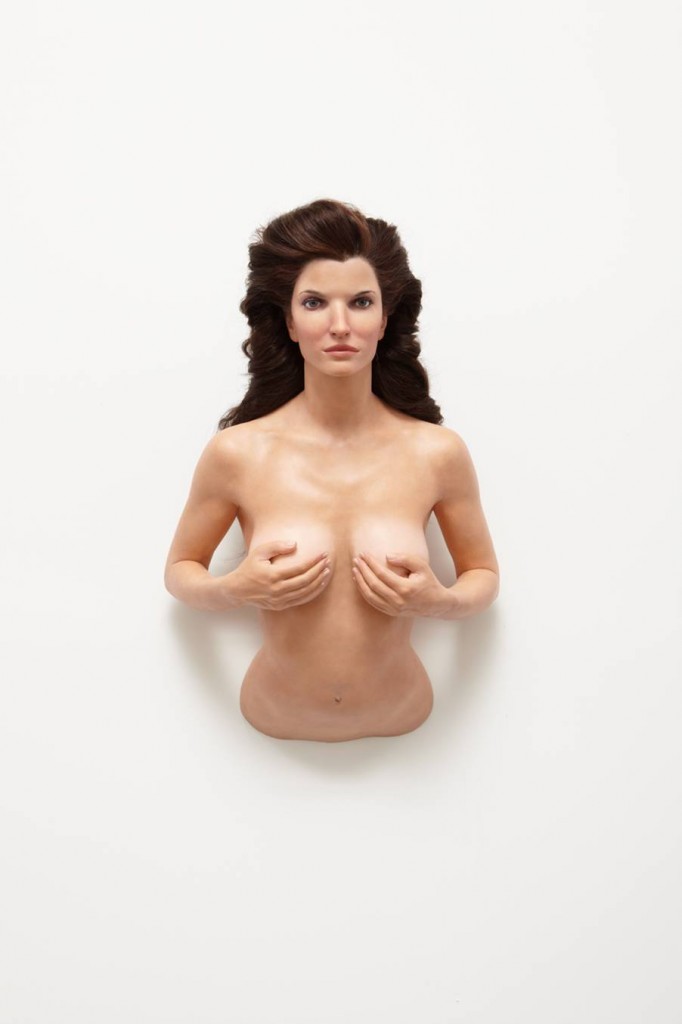 Image:Maurizio Cattelan's, Stephanie, 2003, estimated at $1,500,000 – 2,000,000
Paul McCarthy's, Mechanical Pig, 2005, estimated at $2,500,000 – 3,500,000. In the grand scheme of Paul McCarthy's art, full of the exaggerated and the grotesque, Mechanical Pig is one of the few works that is seemingly naturalistic and straightforward. Not only is the sculpture life-size and made of materials that
mimic the color and texture of animal skin with uncanny accuracy, it even pulses with the appearance of inner vitality: the pig breathes rhythmically and occasionally moves her feet, tongue and eyeballs. Moreover, like a sculpture on a pedestal, the pig is placed atop a set of machines that power its illusion of life, and the wires and pulleys that connect the pig and the machines are fully exposed to view.
Cindy Sherman's, Untitled # 153, 1985, estimated at $2,000,000 – 3,000,000.The only work from this edition not in a museum collection, Untitled #153 is one of the most iconic from Cindy Sherman's Fairy Tale series. Sherman's persona lies sprawled out on the grass, seemingly dead and partially buried yet with eyes open. Focusing on the gruesome and the macabre in this series, Sherman presents us with an altered perspective to the commercialized, happily-ever-after of fairy tales.
Maurizio Cattelan's, Stephanie, 2003, estimated at $1,500,000 – 2,000,000. Cattelan's work Stephanie, 2003, is a portrait commissioned by newsprint magnate and magazine publisher Peter Brant of his wife Stephanie Seymour. It is a lifelike, nude waxwork of Seymour, the legendary supermodel Designed to be mounted on the wall, the piece turns the effigy of Stephanie Seymour into a literal trophy wife, her voluptuous form arching gracefully out of the wall. Stephanie certainly has mischievous overtones that suggest Cattelan may have been having fun at his commissioner's expense, but the work also resonates in a way that pushes it beyond the bounds of a simple prank.
ImageThomas Schütte's, Grosse Geist No. 16, 2000, estimated at 1,000,000-1,500,000. Copyright Thomas Schütte
Thomas Schütte's, Grosse Geist No. 16, 2000, estimated at $1,000,000 –1,500,000. Grosse Geist No. 16, 2000, is cast in aluminum and one the most intricate sculptures from Schütte's Grosse Geister (Big Spirits) series. The figures are ghostly, colossal, fluid, and monstrous — boldly striking yet wrapped in unexpected contradictions and tensions. Completed between 1995 and 2004, Schütte created seventeen different versions of these Big Spirits, each in an edition of three and each of the three in a different medium: aluminum, polished bronze or steel. No two of these works are exactly alike.
David Hammons', Hair Relaxer, 2001, estimated at $800,000 – 1,200,000. Hair Relaxer is an outstanding example of David Hammons's artistry. The title of the present work refers to the practice among African Americans of "relaxing" or straightening their hair. Like many of his best works it is at once philosophical
and humorous, deep and light-hearted and made from a combination of cast-off materials and high-minded principles. It is simultaneously a reflection of African American experience and a response to European American Modern Art. Hammons has often used hair in his works as a means of provoking thought but
perhaps no other piece by the artist does so on such a large scale or in such a bold way.
Phillips de Pury & Company's Chelsea location at 450 West 15th Street will remain home to Contemporary Art,
Design, Photographs and Editions sales, as well as the company's successful series of Theme sales.
Categories
Tags