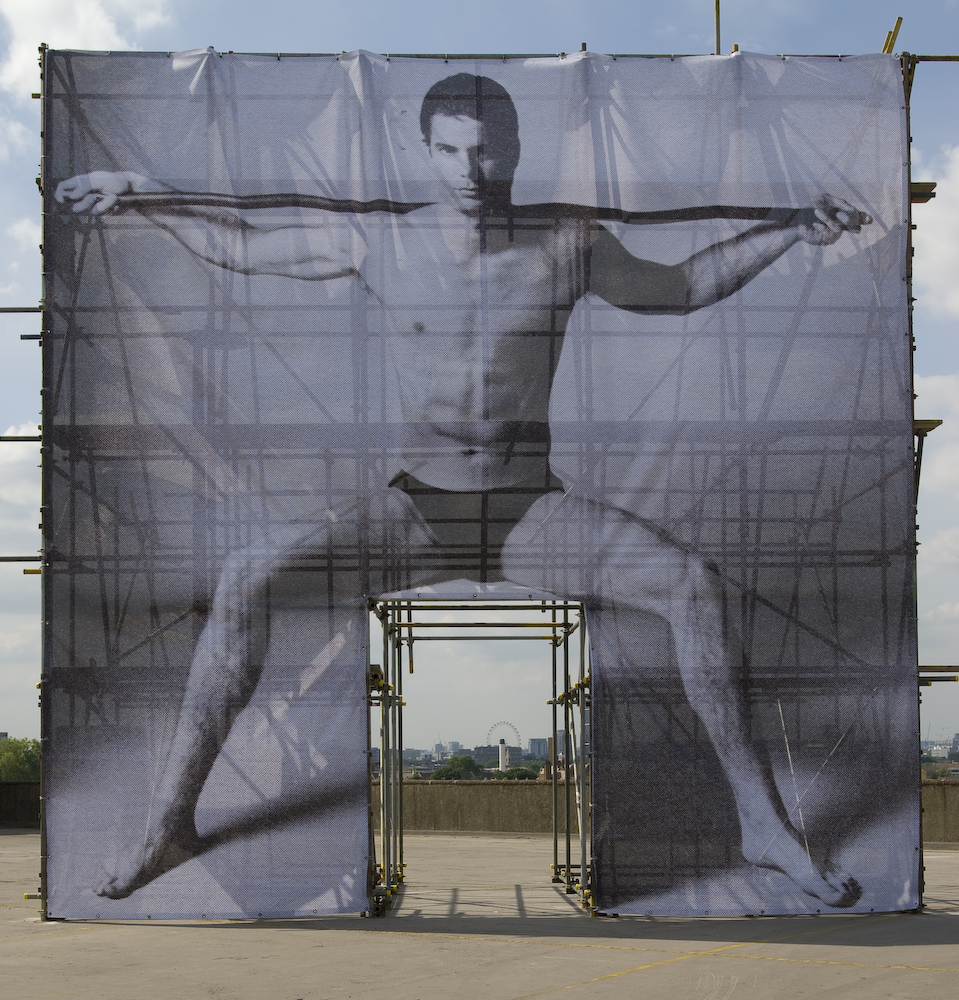 The sun's beaming down on us and the views up here are absolutely stunning – you can see every part of London, a beautiful 360 degree view. Any pre-empted thoughts I had of Del Boy, Rodney and a yellow Reliant Robin have slipped out of my mind… & I'm left to appreciate the surrounding sculptures and a picture-perfect backdrop of my city. Who would have thought the top floor of a multi-story car park in Peckham could offer such sites and prove to be an amazingly unconventional space for an art exhibition?
I'm here with Joe Balfour, Project Manager for Bold Tendencies 4. Joe, thanks for meeting me…
I understand Bold Tendencies has been running for a few summers. Can you tell me a bit more about the inspiration behind the original concept and how the idea has evolved?
Well this is Bold Tendencies 4 this year. The very first Bold Tendencies was on a roof of a school in Peckham and it was an idea just to have an outdoor sculpture exhibition out in the elements, and a roof seemed like a very fitting place. The second Bold Tendencies was the first time we had this space, the multi-story car park here in Peckham, which allows us to deal with a scale like no other gallery in London. With this kind of space and backdrop of London, it's really important that we put a lot of work into realising that potential. So we decided to commission sculptures specifically for the site. Last year was the first year of Frank's Cafe and Campari Bar. The idea for that always grew from the simple fact that we're all human; so if we're going to get people to come down to Peckham, come and look at some sculpture on a rooftop, it would be really great to have a drink! And that proved a great success. We had over 30,000 people come down to see the exhibition last year, which is a fantastic achievement. So this year we installed a committee of 14 curators who came together and invited different artists to make proposals for this site, the committee selected the works and we commissioned the artists… and that's what we can see here. We show 15 sculptures by young artists all under 35, with a beautiful backdrop of London.
Now I'm going to ask you to paint of a picture of one of the sculptures here. What caught my eye was this one opposite us, which is Anthea Hamilton's 'Aquarius'. We're literally sitting opposite this massive print with a very attractive, half naked man staring at us, with a passageway between his legs which you can walk through. Do you mind describing this a little more – perhaps more articulately than I have!
This is a great sculpture because one of the first things you notice is the scale. It really takes the title of the exhibition – BOLD Tendencies – to heart. It's the biggest sculpture here; it's about five metres tall by about by five metres wide and towers above the whole London skyline. The figure on the sculpture, which is essentially a billboard attached to a scaffold structure, looks something like a Calvin Klein model; muscular, tiny little pair of pants on …and what he's doing is sitting on a bench with his legs apart and this doorway sits underneath his groin, in-between his legs. On one hand this doorway is a passageway. On the other; come the evening, the sun sets between that passageway – between his legs, underneath his groin… (Laughs) So this sculpture traces the movement of the sun throughout the day. …And also he has this bar over his shoulders – a weight lifting bar – which draws our attention towards the horizon line of London. This also draws parallels with Atlas, the mythological figure who holds up earth, so you have this strong man, this idealised male figure but at the same time it's quite ridiculous because the figure is very objectified. It's a very interesting piece for all of those reasons but also because it ties in with that great history in art which is actually the objectivity of women in paintings and ancient sculptures for hundreds of years – but here Anthea Hamilton has flipped it around and here we have a man being objectified!
In a nutshell; why should people come?
We've been really fortunate in the number of people who have come down to the show. This year has proved all the more successful again, which is really fantastic because by doing this exhibition we have a real service to the artists who are showing here; we want people to see their work, we want people to interact with their work, to understand what they're doing. We really want this to be a launch for the next step in their career. But also we have a great bar and restaurant, we have the most fantastic views in London, we have a fantastic atmosphere up here: busy, and active, and lots of laughing…!
I second that! Go at sunset, enjoy a beer and watch the sun disappear between a hot man's legs… what more do you need on an evening out??
Bold Tendencies 4 runs until 30th September 2010; Floors 7-10, Multi-Storey Car Par, 95A Rye Lane, SE15 4ST (Peckham Rye Station), FREE. Please visit www.hannahbarry.com for more details.
All images:Damien Griffiths / Courtesy Hannah Barry Gallery
Jo Sutherland

About Mark Westall