Tatton Park Biennial sticks contemporary art into one of North West England's most rarefied late-Georgian country estates. With a theme of 'Framing Identity', the house, gardens and grounds have, throughout summer, become a stage for the imaginations of over 20 artists, all creating 3D or installation pieces that reference the location and its history – and sometimes rub it up the wrong way.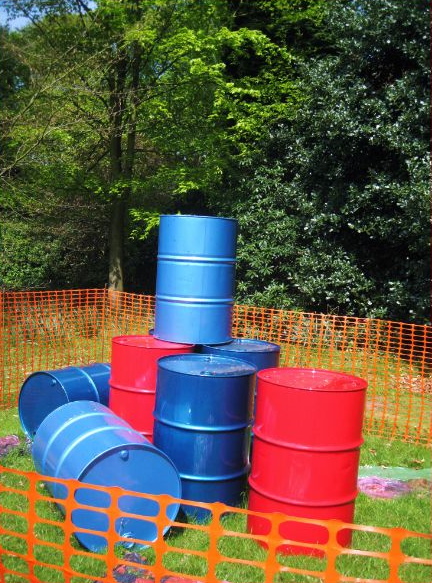 Deliberately creating a blot on Tatton's romantically picturesque landscape, Jimmie Durham's assemblage of bright-painted 'leaking' oil drums on a finely clipped lawn has outraged some members of the Tatton Trust. Referencing the artist's history as a native American Cherokee, and his community's land claims amidst the drive for oil, the piece has proved timely as the United States' deregulated lust for petroleum results in its worst ever man-made disaster.
But while a biennial just wouldn't be a biennial without at least some political provocation, there's a lot more to Tatton than shock factor – and the most successful pieces tap into the surrounds in more subtle ways. Jem Finer Spiegelei's installation at the edge of the Japanese Garden pond has something of the Victorian folly about it, thought it goes on to dreamily alter your perspective of the surrounding water, trees and sky in a manner that your average faux-castle struggles to deliver. A mirrored sphere 'sits' atop a basic wooden shed and internally displays a three-way camera obscura image of the Japanese Garden. There's room for one person at a time to enter the shed and stand with their head in the sphere, becoming immersed in a magically dappled 360-degree mirror image of the landscape – complete with silvery water and, if you're lucky, the sudden flight of birds. It's an unforgettable update to the science-bending practice of an artist, musician and composer who has worked in residence at Oxford Department of Astrophysics.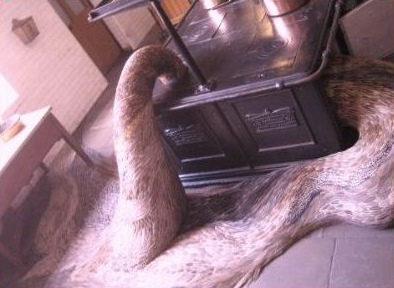 If there's a fair bit of science involved in Spiegelei's piece then Kate MccGwire's work, sited in the kitchens of the mansion, is perhaps the most fantastical furthering of Tatton's history. Game shooting and the preparation of the birds for eating was a major part of the estate's culture and MccGwire's installation combines thousands of locally sourced feathers, each coming from a bird that would have been cooked in the house. The end result is a freakishly silky 'organic' form – resembling a boa constrictor-size bird's neck without a head – that emanates from the oven and takes over the space.
Even more unlikely, Neville Gabie's piece centres on a block of ice brought to Tatton from the Arctic and kept cool by solar panel generated air-con units. While the process is more marvellous than the product, this iceberg in an ugly box chimes with the explorations of one of the more daring members of the Egerton family, who owned Tatton from 1598-1958.
Meanwhile the social divide at the estate is explored in Annika Eriksson's films, shot at Tatton and screened in her portable six-seat cinema. Back in the grand house, Helen Maurer's delicate and enchanting kinetic offering drops from ceiling to floor in the Cupola Room, employing glass once used in chandeliers at Manchester Airport to recall the WWII parachute descents at Tatton.
The Biennial is curated by Danielle Arnaud and Jordan Kaplan, who describes it as, "an opportunity for artists and writers to immerse themselves in the histories of Tatton Park and question identity and place within the context of the estate and surrounding area. Throughout the summer Tatton has become a creative laboratory, where artists' experiments bemuse, confuse and provoke visitors."
From a giant rocking horse to a Blair Witch-esque horror in the bushes featuring an ominous, well, shed and a lot of dry ice, Tatton Park Biennial is at times eccentric, others esoteric – but the combined whole is an absorbing day in a stunning corner of the country.
Tatton Park Biennial 2010: Framing Identity. through to 26th September. For opening times and travel information: www.tattonparkbiennial.org

Matthew Miles is a London based art, culture, script and fiction writer.
 
Categories
Tags