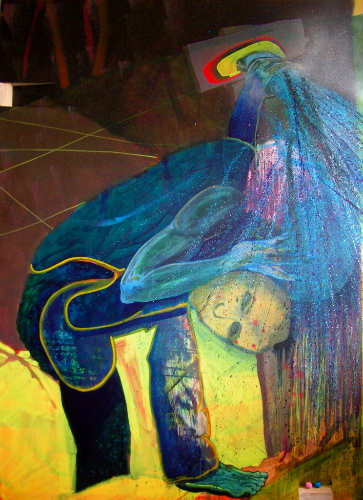 Image:Untitled (shower seen), Oil on canvas, 180 x 132.5cm, 2010
Cope's work as a painter liberates itself from all easy categorisation by presenting himself and us with problems not to solve but to question. Again and again. The image-maker simultaneously as iconoclast, perhaps: not dilettante eclecticism, but a sardonic joy and (at one and the same time) delighted cynicism at the limitless (im)possibilities of painting. Of course he can paint photo-realistically (who couldn't in any case learn?) Of course he can adapt tropes, seize on motifs, deconstruct the canvas, make a mess. But there's more, there's always more: with energy, imagination and sly wit each painting thwarts its own outcome (what, Cope might ask, is the point of painting when the result is a foregone conclusion?) Within each canvas there are points at which, the result already apparent he (clearly) takes off at once down some non-signposted path.
This is it.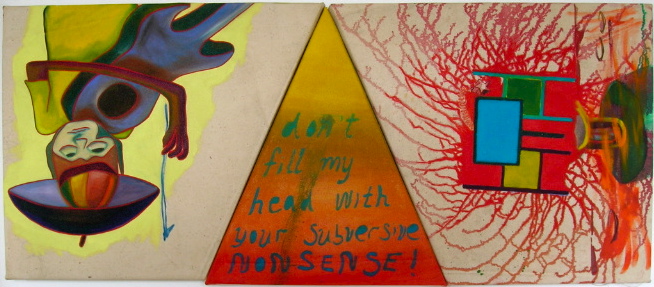 Image DON'T FILL MY HEAD WITH YOUR SUBVERSIVE NONSENSE!, 2010, oil on canvas, 35 x 106cm.
www.re-title.com/
www.studio1-1.co.uk
Categories
Tags