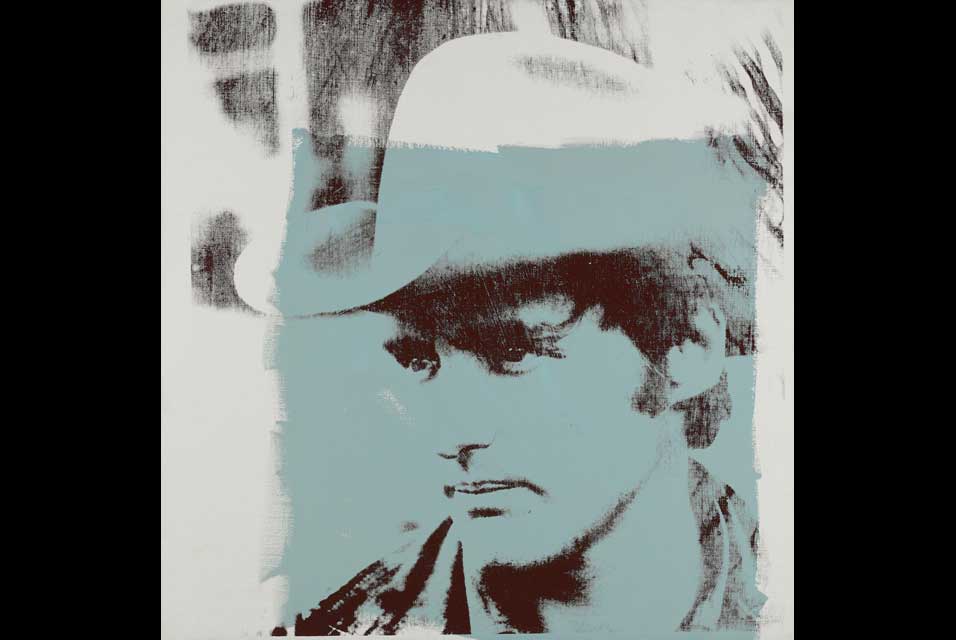 Andy Warhol, Dennis Hopper, 1971. Synthetic polymer and silkscreen ink on canvas, 40 x 40 inches. Estimate: $800,000 -1,200,000. Photo: Christie's Images Ltd 2010.
Christie's announced the sale of artworks Property from the Collection of Dennis Hopper during its Post-War & Contemporary Evening and Day Sales in New York on November 10 and 11, 2010. The late Hopper, who fused film with fine art throughout his influential 60-year career, culled a comprehensive collection of contemporary art; including prized works by Andy Warhol and Jean-Michel Basquiat. The actor-artist's collection is expected to realize over $10 million.
Hopper took an interest in the arts early on, from photography to painting, assemblage and sculpture. Hopper pursued his own art as well as collected the works of then-fledgling artists such as Warhol, Basquiat, Claes Oldenburg, Julian Schnabel and Richard Prince.
Hopper was on the forefront of the Pop Art movement, and was noted for buying Warhol's first Campbell Soup can for $75, at the artist's first show in Los Angeles. The works of Wallace Berman and Bruce Connor, that Hopper collected derive from a beatnik generation aesthetic.
Other artists whose work he collected include Donald Baechler, John Baldessari, Keith Haring, Kenny Scharf and Robert Rauschenberg. This summer, Julian Schnabel, whose work Hopper also collected, curated Dennis Hopper Double Standard, Hopper's first, comprehensive museum survey exhibition in the U.S. at The Museum of Contemporary Art, Los Angeles. Hopper has had monographic exhibitions outside the U.S., but being appreciated in his own country was insurmountable to him, as he supported mostly American artists himself.
Highlights from The Collection of Dennis Hopper include Basquiat's Untitled 1987, executed in acrylic, oil stick and graphite (estimate: $5,000,000-$7,000,000) as well as Warhol's Portrait of Dennis Hopper, 1971 in synthetic polymer and silkscreen ink (estimate: $800,000 -$1,200,000) in shades of blue, gray and ecru. The two works will be presented for sale at Christie's Post-War &Contemporary Evening Sale on November 10.
Categories
Tags