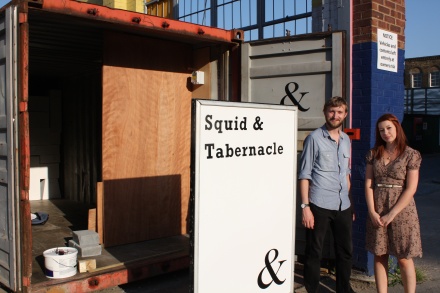 The huge importance of an exhibition setting or space has long been acknowledged by exhibition goers and emphasised by curators who pain-stakingly spend months reinventing a space in order that it best presents, supports and reflects the work on display. Itinerant art gallery Squid & Tabernacle has taken the concept a step further, deliberately avoiding the restrictive rootings of a bricks and mortar gallery location, instead finding specific locations to suit their exhibitions. The concept of a nomadic gallery makes perfect sense, allowing the artist and curators to have even greater freedom and input into the final finish and feel of the exhibition as a whole.
You will currently find Squid & Tabernacle located in a disused shipping container just round the corner from Dalston junction Station, Hartwell Street to be exact. 'An unlikely spot for an art gallery' was my first thought, but apparently not. The thriving art community that exists and continues to grow in Dalston means the gallery is never short of visitors and apparently many of the other containers on the site also serve as functioning offices or community spaces. So impressed was I by the ingenuity and logic of the Squid & Tabernacle project, I set out to meet the gallery founders Hanna Sorrell and George Major one boiling hot June evening. Despite our meeting location being an uncomfortably over heated metal box, both were kind enough to answer my questions and shed some light on the intriguing concept that is Squid & Tabernacle.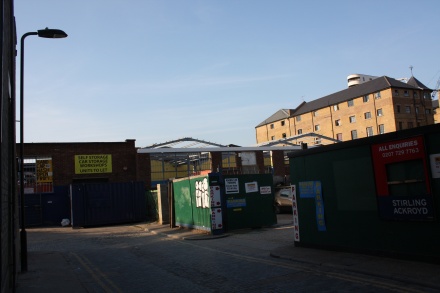 Tell me about Squid and Tabernacle – the concept and how it originated…
We are an itinerant gallery. We invite artists to exhibit with us, often asking them to create site specific work, but we do not have a fixed location. In part this was a practical decision: we didn't want to be tied down to a premises, however, our itinerant nature very quickly became central to what we do and has led to our current emphasis on site-specific work.
What do you look for in a gallery space when you move on to a new venue?
It can be very, very difficult to find the right space. In the case of our current location, we had quite specific ideas for the work we wanted to show, but came across the space almost by accident. It is an experimental process, the space has a real impact of the work, and it is always fascinating to watch the work develop in response to the space in the run-up to each show. I suppose the one criterion is that the space must show, in some way, the potential to allow this exploratory process to occur.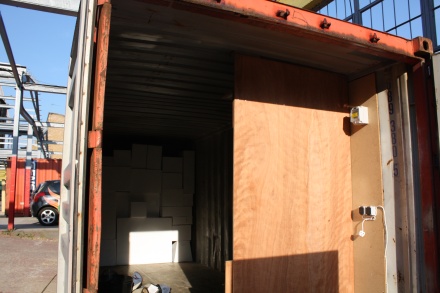 Your current exhibition is staged in a shipping container in Dalston of places. How did you stumble upon this and what was the appeal of the space?
It is an infinitely versatile space. During the installation of our previous show the artist, Rachel Price, arrived one day worried that she wasn't exploiting the space to its maximum potential, she decided to tilt the container onto its side so that she could pour cement into the corner where it would set (apparently she had woken up at the dead of night with this idea in her head). So, that's what we ended up doing, There can't be may other gallery spaces where this would have been possible.
We explored hundreds of possible locations before finding the container. Our surroundings here are in an incredible state of constant flux: we are surrounded by derelict buildings, but the area attracts an astounding number of people looking for a space in which to work or pursue creative projects.
How important do you think the exhibition setting really is? Do you believe it has a significant effect on an audiences understanding / appreciation of the work?
The choice of setting is vital. Being particularly interested in site-specific work it is very important that the artist can work in response to the location, and the viewer must, therefore, be aware of this relationship between the work and its surroundings. The shipping container is a good example; the artists that we have been working with have all recognised the importance of maintaining the character of the space in which they are working, as opposed to treating it as a conventional gallery. At all stages we have resisted the temptation to turn the inside of the container into a standard white-box-type-gallery-space.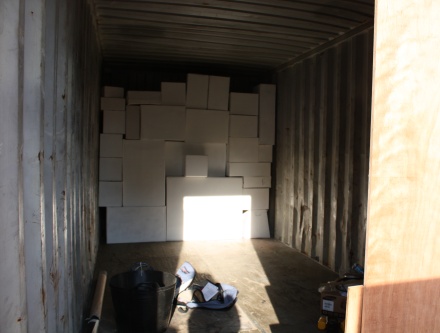 You exhibit art work from a whole range of disciplines. Tell me about some of the shows you've staged. Is there one artist or piece of work that stands out for you in particular?
Each show that we do builds on those which have gone before. In asking artists to make work in interaction with a location we are also inviting them to respond to what the previous artists have achieved there. That ongoing conversation between the artists and their surroundings is what is so exciting about the project in its current form.
What's next for Squid & Tabernacle? Any exciting plans for the future?
Our next show is a film and installation by Liane Lang which fits brilliantly with our ethos, evoking the space's previous existence as a sea container while recognising the dereliction and regeneration that surrounds us here. The piece is loaded with art-historical references, with particular references to the surrealist photographer Dora Maar. It promises to be a fantastic show.
And finally – explain the name Squid & Tabernacle?
We have various stories about the name, some wild and apocryphal and others mundane. Either way, the name provokes people to ask why we chose it rather than just going unnoticed.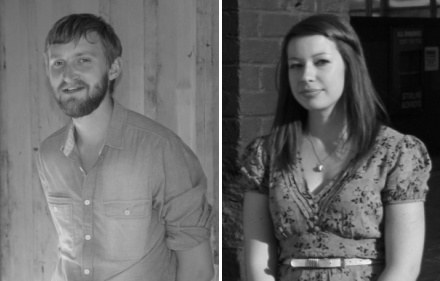 (Squid & Tabernacle founders: George Major and Hanna Sorrell)
Find out more about Squid & Tabernacle at www.squidandtabernacle.com or visit the gallery at Hartwell Street, E8 3DU.
Their next exhibition Shadows and Stowaways, will present works by multidisciplinary artist Liane Lang. The Private view is Thursday 1st July.
Categories
Tags