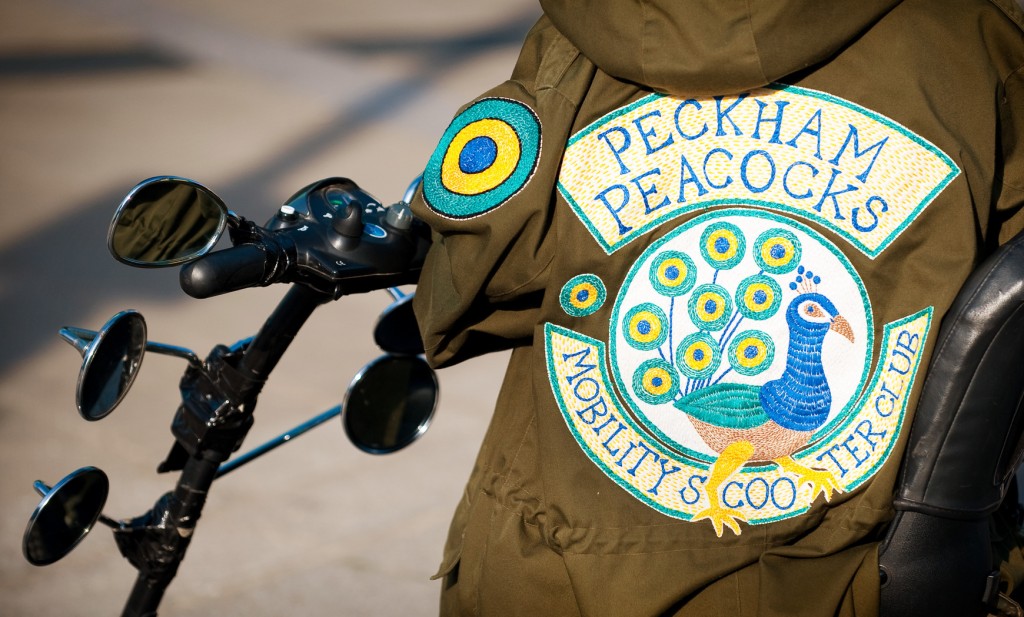 Saturday 12 June – Peckham Peacocks 2-5pm, Peckham Square Rachael House invites you to take part in Peckham Peacocks, London?s first ever mobility scooter meet. You will be able to design a club pennant, be a face at our artist-made coffee bar, have a sixties style makeover and much more. Featuring special guests The Red Wheelies mobility scooter formation display team, Peckham Peacocks is an art event for mobility scooter riders, foot powered micro scooter riders, children?s scooter riders and pedestrians. Riders and non-riders are all warmly welcome.
Saturday 12 June – Meet the artists 2.30-4pm, Peckham Space Harold Offeh, Jessica Voorsanger and David Cotterell. Half an hour with each artist. Offeh will present "Futurama?, his collaboration with young people?s mentor inclusion programme Leaders of Tomorrow which will be exhibited this autumn. Via specially designed objects, this project will envision life in Peckham in 2050. Jessica Voorsanger will discuss "Peckham Heroes?, a karaoke-themed homage to ten local heroes selected by students of Harris Academy Peckham, which will be shown next spring. David Cotterell will talk about next summer?s exhibition for which he and residents of north Peckham will collaborate over 18 months to produce an exploration of the history, geography and psycho-geography of Peckham.
Sunday 13 June – "Zineswap 2-5pm, Peckham Space Celebrate Peckham's DIY publications! An afternoon devoted to DIY publications, "Zineswap invites people to bring their "zines to Peckham Space, and leave with new, exciting zines and bookworks by people from SE15 and beyond.
About Peckham Space:
Welcome to Peckham Space, an arts organisation that produces new artwork in response to and with the people who live in Peckham, London SE15.
Peckham Space is a partnership between Camberwell College of Art, University of the Arts London and Southwark Council. The opening of our new building in the summer of 2010 will mark another chapter in our artistic programme that launched in June 2008. Over the past 18 months Peckham Space has delivered five commissions that are showcased on this website via images, podcasts and video. Over the coming 18 months we will be implementing our new commissioning policy that will produce contemporary artworks that are embedded and relevant to life in Peckham. We will do this by returning to work with already established community partners as well as developing relationships with new ones. We will select artists with a proven track record of working in this field to produce new artworks made in partnership with our community partners. There will be three 10 week exhibitions per year that will showcase these commissions at our new state of the art venue on Peckham Square, London.
The over-arching aim of this programme is to open up new debates and dialogues addressing the production of art in urban social contexts. We are working hard to develop these new models of production and as such hope to engage you in an open ended conversation about contemporary art
Categories
Tags