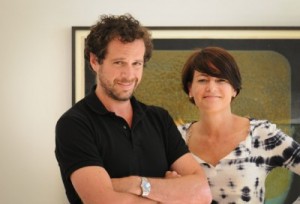 The gallery we visit this time is Thomas Dane Gallery, situated on a side street off Piccadilly, opposite The Royal Academy of Arts.
The gallery is on the first floor. It was my first visit. Thomas Dane Gallery represents works of some top artists, Turner prize nominees and winners, most importantly Steve McQueen who is the 2009 British representative at the Venice Biennale. (I know him as the director of my favourite on-screen dialogue of all time – it's a scene from the movie Hunger 2008.) Thomas Dane Gallery also represent works of Albert Oehlen – if you think painting is dead; look at Oehlen's work – amazing stuff.
As soon as I got there, there were welcoming smiles all around – you would think this would be expected, but from a posh art gallery – you wouldn't know. The interview was arranged with Martine d'Anglejan-Chatillon, but she insisted we bring into the conversation her fellow director Francois Chantala.
What are your roles in the gallery?
Thomas Dane is the managing director and we are both directors. We are all co-founders of Thomas Dane Gallery. Before the gallery, Thomas Dane was an arts consultant*. We opened the gallery in 2004.
* an arts consultant provides advises for people who want to buy and invest in art.
So are you happy here?
We look happy, don't we?
The original idea for these interviews were to be with artists, but I thought that maybe we are tired of listening to melodramatic artists talk about their work. So I came up with the idea that it could be interesting to talk to people that deal art in the same approach. Tell me one thing that gallery directors do, that goes unnoticed.
We can be melodramatic as well! [jokingly]
We have to know Art and its market very well. We have to understand the people related to our line of work. Caring for our artists is very important. Trading Art is far more complex then simply buying art and then selling it. It's more personal.
Other then selling art, what makes a gallery successful?
Selling artworks is not the only thing we do, as I [Martine] said it's something more personal. Working with our artists in a respectful way keeps the gallery healthy. We know each other on a personal level. We have to understand our artists, we build on trust to strengthen our relationship, and that is essential if we want the gallery and artist to work together. Many of the artists we represent are well-known artists and we have a responsibility to take good care of their name and their work.
I [Francois] think that selling art is a small part of our job. It is very important for us to keep a good contact with museums, the press, other galleries and our clients. We constantly work on keeping and improving our relationships. The success of a gallery is all about its relationships.
What makes the business of dealing art different from businesses that sell other things? Such as cars, kitchen appliances..
Behind every artwork there is a person – its artist. We are selling more then just things, we sell parts of the artists' personalities. This makes our business fragile. Yes, it's far more then just things. Also, most of the time, the things we are dealing are original things. The fact that there's only one of them in the entire world makes what we do much more special, and interesting. Dealing with art is a very unique business.
The unavoidable subject – the recession. Do you see any worry If prices start coming down; people start buying again and eventually buy more than before, due to the lower prices?
We don't think it's a bad thing. However it has to happen very gradually, because it would be very easy to loose our trust and reputation with our clients if we decide that something they bought a year ago is now worth thousands of pounds less. It wouldn't make our artists feel good either, if we say their work has dropped thousands of pounds in value.
However, I think it will happen, and I am not afraid. The straightforward explanation to why it has to happen is simply the nature of supply and demand. The recession brought along a difficult time, not just for the art market, but for everyone.
Tell us something about the current exhibition.
We shouldn't take merit for the current exhibition because this exhibition was curated by Leigh Robb. It's a group exhibition, we like having group shows for the summer period. It's called Double Object. This is the second showing of this exhibition. It was originally organised at an artist run space a year ago. Artists were invited to respond to the concept of 'the double object'. We added some other artists' work for the exhibition here. When we plan our exhibitions our aim is to have an iconic exhibition that leaves a legacy behind it. We want people who visit us to remember our exhibitions. Sometimes we are successful other times we are less successful. But that is our aim.
We did our little interview in their office. The Thomas Dane Gallery's office looks like a place where things get done. As we went through my questions, the pair seemed comfortable listening to one another and naturally cueing each other to speak from across the room.
The exhibition areas are white walled with high ceilings. Having been there for the first time during a group exhibition, the Thomas Dane Gallery gave me the impression of a miniature museum.
To read the exhibition press releases and view past Thomas Dane Gallery exhibitions, visit www.thomasdane.com.
Thomas Dane Gallery, First Floor, 11 Duke Street, St James's London SW1Y 6BN.
This interview was published on the October 2009 edition of MANIC Magazine, for The Malta Independent.
www.michaelxuereb.com
Categories
Tags