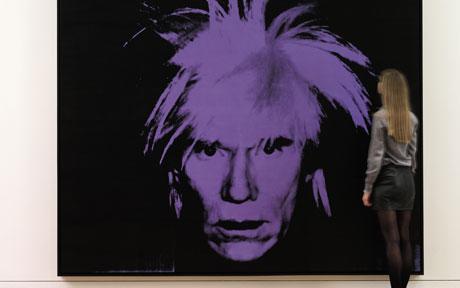 A self-portrait of Andy Warhol has sold for a record $32.5 million (£22 million) and a painting by Mark Rothko for almost the same amount in New York as big spenders flood back into the art market.
The haunting, 9sqft screenprint of Warhol, created a year before his death in 1987, had been estimated to sell for no more than $15 million at Sotheby's contemporary art sale on Wednesday night.
Instead, its owner, the fashion designer Tom Ford, was able to watch via the internet from his London home as six bidders pushed up the price as they vied to buy it.
It eventually went to a member of Sotheby's Paris staff who was bidding on the telephone for an unidentified buyer.
The bidding for the Warhol was indicative of a wider rush to buy contemporary art which has seen a string of auction records tumble in the past fortnight.
Only three of the 53 lots in the Sotheby's sale went unsold in an auction that raised a total of $190 million. The auction house's contemporary art sale last year managed just $47 million.
Earlier art sale spikes have been attributed in part to auction houses lowering their estimates.
However, analysts said the latest resurgence reflects a growing determination among the super-wealthy to invest in art, avoiding the hazards of the stockmarket and seeking a hedge against inflation.
Last week, Christie's set a record for any work of art at auction after selling Picasso's "Nude, Green Leaves and Bust" for $106.5 million.
The American artist Jasper Johns's "Flag" broke his record on Tuesday when it sold for $29 million.
But even relatively little known artists are benefiting. At Wednesday night's sale, Charles Saatchi sold an oval panel painting of Harriet Tubman, an American civil war spy, by 36-year-old Matthew Day Jackson for $662,500 – far more than its $400,000 high estimate.
Baird Ryan, managing partner of Art Capital Group, a private financial and consulting services firm, said he would not have been able to predict the "snap-back" in the market a few months ago.
"It looks very much like a 'V'-shaped recovery. There are very few areas of softness," he said. The very rich were using the most valuable works of art as a "safe haven" much as they did with gold, he added.
Tobias Meyer, Sotheby's head of contemporary and post-war art, said the sale had been driven by a "global hunger for great icons", pointing out that much of the bidding had come from new collectors. Continue reading this article at :[The Daily Telegraph]
Categories
Tags