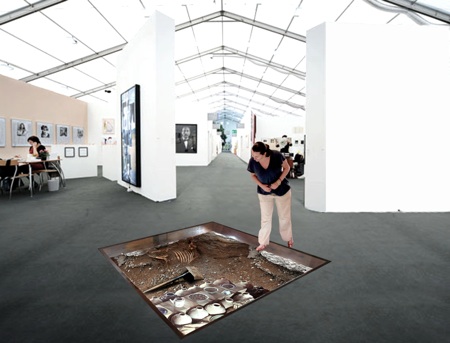 British and Japanese artist Simon Fujiwara is the winner of its 2010 Cartier Award.
The award provides Fujiwara with a three-month residency at the South London arts organization Gasworks, £10,000 ($15,000) to create a special project for the 2010 edition of Frieze, and a £1,000 ($1,500) artist fee. Fujiwara, who works in Berlin and Mexico City, was selected from among 500 applications for the award, which is sponsored by Deutsche Bank.
Fujiwara's proposal for the fair is premised on the discovery of an ancient city beneath the fair grounds and will feature faux archaeological digs scattered throughout the fair booths.
The Frieze commission comes at a time when Fujiwara has been racking up a number of other prestigious projects. He's also been picked to appear in the Danish and Nordic Pavilions at the 2011 Venice Biennale, and will present a week-long performance at Performa 11, the 2011 edition of the New York performance biennial.
Categories
Tags