Oh yes, IT'S BACK! The notorious Frieze Art Fair has made it's way full circle again, and has arrived right in time for the blossoming Spring season in the NYC. For the next few days between May 9th-11th, thousands of minds of all grandiose shapes and statures will be taking a break from the city and venturing over to Randalls Island to witness copious amounts of visual art, engaging performances, enlightening talks and discussions, and of course, to shake hands and rub shoulders with some of the contemporary art scene's elitist of the elite. So here is FAD's Top 5 of the Globe's edgiest galleries to catch and although they may not be from the pulse of the art scene which is the NYC, they are definitely doing their 'thang everywhere else and beyond…
Up first! 1. The BOX :
N?ew to F?rieze New York, The BOX is an LA based gallery which ?opened in 2007, and features successfully rebellious artists such as John Altoon and Judith Bernstein. Although The BOX has received limited formal recognition by mainstream art institutions, we dig their No! fear attituide to publicly present and display what they feel is politically relevant and of course- undeniably cool. This year they will be exhibiting a ?selection of works by Boris Lurie and the NO!Artists.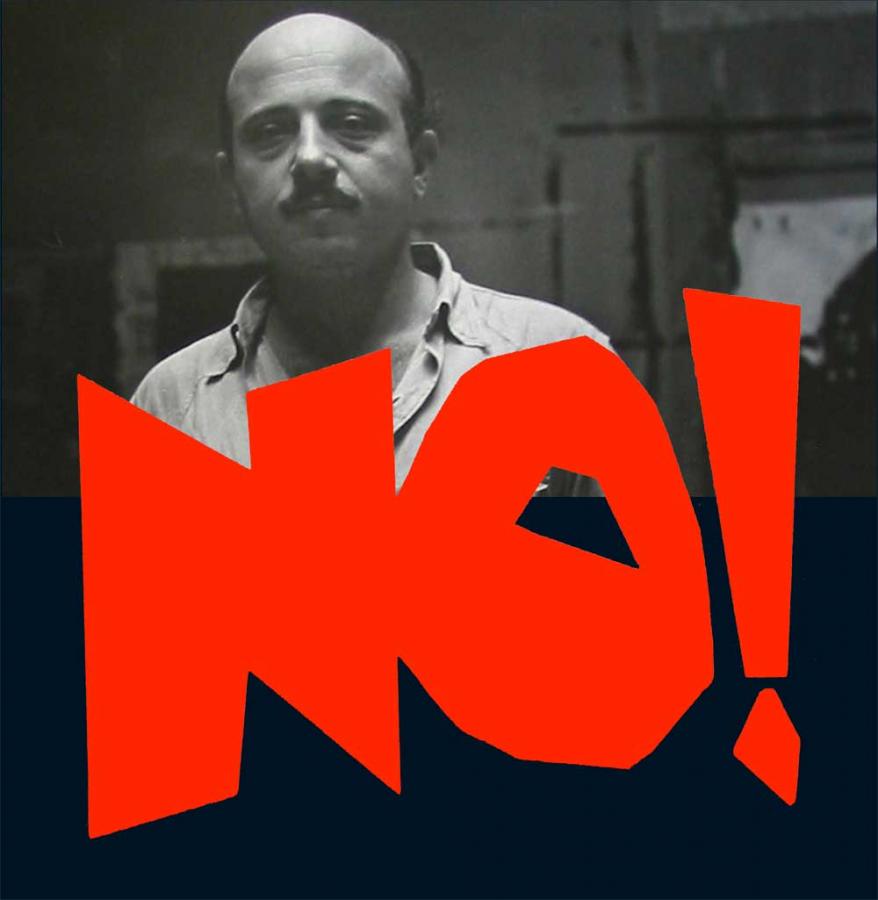 Originally founded by the Russian born artists Boris Lurie, Stanley Fisher and Sam Goodman, in New York in 1959 the NO! Artists is a politically driven, radical avant-garde anti-art movement where together, they said "NO!" to the burgeoning Pop and Abstract Expressionist movements that were then dominating the art market.
"World War II had left deep psychological scars on all three: most of all, perhaps, on Lurie, who was imprisoned in Buchenwald. To them, 1950s America was too willing to forget the indelible horrors of the war. Surprisingly, perhaps, much of Lurie's art resembles both Pop appropriation and Abstract Expressionist gestural painting. His subject matter, however—for instance, a photograph of corpses beside part of a movie poster for Stanley Kubrick's Lolita (1962)—is intended to be jarring, sickening, and impossible to ignore."
– Jonathan Grif?n, Frieze New York Catalogue, 2014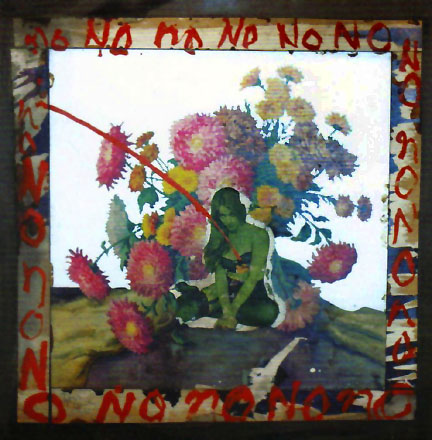 Boris Lurie, No (With Pin Up and Flowers), 1959-65
"The Art Market is nothing but a racket! There is an established pyramid which everybody who wants to benefit from it has to participate- if he is permitted to participate."
– Boris Lurie co founder of the NO! Movement
Curious to know if Marcel Duchamp and the DADA's would agree with Mr. Lurie and the other NO! Artists? Either way, FAD is looking forward to checking this booth!
The Box will be located in the MAIN portal of the fair @Stand A 14
To know more about The Box visit: www.theboxla.com
2. Dvir Gallery:
Just one out of the two galleries exhibiting from the tiny diamond of the country which is Israel, specifically from the Mediterranean shores of the city of Tel Aviv, Dvir Gallery will be presenting a small yet powerful group show titled, 'Only the Eyes Are Still Capable of Crying out', taken from Les Feuillets d'Hypnos, an eloquent text written by the enchanting poet and commanding French activist René Char.

Douglas Gordon, Blind Sophia Loren (Mirrored Eyes), 2006, Archival Board Photograph and Mirror
What does it mean to be human during a period of inhumanity? In the summer of 1945, the period immediately following second world war, French poet and activist Rene Char wrote a letter to Raymond Queneau which he wanted to present "l'humanisme de la résistance" to the French people because it seemed to him that they were becoming confused about what had actually happened in Occupied France. Char's fragmented text has become part of the memory of the lived experiences of the Resistance.
To synthesize with Char, Dvir's booth will feature work from 8 of their stunning artists from around the globe, including Adel Abdessemed, Miroslaw Balka, Simon Fujiwara, Douglas Gordon, Jonathan Monk, Sarah Ortmeyer, Taryn Simon and Naama Tsabar.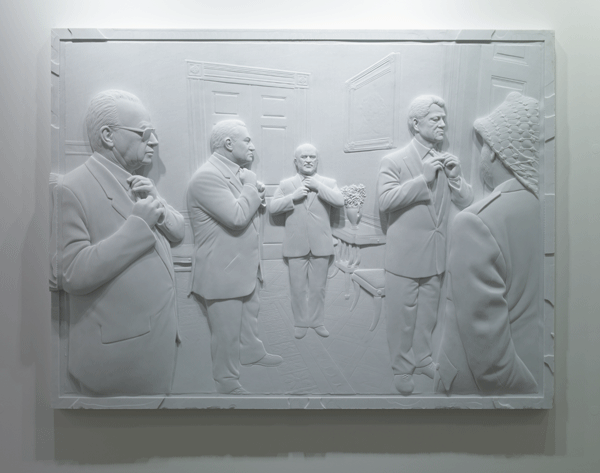 Adel Abdessemed, The Traveling Players, 2013, White Carrara Marble

Naama Tsabar, Study For a Microphone (Variation Two), 2014, gaffer duct tape, muslin, epoxy

Simon Fujiwara, Studio Pietà (King Kong Komplex), 2013, Video, 20:30 min, edition of 5
You can catch this unique show in the MAIN portal of the fair @ stand D 16
To know more about Dvir Gallery visit: www.dvirgallery.com
All images courtesy of: Dvir Gallery
3 Lorcan O' Neil Gallery
Founded in 2003 and based in Rome, Lorcan O'Neil represents boundary pushing, rockstar innovators such as Tracey Emin, Jeff Wall and Gary Hume. This year the gallery will feature a solo booth with work by the British based artist Eddie Peake whose work will include sculpture, painting and performance. Peake is infamously known for his risque performances which are visually impactful, dangerously dynamic and collectively compelling. Be warned that feelings of discomfort, arousal or a mixture of both may become sensually evoked and FAD is looking forward to experiencing it all!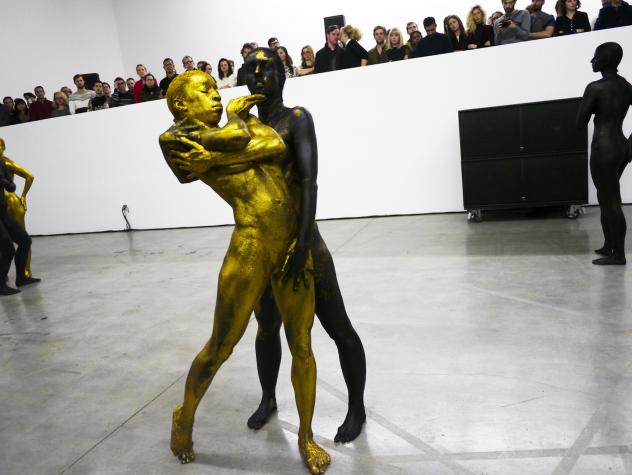 Photo not enough? Check out this behind the scenes footage from one of his earlier performances at the TATE.
You can peep this much anticipated performance in the MAIN portal of the fair @ stand A 26
To know more about Lorcan O'neil Gallery visit: www.lorcanoneill.com
4. Grimm Gallery: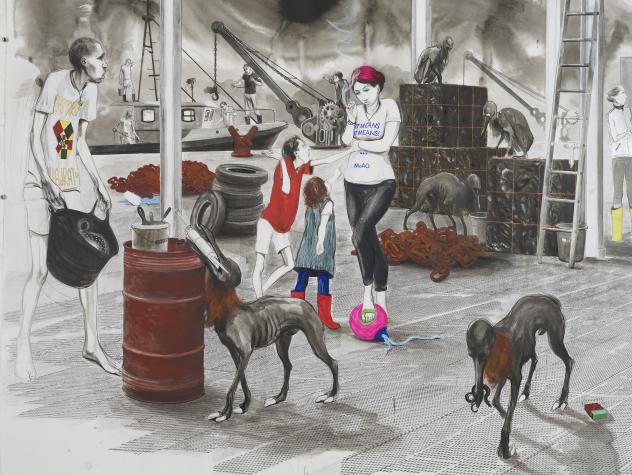 Charles Avery, Untitled (view inside the kelp bailing station)
Based in Amsterdam with an enigmatic line up of artists such as Matthew Day Jackson and Gregory Hildebrandt, this year Grimm has chosen to feature the works by artist Charles Avery. Located in FOCUS, a segment of the fair reserved for young galleries and emerging artists made up of solo and group stand proposals specifically conceived for the fair, Avery has been plotting to take the minds of fair participants to alternate paradigms for years now. Since 2005, he has employed drawings, sculptures and texts to describe an imaginary and illusive Island. For Frieze NYC, he is turning his attention to one of the most striking locations on the Island, a municipal park in its capital city of Onomatopoeia, known as the Jadindagadendar. He will build a 1:10 scale model of the imaginary secret garden inspired by mathematical sequences, which will include a variety of flora designed specifically for the Island, a vast tree and a working fountain.
You can witness this site specific fountain in the Focus portal of the fair @ stand D5
To know more about Grimm Gallery visit: grimmgallery.com
5. Proyectos Monclova
Last but not least, let's talk about our neighbors to the South- Until 2013, Mexico was unrepresented @ Frieze, so naturally we had to include Proyectos Monclova to the list of the galleries to look out for! Located in the FRAME portal of the fair, a section dedicated to galleries aged eight years or younger presenting solo projects, Proyectos will be exhibiting the works by the Mexican artist Jose Leon Carrillo.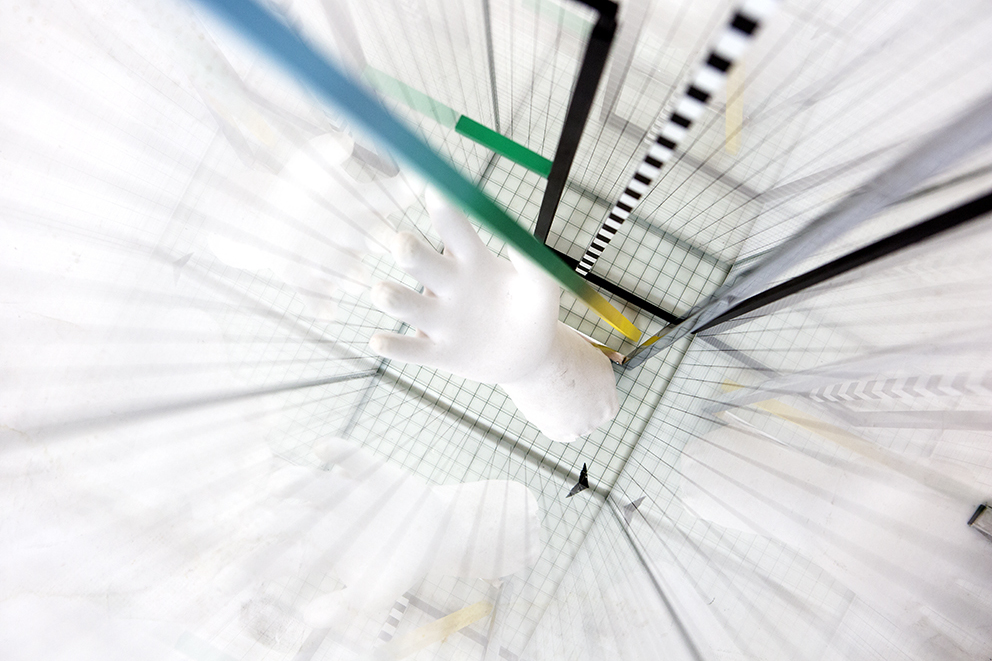 ?Carrillo's work focuses on various aspects of modernity and its legacy in contemporary art. The sculptural objects and installations become starting points of a discussion of the structures that form the perception of the viewing subjects that interact with them, seen in this light Cerrillo's abstract works can be read as alternative systems of representation and investigations of the relationship between object and subject-
You will find Proyectos @ Stand B32
To know more about Proyectos Monclova visit: proyectosmonclova.com
To view the full line up visit: friezenewyork.com
Categories
Tags