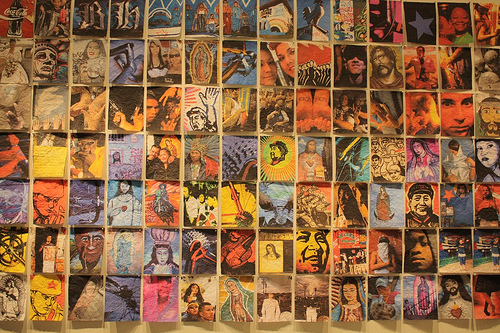 (Pic from current exhibition:"Before the Revolution" by Gusmano Cesaretti)
Crewest 8th Year Anniversary Celebration
Special Live Performance by:
SEW SEW KRAFTY
Performing Live for the first time in Los Angeles featuring some never heard before dope tracks such as their two newest singles "Tuxedo Jackets" and "Boots".
Sew Sew Krafty is a perpetual forward thinking amalgamation of sound, speed, color, vibe, and unrestrained energy and frankly, anything they want to be!!
Genre: Acid, punk, house, surf music/hip hop, electro grunge
Special Live Painting by: Man One
Atmosphere to be enhanced by the sounds of:
DJ Phyz Ed and Afrika Baby Bam (Jungle Bros./Sew Sew Krafty)
"Our artists are who you see now on the street level and who you will see tomorrow at the gallery level. They are the future. They are the now. They represent everything we believe in." – Crewest
Categories
Tags