Keith Haring's first-ever museum exhibition in Los Angeles now open. Art Is for Everybody, on view through October 8th, 2023, is spread across nine galleries on the first floor of The Broad.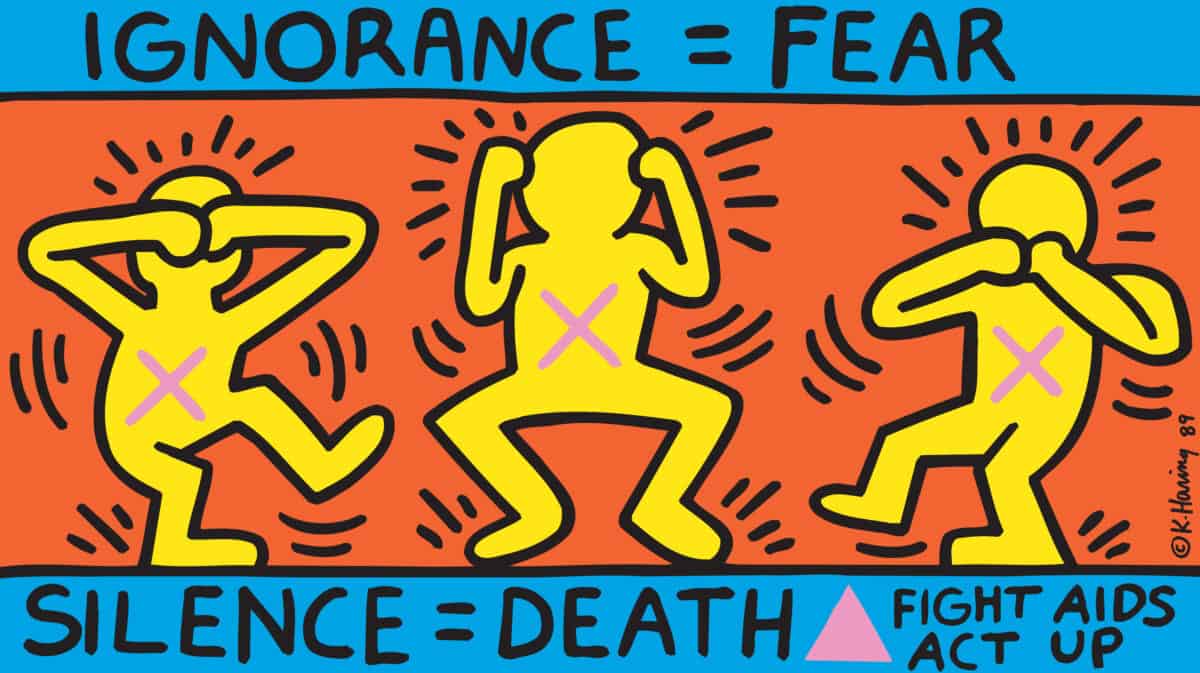 Featuring over 120 artworks, archival materials, music playlists from Haring and his peers, and more. A
slate of new public programs including talks, club evenings and performances will expand and speak to Haring's legacy as a cultural icon, while also educating the public about some of his core influences from musicians and other art forms present in New York in the 1980s.
The Broad offers uniquely deep context for Los Angeles' first museum show dedicated to Keith
Haring
said Founding Director Joanne Heyler.
In Eli and Edythe Broad's first years as contemporary art collectors in the 1980s, the work of Haring and many of his peers deepened their commitment to art that challenged the status quo. It is a privilege to organize this exhibition of over 100 loans and offer our audience a dynamic and contextualized view of this globally admired artist.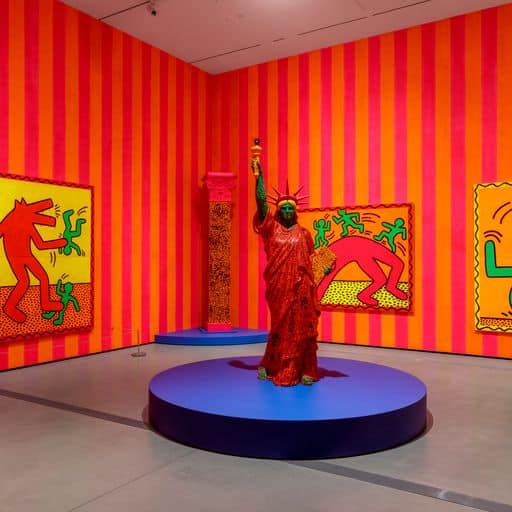 Upon entering the exhibition, viewers are immediately engrossed in Keith Haring's world. The first gallery features a series of Day-Glo paintings, displayed amongst vibrant orange and magenta striped walls. The gallery also includes painted corinthian columns and a Statue of Liberty sculpture made in collaboration with graffiti artist LA II (Angel Ortiz), demonstrating the artist's unique forays into sculpture.
As you continue through the presentation, you get to engage with the social and political themes
Haring tackled in his work that remain relevant today such as capitalism, racism, patriarchy, and
LGBTQ+ rights.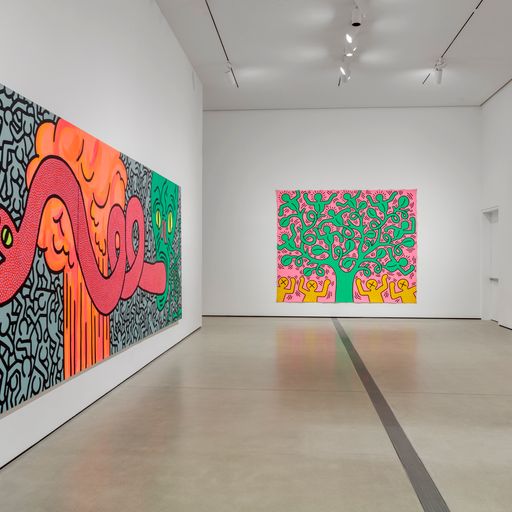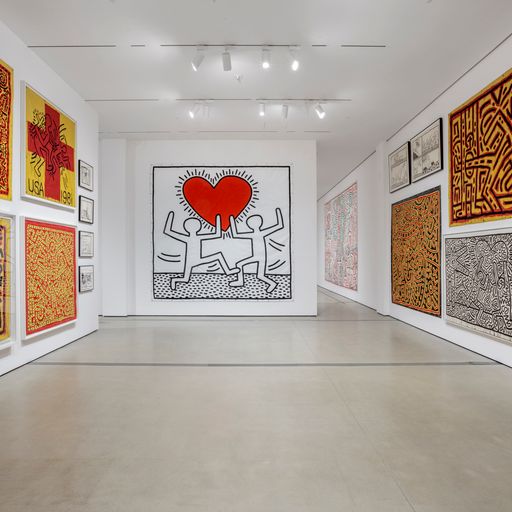 Large-scale paintings on tarpaulin like Prophets of Rage (1988), which shares its title with the Public Enemy song, critique corporate greed and oppression. Posters on view address issues from apartheid in South Africa and nuclear disarmament to the HIV/AIDS crisis including works made in collaboration with organizations such as ACT UP demonstrating Haring's dedication to community engagement and global causes.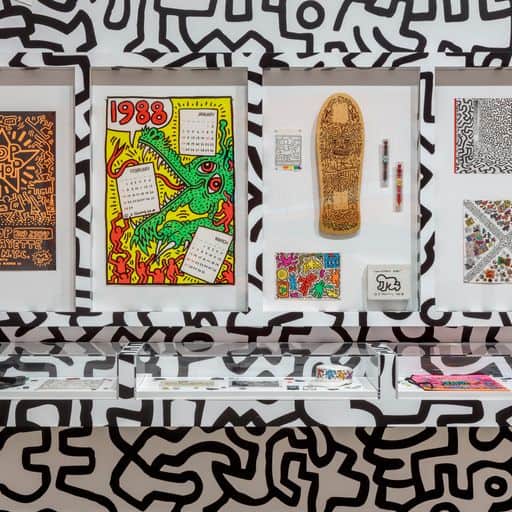 The artist's belief that art should be as accessible as possible is also reflected in a sweeping installation of ephemera from the original Pop Shop, the artist's retail store that granted larger audiences the opportunity to collect merchandise featuring his imagery. Inflatables, coloring books, apparel, watches, and skateboards comprise some of the immense archive on display from when the first store opened in 1986.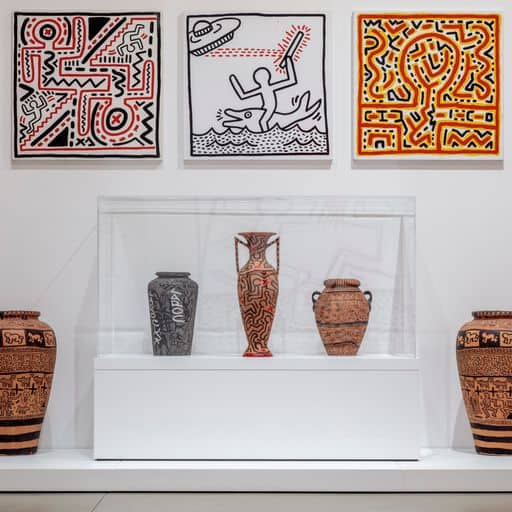 Works presented span from the late-1970s when he was a student at the School of Visual Arts in New York up until 1989, just months before the artist died from AIDS-related illness at the age of 31. On view is a wide range of mediums in which Haring worked including paintings on tarpaulin, such as the iconic dancing figures and radiating heart tarp from 1982, sculptures ranging from terra cotta and fiberglass vases to large-scale metal breakdancing figures to incised wooden totems, as well as works on paper, experimental videos and performances, posters, and ephemera.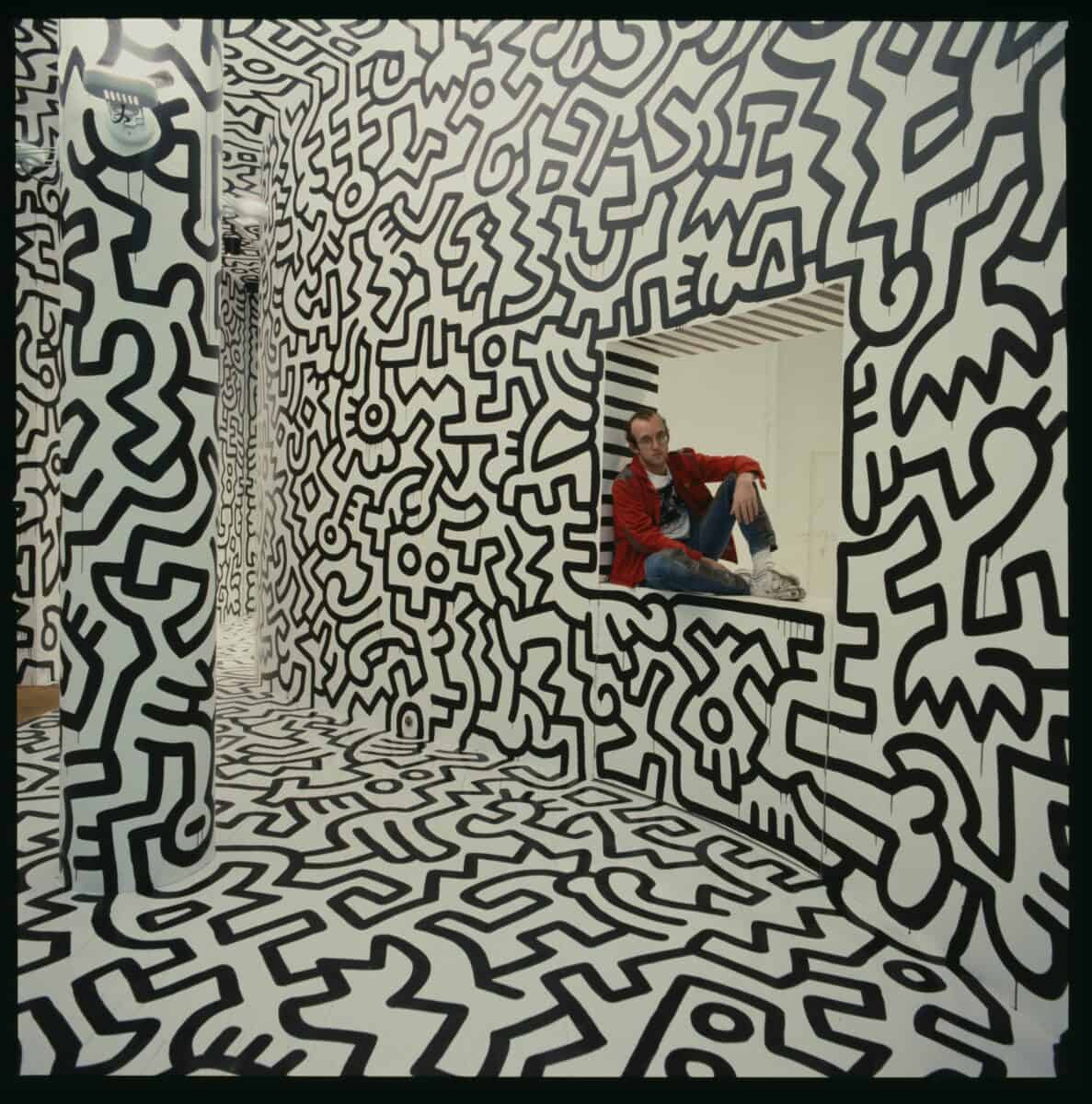 Keith Haring's belief that art should be accessible to all is central to the exhibition and integral
to The Broad's mission
said Sarah Loyer, Curator and Exhibitions Manager.
With this exhibition, our audience will have the opportunity to dive deep into Haring's work, both as an
artist and as an innovator who completely shifted the landscape of contemporary art to this day.
The show and its related programming also mark an unprecedented collaboration between Metro and The Broad on the occasion of the grand opening of the Grand Avenue Arts/Bunker Hill Station directly behind The Broad in later this year. The partnership includes wrapping of trains, buses and a wall in the Grand Ave Arts Station with Haring imagery, and creation of commemorative TAP cards, and encouraging Broad visitors to ride Metro.
And in the spirit of Keith's commitment to youth and HIV-AIDS activism, The Broad is partnering with the LGBT Center of Los Angeles (The Center) with support for a series of youth programs; co-promotion among subscribers; and collaborating on a Haring-themed double-decker bus to appear in the June 11th Gay Pride parade in Los Angeles.
Highlights of newly announced programming include celebrations of the 50th anniversary of hip hop, an emergent genre in the 1980s New York community that had a profound impact on Haring's life and his iconic linework. Music, dance, and nightlife figures largely in Haring's energized paintings and drawings, especially referencing the hip hop and breakdance performances of that time. Additionally, the entrance of the exhibition contains photographs on view from the early 1980s, depicting Haring creating his well-known subway drawings, where the artist interfaced with a central hub of musical counterculture and creative life.
In the 80s, NYC street art was hip hop was street art, both part of the same living, breathing body of expression and identity and creativity.

Keith changed the game with his babies, breakdancers and boom boxes, and sometimes borrowed a Public Enemy song or five to name his paintings. I'm humbled beyond any measure to be involved in a program related to this exhibition at The Broad. To have our docuseries 'Fight The Power: How Hip Hop Changed the World' showing in the same space as these works of art has rendered me, an emcee, speechless.

Chuck D
The PBS documentary will be screened at The Broad monthly during the summer
Tickets to all Broad programs are available at thebroad.org
Conversation: Chuck D + Lisane Basquiat + Gil Vazquez + Lorrie Boula Tuesday, June 20th, 2023 | 7:30 p.m. Tickets: Availability to be announced soon
Event Location: Zipper Hall at The Colburn School; 200 S Grand Ave, Los Angeles, CA 90012 Chuck D, hip hop pioneer and co-founder of Public Enemy, Lisane Basquiat, sibling of artist Jean-Michel Basquiat, Gil Vazquez, President of The Keith Haring Foundation, and Lorrie Boula, producer, curator and President of Channel Zero Productions, will discuss hip hop's global impact, including its influence on visual art and culture of 1980s New York and beyond.
Springboarding from themes covered in the second episode of their hit four-part PBS series "Fight the Power: How Hip Hop Changed the World," Chuck D and Boula, along with Basquiat and Vasquez, will explore the 1980s and hip hop as social commentary during the fraught Reagan years through the work of musical artists such as Public Enemy, KRS-One, Ice-T, and NWA as well as visual artists Keith Haring and Jean-Michel Basquiat among many others.
Club 57 Society- Black and White Ball | Sunday, July 16, 2023 | 7:30 p.m. – 11:30 p.m.
Day-Glow Dada Disco Psychedelic Happening | Sunday, September 17, 2023 | 7:30 p.m. –
11:30 p.m.
Tickets: Availability to be announced soon. Zebulon, 2478 Fletcher Dr, Los Angeles, CA 90039
The Broad collaborates with iconic denizen of the 1980s East Village art scene Ann Magnuson to revisit and reignite the spirit and energy of her infamous neo-Dada cabaret Club 57, where she met and befriended Keith Haring. The events will feature now-legendary artists who were part of the original Club 57 and knew Haring personally, as well as subsequent generations of artists that offer new examples of the grit, glitter, and experimentation that proliferated in this seminal venue. Confirmed participants include Joey Arias, Jackie Beat, Adele Bertei, DJ Bus Station John, Puppetmaster Cain Carias, Ursula Gueringer (in tribute to Klaus Nomi), Tyler Matthew Oyer, Page Person and Tolliver, and will feature a slideshow of historic Club 57 photos by Harvey Wang and others.
50th Anniversary of Hip Hop Saturday, August 26th, 2023 | 8 p.m.
Tickets: Availability to be announced soon East West Bank Plaza at The Broad; 221 S Grand Ave, Los Angeles, CA 90012
The Broad celebrates the 50th anniversary of hip hop with legendary artist Grandmaster Flash, inventor of the DJ technique Quick Mix Theory and founder of Grandmaster Flash and the Furious Five. As the first rap group to be inducted into the Rock and Roll Hall of Fame in 2007, their impact and influence on the genre cannot be overstated. Grammy-nominated rapper Tierra Whack, whose experimental approach garnered her critical acclaim in 2018 with her debut album Whack World, will also be performing. In 2022 she teamed up with Wilson to help kick off the 2022 WNBA season with Stand Up from her 2021 Rap EP.
Also on the bill are DJs Wyldeflower and Monalisa in a B2B set paying tribute to J Dilla, the beloved and influential record producer, drummer, rapper, and songwriter who died in 2006, considered one of the most influential producers in hip hop and popular music. The duo will be joined by Illa J, the late musician's brother.
Categories
Tags