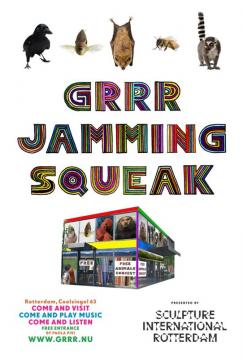 Paola PIVI – "Grrr Jamming Squeak"
The Galerie Emmanuel Perrotin is glad to announce the opening of Grrr Jamming Squeak, a new public artwork by Paola Pivi that will take place at Sculpture International Rotterdam for one whole year.
Grrr Jamming Speak is a music recording studio, attended by sound engineers, available to everyone, for free. In this place created by the artist, everybody is free to play along with the sound of animals, and even to record it.
The Opening of this new space will be set on Friday April, 23rd, starting at 5.00 PM. A free concert by Spinvis will begin at 7.30 PM.
Sculpture International Rotterdam Coolsingel 63, Rotterdam,
www.grrr.nu
Categories
Tags