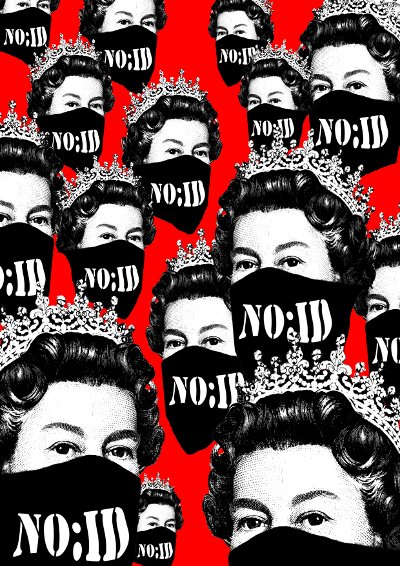 It's a two day indoor NO:ID festival featuring some of the most cutting edge novel + established
acts in musical live performance London'sunderground has to offer.
Friday April 16th is featuring some astonishing acts, mainly acoustic, headlined by the notorious
Rude Mechanicals (absurd rock) and the Lonesome Cowboys from Hell, which are somehow
Psycho-Country or Country Jazz. Mescaline for Methodists play dancy world fusion to round up
the night.
Saturday April 17th is the big party with more electric acts, some newcomers, some new acts by
established artists, and the already legendary anarchistwood as headliners who convince with a
powerful performance and amazing showmanship.This is a long night full of miracles and surprises, burlesque acts, cabaret, and DJ'suntil late.
Both nights are moderated by the lovely and amazing Aunty Luxury (Annouchka Bayley),
one of directors of Luxury Goods London festival (that's just next weekend so watch this space!!!)
luxurygoodslondon.com/
There will be a bar, and a merchandise and record stall – stall? A bazaar! albums,
t-shirts, hoodies, fridge magnets, cycling vests– and NO:ID tops.Fine art on the walls by Jason
Gibilaro, Jason Atomic, Richard Niman, David Porter, Mr Aide, Enzo Apicella, Lewis Campbell,
Espira and Oliver Harud.
MAIN ACTS FRIDAY 16th:
8.30pm – Country Dirt: if there is "alternative country music", this is it. Crafted with great
musicianship, this ensemble questions and transgresses the limits of a genre. Featuring
Marianne Hyatt. www.myspace.com/countrydirtband
9.30pm – Rude Mechanicals: Absurd rock music,punk funk caberet – musically some how reminiscent to some stuff by Frank Zappa, but voice and appearance of Miss Robert are beyond comparison. Miss Roberts – vocals, harmonica; Cos Chapman – guitar, bass; Guy Avern – bass,keyboard; Kate Newell – oboe, keyboard,
concertina; Dylan Bates – violin, trumpet; & special guest – drums. Just having a vinyl out so YIEHA
www.rudemechanicals.org.uk/
10.30pm – Lonesome Cowboys from Hell: a mix of traditional and self-constructed instruments
creates music that can best be described as "psycho-country", fronted by Frank E. (Calum
F. Kerr) whose lyrics have been called "the last word on what's to be said about the art-world". Seriously one of the most interesting combos that came out of the "noughties". "JK-EE" Tim Fitcroft – ukuleles, guitar, accordion; "Jan E. blister" Jan Suchanek – bucket bass; "A.N.Other Musician" Billy Smith – fiddle; John "D.
Vile" Devolle – drums. Just having an EP, t-shirts and website out so YIEHA
lonesomecowboysfromhell.com/
11.30pm – Mescaline for Ministers: A tribute to Peyoti for President, who have been touring world
wide with famous Manu Chao and are London's most sought-after world fusion band. Dance your shoes
off. All musicians have requested to not reveal their ID… YIEHA
peyoti.com/
MAIN ACTS SATURDAY
8:30pm – Hungry and the Hunted: proper all-guns-blazing outlaw rebel rock'n'roll to warm you up, headed by Pakistani-born Azam Khan on guitar and vocals, with Roger Millington on bass and Sean 'Undercover brother' Malley on drums. Also a record / website / tshirt release: Magic Bullets. hungryandthehunted.com/
9:30pm – The Connectors: This is proper punk related rock'n'roll, fresh project of experienced musicians – no more can be revealed at this point. An energetic performance that will shake everyone even further. Again, remember where you've seen them first.
www.myspace.com/theconnectorsmusic
10:30pm – Saddam and the Lookalikes: nomen est omen, but here finally we don't know who is who
and what to expect. Is it punk? Actually, no. What is it then? Well, Saddam and the Lookalikes.
Camden MacDonald, and some even more eminent performers. You thought you knew what is
rock'n'roll? Come and see. Oh and they've got an EP out now too!!!
www.myspace.com/saddamlookalikes
11:30pm – Anarchistwood: can punk music be established? Like the Cramps with Patti Smith –
Brady from the Legendary DNA Cowboys 31.01.09 ; Early Siouxsie – George @ IOTG 10.09.08 ;
Butthole Surfers with Patti Smith and Crass – Organ Magazine 10.09.08. Nuff said? Hear for
yourself. More than hear – see as well, since visuals are a strong part of this project.
punkvert.tv/
The Others, 6-8 Manor Road, N13 5SA Friday April 16th + Saturday April 17th 2010
More Info:noidgallery.net/
Venue: theothers.uk.com/
Categories
Tags