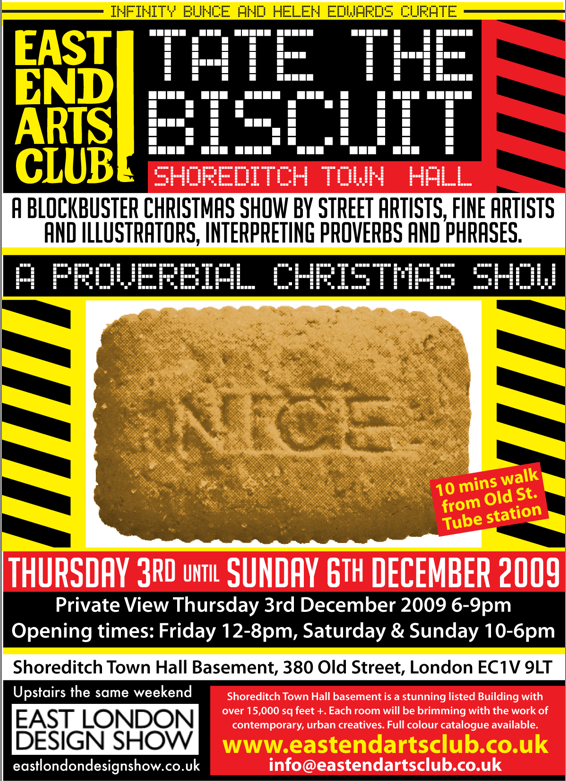 Curated by Helen Edwards and Infinity Bunce in conjunction with East End Arts Club

"When spider webs unite, they can tie up a lion" – an Ethiopian Proverb.
Well 'Tate the Biscuit', has the makings of a roaring success. This exhibition displays a huge collection of street artists, conceptual artists, installation artists, painters, graphic illustrators and photographers, who all come together under the roof of Shoreditch Town Hall to create interpretations of proverbs and phrases.
In-room after-room, juxtaposed artwork covers more than 15,000 sq feet – Even the walls breathe out a creative essence of their own making. One minute you are in a room full of glowing polystyrene pods – next you move into a room crammed with installation petals – move onwards and ponder the life-size sculpture of a seven-year-old boy created in green fibreglass – whilst beckoning you from the corner of yet another room is a strange doll with many arms. 'Tate the Biscuit' is a kaleidoscopic display showcasing the best of contemporary British street art.
You can also view a huge selection of limited edition prints such as a Panda in a bar, and a Muslim bride, from the banal and everyday to high fashion. This show is an extraordinary roundabout which has many roads that lead you into an 'Aesthetic Urban Vision', the journey can't be missed!
Artworks for sale from £5 – £5000.
ARTISTS
Rugman, The Krah, David Bray, Snub, Schoony, ASBOLUV, Joe Holbrook, Tinsel Edwards, Twinkle Troughton, Ben Allen, Patrick Hughes, Infinity Bunce, Lorraine Clarke, Mark Fraser-Betts, Edd Pearman, Jane Grosvenor, Espira, Up The Arts – Kerry Roper, John Doe, Craww, Tate Sisters, Stuart-Koenig Roach, The Kuntists Emporium, Grafik Warfare, Swifty, Martin Grover, DrD, Mark Perronet, Kate Pritchard, Tamara Dubnyckyj, Dan Kitchener, Eyesaw, Pilot, Wayne Chisnall, Martin Kingdom , Richard Stone, Katherine Lubar, Russell Chater, Chris Koning, Tom Wilmott, Nathan Eastwood, Bob London, Ting Ting Cheng, Danilo Murru, Arina Orlova, James Tebbutt, Blair Zaye, Augustine Coll, Paul Hill, Constance Slaughter, Annabel Tilley, David Gomez Maestre, Amyhyejung Shin, Fabio Lattanzi Antinori, Shona Davies, David Monaghan, Kevin Green, Andrew Salgado, Jess Wilson, Jboy, Anja Jane, Rachel Eardley, Lara Hardwood, Helen Lang, ARTHOUSE, Daniel Locke, Liz Toole, Anthony Peters, Phil Sheffield, James Brown, Trent Sidharrta, World of Moose, Jennifer Camilleri, Helen Musselwhite, Angie Crowe, Piers Secunda, Chad Macfalene, Amy Wicks, Natalie Taylor, Phillip Osbourne, Michael Vanderson, Anja Jane, Peter Sylveire, Jboy, Elod Beregszazi, Andrew Johnson, Hannah Marie Luxton, Michael Cranston, Mychael Barratt, Lou Trigg, Robin Clare, Ros Shiers, Julian Deghy, Ness Sherry, Alessia Maida, Gavin Edwards……
Private View Specials 6-9 Thurs 3rd Dec Performative drawings of the audience by Jason Atomic & Performance artist Calum F. Kerr
Date Private View 6-9pm – Thursday 3rd December 2009 12-8 Friday 4th December 10-6 pm Sat 5th / Sun 6th December
www.eastendartsclub.co.uk
Categories
Tags