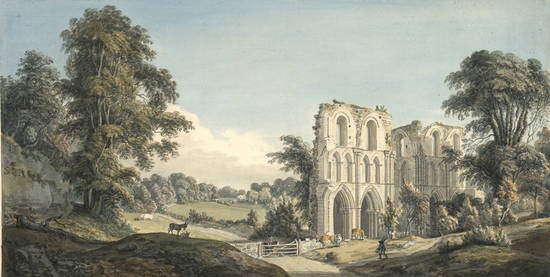 With such a hugely popular show as The Van Gogh Exhibition grabbing all the headlines, it's easy to forget that the Royal Academy of Arts is also hosting another (admittedly more modest) exhibition. In the upstairs gallery of the Academy you will currently find a delightful collection of over 80 intricate works by Paul Sandby RA (1731-1809). Sandby was one of the RA's Foundation Members and is widely regarded as the 'father of English watercolour'.
The majority of the paintings celebrate the beauty of the British countryside from Surrey to Scotland, depicting beautiful sunny landscapes of undulating hills and far reaching fields. It's certainly an inspiring collection, particularly at this time of year as we begin to feel the first rays of sunshine; these paintings instigate an eager excitement for summer's arrival. After months of bitter winds and frankly inconvenient snow, I left the Paul Sandby exhibition with an over whelming urge to go and throw myself in bundle of hay.
And it's not all landscapes – there are also a number of portraits and figure works within the collection. Starting his career as a military draughtsman, Sandby was fascinated by people from all walks of life. His depictions of various eighteenth century caricatures convey Sandby's fascination with social issues, revealing a great deal of historical subject matter. These pieces, combined with the range of rural and urban landscapes provide an important record of a country experiencing rapid social, economic and political change.
Sandby's work slipped into obscurity from the mid-nineteenth century onwards and it is likely few people are familiar with his work at all. A far cry from the vast, record breaking grandeur of the Van Gogh show, Paul Sandy is like the neglected sibling, tucked away in the attic room only to be visited by a fraction of the Academy's daily intake. This charming exhibition is however; a deserved celebration of one of Britain's most innovative artists, and should leave you with a spring in your step and a renewed faith in British summertime.
Organisation: This exhibition was organised by Nottingham City Museums and Galleries in association with Royal Academy of Arts, London
Image Credit: Paul Sandby, Roche Abbey, Yorkshire, c.1770s. Watercolour over graphite, 300 x 588 mm. Royal Academy of Arts, London. Photo © Royal Academy of Arts/Slingsby
Categories
Tags