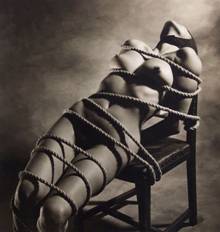 Image:Stephane Graff, Chair Constriction, 1991
Phillips de Pury & Company is proud to announce SEX:the next sale
in the theme series to offer a curated collection of Contemporary Art,
Photography and Editions highlighting the influence and interplay sexuality has on art today.This new and dynamic platform will enable all the departments to interpret a given theme and express their curatorial strengths.
The SEX sale will offer a dynamic selection of art, design,photography, and editions that will come to define our current epoch. The sale will be the first 2010 theme sale in London and will build upon the success of the previous theme sales and our core auctions. The sale will feature 221 lots representing an estimated total value of £1.8 million pounds.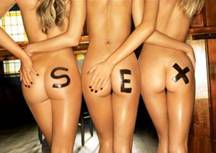 Image:Willy Camden, SEX, 2006
SEX will take the debate about the interplay of contemporary art and sexuality a step further in presenting works that challenge our concepts of gender, sexual imagery and desirability.
The theme will be explored in all disciplines including painting, printmaking and photography through the varied ways in which artists
today approach these issues; from the overtly sexual work of Thomas Ruff to the more subtle nudes of Tom Wesselmann and Henri Matisse.
Top lots
include Allen Jones' Soft Tread 1966-1967, estimated at £60,000-80,000. Soft Tread is a unique Jones painting which was shown at the Museum of Modern Art in New York in the 1960's. Alongside this, SEX, 1992 by Jack Pierson, a found metal and plexiglas work is estimated between £60,000-80,000. Further highlights include: Sigmar Polke, Untitled, 1974, with an estimate of £60,000- 80,000; Ryan McGinley, Swimming Hole, estimated at £6,000-8,000; Andy Warhol, Torso, 1977, estimated between £40,000-60,000 These top lots will be auctioned off alongside artwork by other important names in contemporary art
such as Tom of Finland,Nan Goldin, David Drebin , Stephane Graff,
David Hockney, Helmut Newton, Nobuyoshi Araki and Bruce Weber.
Further important lots to feature in the SEX sale include works by Jonathon Meese, Der Junge Meese estimated at £25,000-35,000; Sarah Lucas, Got a Salmon on in the street 2 estimated between £20,000-30,000;Vasiliy Tsagolov, From the series of Office Affairs 2 , 2008, estimated at £20,000-30,000 and Raymond Pettibon, Untitled (it had naturally),1999, estimated between £8,000-10,000; Luciano Bertoncini's, 'Zattera' bed , 1970, estimated between £5,000- 7,000.
PHILLIPS de PURY & COMPANY
Founded in 1766, Phillips de Pury & Company has emerged as one of the world's leading art companies. The auction house has established itself as a tastemaker in Contemporary Art, photographs, prints, design and jewelry through its innovative exhibitions and auctions. The company has offices and representatives in twelve cities on three continents, and is renowned for its beautiful and lavish catalogues, dynamic architectural exhibition spaces, popular events and record breaking sales. Led by Simon de Pury, a key figure in the art market and one of the world's most talented auctioneers, Phillips de Pury & Company has positioned itself as one of the most important forces in today's art world.
MAGAZINE/CATALGOUE
A new catalogue in the form of an art and lifestyle magazine has been
created for the theme sales. Every catalogue includes interviews with
artists, curators and collectors, art world news and more. The SEX sale catalogue will include: Art and the Sexual Revolution, an academic essay on eroticism in art during the Cold War by Professor Jonathan Katz; an interview with David Hockney; an interview with Allen Jones; a feature on La Maison Rouge with interviews with the collector and founder Antoine de Galbert and artist Jean-Jacques Lebel; and an essay on gay artists in New York by the writer and collector Joshua Mack. Via:[DESPOKE]
www.phillipsdepury.com/
Categories
Tags