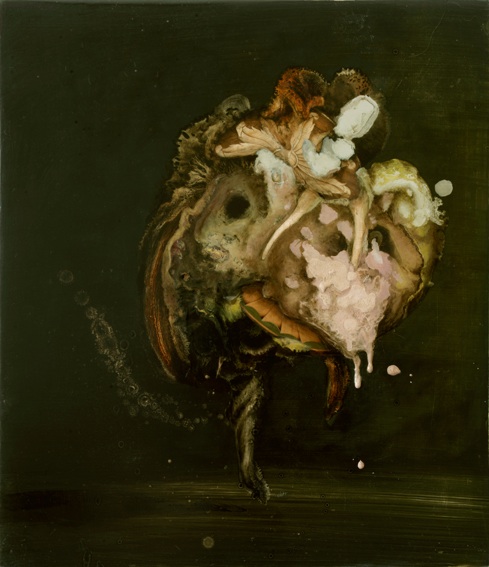 GL Brierley courtesy Madder 139
Klaus continues….
So, I was most happy to see impressive solo presentations. Steve Goddard's work at FAS was reasonably priced from $4,000 up to $14,000. Over a Pippy Houldworth was the naïve but strong work of Neil Faber with a very piece on offer for $50,000. Neil Farber is part of the Canadian Royal Art Lodge, along with Michael Dumontier and Marcel Dzama. Madder 139 had a solo booth devoted to GL Brierley, I really like this artists' work and the gallery directors were most friendly and helpful. A large piece was priced at $15,000 and not surprisingly was sold.

Courtesy Pippy Houldworth Gallery
Other booths that stood out for me were, Cynthia Corbett (Ghosts of a dream), Yuval Pudik at Kim Light/Lightbox, Markus Putze at Jarmuschek and Parnter, Richard Dupont at Charest Weinberg and Boris Hoppek at Heliumcowboy Artspace, some of this work is pretty explicit, but the more cartoon style works on paper were again at the reasonable price of between $480-$680.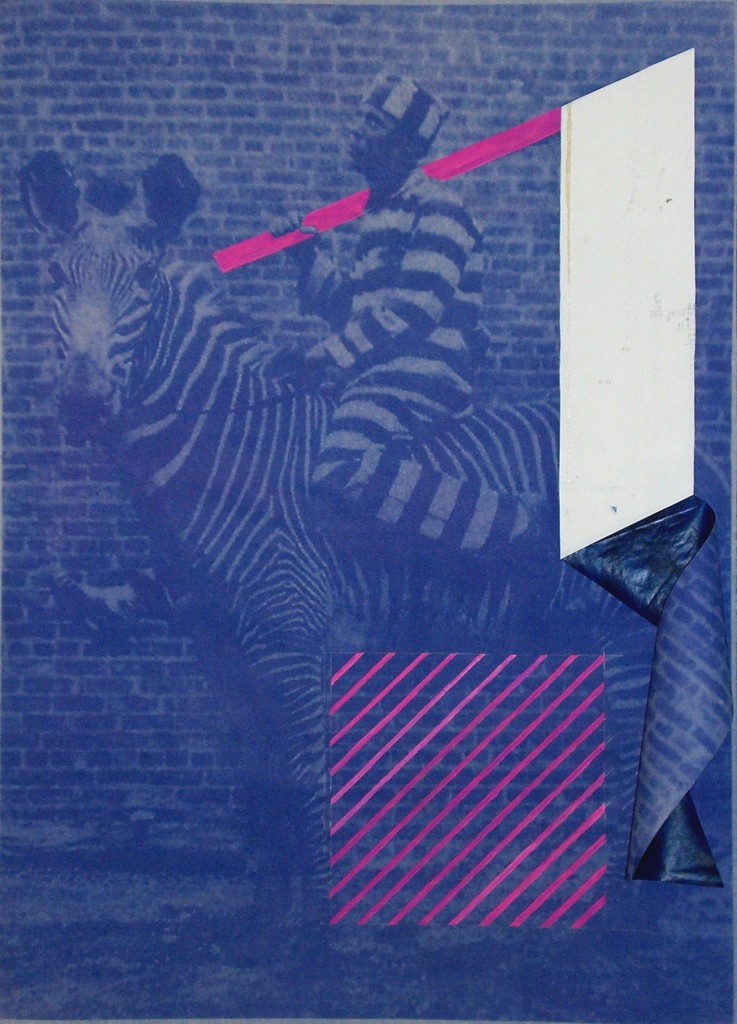 Image:Jen Liu Tangle Eye Blues: Zebra Twins, 2010Watercolour on blueline diazo print, mounted on watercolour paper 33.5 x 24 inches
I must give a special mention to Ceri Hand, a lovely gallerist from Liverpool. Her presentation of Jen Liu (see image) was understated yet extremely powerful. The artwork is rich and layered dealing with issues of liberty and confinement. The geometric stripes and patterns of the work relates the prison clothing, the Prussian blue colouring is also loaded with references that have to do with poison. The work ranged in price from $2,000 to $8,000. This booth was one of the highlights of this particular fair.
Sun was setting on New York, so a weary Klaus called it day for art and found a suitable bar to take some beer refreshment.
The next day, I made a visit to the Art Show Armory on Park Avenue, I really do not have much to say about this fair as it seemed to cater for the very wealthy and the work was very mixed. You could find Matisse drawings next to Arbus photography and a Rebecca Warren near to a Richard Prince. It seemed to me that this fair had a foot in each camp, was it a contemporary fair or a Masters fair? The gallerists in the main were aloof and rather snobbish, as one would expect from this uptown venue.
So, it was a relief to get down to the main Armory fair on the Piers on the Westside. Pier 92 was devoted to Modern Masters and contemporary classics and in this case it worked, with important pieces given prominence. Here as you entered there was a beautiful Chagall at Die Galerie priced at $2.3M and at Edward Tyler Nahem you could picked up a quality Richter or a large scale Sam Francis.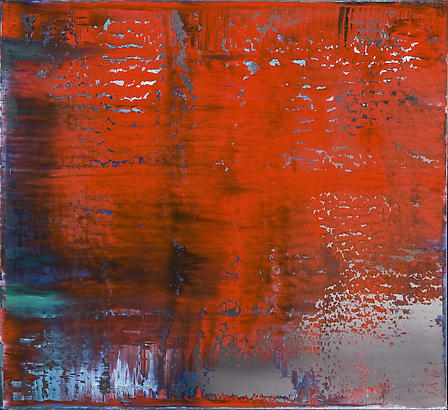 Gerhard Richter Abstraktes Bild 805-4, 1994 Oil on canvas22 by 24 inches (56 x 61 cm)
At Levy Gallery was a fine Warhol and James Goodman, a De Kooning. At Locks gallery, there was a striking photograph of a goat by Eileen Neff and at Galerie Thomas out of Munich was a stunning Marc Quinn.
At the Springer and Winckler booth I was taken by the photographs of Stone Breakers (factories) by Bernde Hilla Becher and the John Baldessari – 'Person thinking about cauliflower'. The later being conceptually very amusing.
At the Silverstein gallery, the booth was devoted to photography with a New York theme. The work of Ryan Weideman and Michael Wolf stood out here.
At Sims Reed, you could find a very decent Hockney print and a quality Cristo too. Yancey Richardson Gallery had some strong work by Andrew Moore and Hellen van Meene.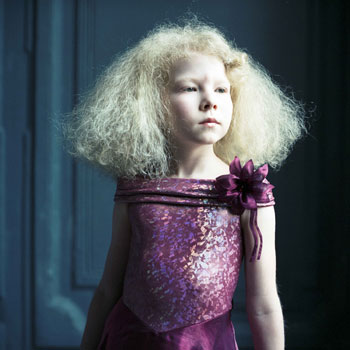 image:Hella Van Meene Untitled #331, St. Petersburg, 2008, 12 x 12 inch Chromogenic Print, Edition of 10
Koppel Gallery had a wonderful Warhol on display and a Richard Hamilton, one of my favourite British Pop artists, which brings to mind another very different British contemporary Pop artist, Julian Opie whose work was on offer at Alan Cristea. The LED moving pieces were at a good price of $1,500 in an edition of 200, which was again unsurprisingly sold out.
Finally, before leaving this Pier 92 for the sprawling Pier 94, I must give a special mention to the Faurchou Gallery out of Copenhagen, who had on display a large scale and very impressive Robert Rauschenberg. It was priced at a staggering $35M, which made the Edvard Munch landscape also in the booth seem reasonable at the $6M mark, apparently the Munch had been sold.
CHECK OUT PART THREE
Categories
Tags