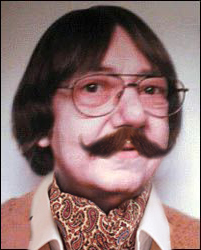 Guten tag und greetings mein dear FAD reader. Here I am at 30,000 feet and an hour and half out of New York,. Economy class is a swinehund. My laptop is awkwardly squeezed up against my stomach due the passenger in front of me whose chair is pushed back as far as it goes. Ah, such is the life of a poor art critic.
I have watched two movie films, one about American soldiers disposing of bombs on Iraq, which is was medium good, although I couldn't help thinking that if the Americans weren't in that country in the first place then there would no bombs to get rid of. Anyway I'm sure it will appeal of the Hollywood awards, although I did read in the Guardian newspaper that there was some controversy surrounding this movie picture as some soldier is claiming that the makers stole his story. Anyway it sounds like a nasty business all round. Bombs and lawsuits, I suppose that is how many in America became so prosperous.
The other movie film was even more disturbing, a sad story about an obese American black girl called Precious, who was raped by her father, and had two children from this incestuous relations. If this wasn't bad enough, she was being constantly abused by her mother, so she sought to escape from this living hell both in her imagination and in the real world through getting an education and a new life. In fact the movie film was quiet life affirming and deserves to do well at the Oscars, although I can see why it is not to everyone's taste.
I am not the best traveller and to be coup up in a flying can for hours on end really tests the patience of your own dear Klaus. Fortunately I am sitting next to rather pretty young American girl who has spent the whole flight poring over papers , which have something to with artificial values for the human heart. Smart girl, Maybe I'll strike up a polite conversation as we come in to land,.
I digress, of course because the whole reason for this trip is to make visit to the Armory art fair and all the satellite happening in New York over the weekend. So hopefully I will not be too jet lagged to take in the main fair tomorrow and then go onto Volta, Scope and Pulse over the weekend.
Phew a lot of art to see and you will be sure that I will be reporting back on galleries and artwork that catches my eye. It will be interesting to see how the market is bearing up as we start to emerged out of a recession. I suspect that the big named pieces will find buyers and the other smaller galleries will struggle to cover the cost of participating in the fairs. It is enough for your own poor Klaus to fly over and stay a few days in New York, I hate to think of the expenses your average dealer from overseas has to meet just to take part. But as they say you have to be in it to win it. Tschussy. Klaus
www.thearmoryshow.com/
voltashow.com/
www.scope-art.com/
www.pulse-art.com
Ahoy From Nudes, a Pirate and Scrooge McDuck [New York Times]
Sales Pick Up at New York Fairs:[Wall Street Journal]
Art Fair Survival Kit by 20×200 [CoolHunting]
20×200 NY art fair map
Read Part 1
Read Part 2
Read Part 3
Categories
Tags