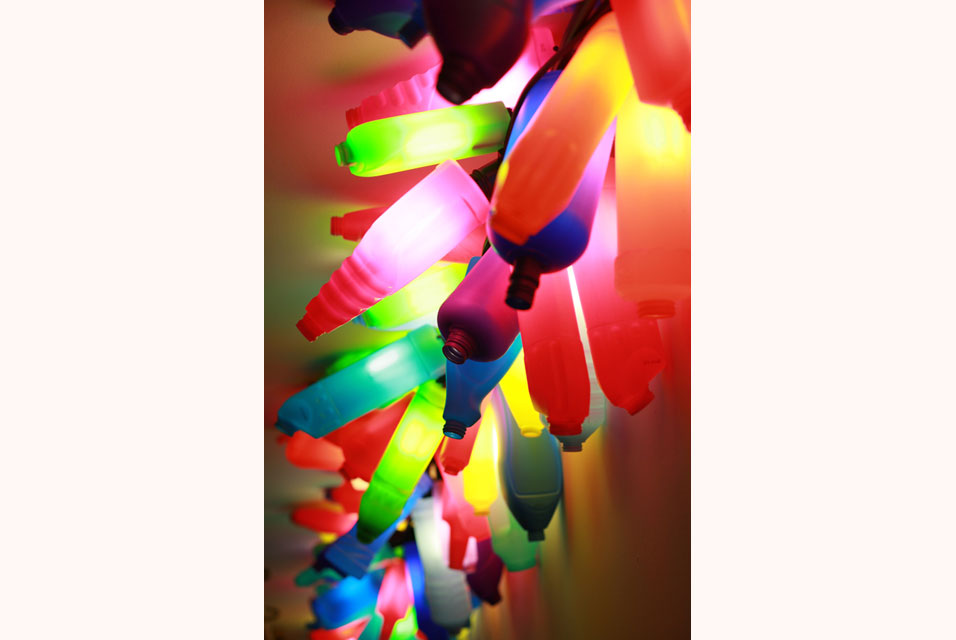 A stunning, luminously coloured new sculpture has been installed in its new home at The McManus: Dundee's Art Gallery and Museum, to mark the building's £12 million refurbishment.
Commissioned directly from the artist, "Waldella, Dundee", by David Batchelor was partly funded by independent charity The Art Fund with a grant of £27,740.
The work, specifically designed for The McManus: Dundee's Art Gallery and Museum and never publicly displayed before, is the largest and most ambitious contemporary work ever to have been bought by the Galleries. Over 10 metres in length and dramatically suspended from the ceiling, it will act as a focal point for the new three storey central circulation area in the redeveloped building. It is designed to draw visitors up through the building, where they will encounter different views of the work from all three floors.
Dundee-born Batchelor (b.1955) is one of Britain's most respected living artists – he is currently working on a commission in London and is preparing a survey of 15 years work at the Paso Imperial in Rio de Janeiro. He has exhibited widely in the UK, United States, Europe and Latin America. His work explores the unnatural, artificial, yet seductive colours of the urban environment and the materials he uses are mass-manufactured or industrial in nature. Waldella, Dundee was created from 250 coloured plastic containers and low voltage lightbulbs, suspended from a thick electrical flex.
The McManus reopens to the public on the afternoon of Sunday 28 February.
www.mcmanus.co.uk/
David Batchelor Wiki
The Art Fund
Categories
Tags