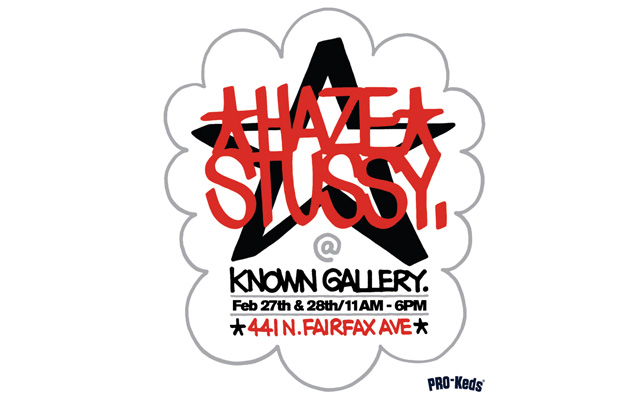 Two legends of street culture come together yet again, Eric Haze and Stussy collaborate to put on a gallery show at L.A.'s Known Gallery, opening February 26th.
To celebrate the US launch of the HAZE x Stussy S/S2010 collaborative collection, the artist and brand will present a special exhibition at the new Known Gallery in Los Angeles. The full scale exhibit will feature more than forty pieces including all of the original artwork used in developing the collection, plus other work from HAZE's archives commissioned by Stussy throughout their longtime creative relationship. Gallery framed and mounted, the original pieces were created in mixed media ranging from paintings to marker and charcoal drawings. In addition to this display, the exhibit will also feature an 8'x 6' hand-painted mural, video piece and product display. Belvedere 1X vodka will sponsor the opening event and provide refreshment. Celebrity DJs and impromptu performances are expected.
Stussy will release a limited edition T-shirt to commemorate the event, featuring artwork by HAZE ($28). The limited edition HAZE x Pro Keds collaborative sneaker will also be for sale at the gallery. Both items will be available for sale at the gallery all weekend.
Opening Event: February 26, 2010 8 – 11PM
Public Gallery Dates: February 27 & 28, 2010
Known Gallery 441 North Fairfax Ave Los Angeles, CA 9003
www.knowngallery.com/
www.interhaze.com/
stussy.com/
Categories
Tags