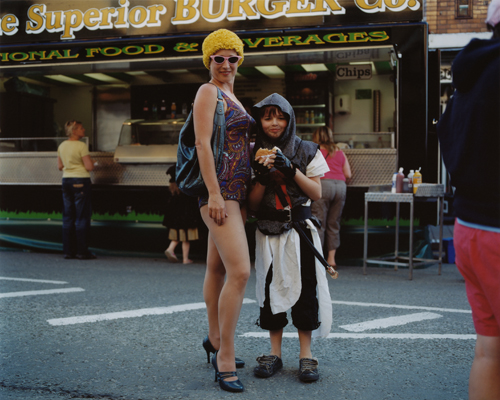 ArtSway is pleased to announce an exhibition of new work by Dave Lewis bringing together photographs and video. Dave Lewis is a photographer and filmmaker interested in identity and how people belong to a place. In making his work, Lewis attempts to act as both an ethnographer (the study of the characteristics of different people) and an artist.
Field Work is a new body of artwork inspired by the idea of the artist as a 'stranger' who visits a place or site to gather first-hand evidence as research. Lewis has explored the New Forest in Hampshire and Newtown in mid-Wales for Field Work. Both of these places are linked by their rural locations and also by their cultural differences to Lewis' hometown of London. By analysing and contrasting these areas, interviewing residents and documenting events such as local festivals and carnivals, Lewis examines the role of the individual within society and how that individual identifies themselves with a place.
For his exhibition at ArtSway Lewis will present a series of large-scale landscape photographs taken on the outskirts of Newtown, and Sway. These photographs are taken from the viewpoint of the 'stranger' as he surveys a place that is new to him. Alongside these photographs are two filmed 'journeys' showing the 'stranger' as he conducts his research into Newtown and Sway, including interviews with local people.
Other images in the exhibition will include photographs Lewis took at carnivals in Wales and the New Forest that further explore ideas of identity and belonging to a place.
Dave Lewis gained a BA (Hons) in Film and Photographic Arts from the Polytechnic of Central London in 1985. Recent exhibitions and screenings include: Photo-ID Norwich Forum, 2009; Hybridity, Sainsbury Centre for Visual Arts 2008; Anywhere but Here, Southwark Gallery, 2008; AfterShock, Sainsbury Centre for Visual Arts, 2007. Dave Lewis lives and works in London and is currently Visiting Research Fellow in the Department of Anthropology, Goldsmiths, University of London.
Dave Lewis: Field Work is a co-commission by Autograph ABP, ArtSway, and Oriel Davies Gallery. Field Work will be exhibited at ArtSway from 6 February – 28 March and Oriel Davies Gallery from 17 April – 9 June 2010.
Via [ArtSway]
About Ann