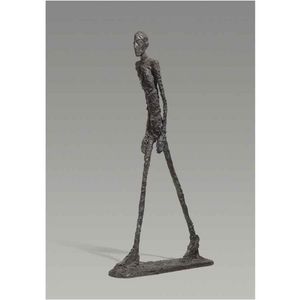 Sotheby's Evening Sale of Impressionist & Modern Art on Wednesday, February 3, 2010 will be the first ever London sale of its kind to include three works individually estimated to realise more than £10 million. The works – each one a masterpiece – are by Klimt, Giacometti and Cézanne. They form the nucleus of an exceptionally rich and varied sale which also offers major works by artists such as Matisse, Feininger, Schiele, Magritte, Miró and Moore.
Melanie Clore, Co-Chairman of Sotheby's Impressionist & Modern Art Department Worldwide, commented: "Following on from the success of our sales in New York in November, we are now delighted to present such important and rare works to the market, which not only reflect the confidence of our consignors, but also cater to the strong interest from collectors around the world for top quality works."
The important still-life Pichet et fruits sur une table, painted in 1893-94 by Paul Cézanne, is estimated at £10-15 million. One of the finest works by the artist ever to come to auction, the painting dates from the period when Cézanne's mastery of the still-life was at its height. The artist's still lifes have long been recognised as being among his greatest achievements and they played a key role in the development of early 20th-century art. Commenting on Cézanne's still-lifes, Roger Fry wrote: 'It is hard to exaggerate their importance in the expression of Cézanne's genius … because it is in them that he appears to have established his ideas of design and his theories of form.' This painting was selected for the cover of the authoritative book Paul Cézanne, A Biography by John Rewald, the author of the Cézanne Catalogue Raisonné.
The quality of this still-life has been recognised by a series of illustrious collectors including Dr Albert C. Barnes, who acquired the work in 1920. His world famous Barnes Foundation in Pennsylvania is home to many of Cézanne's most celebrated works. The painting relates closely to Cézanne's still-life of the same date formerly in the collection of Mr and Mrs John Hay Whitney, which was sold at Sotheby's New York in May 1999 for $60 million. The distinctive blue patterned curtain and still-life composition with fruit also appear in three major oils now in the collections of the Metropolitan Museum of Art, New York, the National Gallery of Art, Washington D.C and the J. Paul Getty Museum in California.
Of equal rarity is Gustav Klimt's Kirche in Cassone (Landschaft mit Zypressen) (Church in Cassone – Landscape with Cypresses), one of the most important landscapes by the artist ever to have appeared on the market. Estimated at £12-18 million, this beautiful, jewellike work was once part of one of the greatest early collections of Klimt's work: that of the Austro-Hungarian iron magnate and collector Viktor Zuckerkandl (1851-1927) and his wife Paula. The painting went missing in Vienna during the Nazi period and only resurfaced several decades later. It is now being offered for sale pursuant to an agreement between the now 81-year old great nephew of the original owner and the European private collector in whose family the painting has been for several years.
Another outstanding work in the sale is L'Homme qui marche I, by Alberto Giacometti. One of the most important sculptures by the artist ever to have come to the auction market, this life-size work ranks among the most arresting and iconic of the artist's bronzes. Its appearance at auction in February will mark the first time a Giacometti figure of a walking man in this monumental size has come to auction in over 20 years. More than that, this particular piece has the distinction of being a life-time cast. No life-time cast of the subject has ever been offered at auction before.
Formerly part of the corporate collection of Dresdner Bank AG (by whom it was acquired circa 1980), the work came into the possession of Commerzbank AG after the latter's takeover of Dresdner Bank in 2009. Cast in 1961, L'Homme qui marche I is estimated at £12-18 million. Proceeds from the sale will be entirely put towards supporting Commerzbank's foundations as well as selected museums.
Fauve and Expressionist works:
The market for Fauve and Expressionist works has grown apace in recent years. Helena Newman, Director of the Evening Sale and Vice Chairman of the Impressionist & Modern Art department, Sotheby's Worldwide, remarks: "In recent years, we have seen an increasing number of buyers, particularly new buyers, looking for early modern masterpieces especially by Fauve and Expressionist artists such as Van Dongen, Kirchner and Matisse."
Henri Matisse's Femme couchée, estimated at £3.5-5.5 million, is a magnificent example of the artist's favourite subject – that of a reclining woman in an interior – and this theme relates closely to his celebrated Odalisques series from the 1920s, which would become one of the most fascinating series of Matisse's entire oeuvre. Probably painted in the artist's studio on the Quai Saint-Michel in Paris around 1917, Femme couchée reflects the artist's romantic and opulent approach that reached a culmination during his time in Nice.
Lorette, the semi-nude Italian model depicted, began posing for Matisse in 1915 and she is captured in the painting wrapped in a Spanish-style shawl and in a state of dreamy abandon on a vividly coloured and patterned sofa, which became a Matisse trademark. The model is said to have had a profound influence in liberating Matisse and his work.
The sale also includes works by Ernst Ludwig Kirchner and Lyonel Feininger. Estimated at £1-1.5 million, Kirchner's Variétéparade (Variety Show), a monumental portrayal of acrobatic stage performers, is an example of German Expressionist painting at its most exuberant. Commenced in 1910 in Dresden and finished in Switzerland in 1926, this remarkable work – full of joie de vivre – plays out all the aesthetic concerns that were at the heart of Die Brücke – the important avant-garde artistic collective of which Kirchner was a founding member.
Locomotive, a vividly coloured work by Lyonel Feininger, carries an estimate of £1.5-2.5 million. Having spent 15 years working as a successful illustrator for periodicals in Berlin and Paris, Feininger only turned his attention to oils later in life and Locomotive, painted in Paris in 1908, is a rare early work from the formative years of his career as a painter. The artist was fascinated by Paris city life and signs of modernity and the subject of trains and locomotives, in particular, was one that he returned to on numerous occasions in his graphic works, oils and drawings. Locomotive belonged to Feininger's eldest son Andreas from his time as a young boy and the painting remained in the artist's family for almost a century.
Gustav Klimt was a great friend and mentor to his younger compatriot Egon Schiele, who is represented in February's sale by Sitzende Frau mit violetten Strümpfen – one of the most arresting and accomplished works on paper from Schiele's mature period. Although not depicted in the nude, the female subject radiates a palpable erotic appeal. She takes up the entirety of the picture surface, her physical presence so dominant that her head appears to extend beyond the edge of the sheet. The sitter is most likely to be Adele Harms, whose sister Edith Schiele married and for whom he evidently harboured a strong physical desire. Executed in 1917, just a year before his untimely death, the work dates from a period of relative success and prosperity for Schiele. As Jane Kallir observed: "His line, by 1917, had acquired an unprecedented degree of precision… Schiele's hand had never been surer, more capable of grasping, in a single breathtaking sweep, the complete contour of a figure…. he had found, in the best of his late work, the perfect line." Amply demonstrating this, Sitzende Frau mit violetten Strümpfen is estimated at £3-5 million.
Surrealist works:
February's sale will also include a strong section of Surrealist works and the group is highlighted by Le Beau Navire, a mysterious composition by René Magritte in which a serene, almost sculpture-like female nude is set against a dramatic seascape. Estimated at £2.5-3.5 million, the painting belongs to a group of works that Magritte executed in the 1940s, all depicting classical female nudes in unidentified landscapes, the woman's upper body permeated by the tone of the sky behind in what has been described as a pictorial reference to black magic: "It is an act of black magic to turn woman's flesh into sky." (David Sylvester and Sarah Whitfield, René Magritte, Catalogue Raisonné.)
Another work in the sale is Peinture (Le Pêcheur) by Joan Miró, a quintessential Surrealist composition painted in 1927 at the height of the artist's involvement with the Surrealist group (est: £300,000-400,000). This will be offered alongside further notable works by Francis Picabia (La Transparence, est: £500,000-700,000), Max Ernst (Arbre et deux personnages, est: £400,000-600,000), and Jean Arp (Tête Bouteille, est: £200,000-300,000).
Sculpture:
Like Fauve and Expressionist art, Modern sculpture has also seen a remarkable growth of interest in recent years and it is well represented in the sale. Monumental sculpture, in particular, has been separately showcased at Sotheby's annual selling exhibitions of modern and contemporary sculpture held at Chatsworth, where an increase in interest from international collectors has been evident.
Alongside the life-size Giacometti bronze mentioned above, the sale will also include a rare example of a unique painted plaster by the artist. Estimated at £1,800,000-2,500,000, Petit Buste sur Colonne was given by the artist to the current owner in 1952 and appears now for the first time ever on the market, having been in the same collection for over half a century.
Giacometti's masterful paring down of the sculpted form can be viewed in the sale alongside a very different treatment of the human figure: that of the legendary British sculptor Henry Moore. Moore is represented in the sale by two works. A monumental outdoor bronze Reclining Figure is estimated at £2,500,000 £3,500,000 and this impressive piece explores the subject that was one of Moore's chief preoccupations during his long career. It was bought directly from the artist's studio by the present owner and has remained in the same collection for over 25 years. It will be complemented by a more intimate piece: Working Model for a Draped Seated Woman: Figure on Steps, which belongs to a series of seated figures that Moore created while developing ideas for the sculpture he was commissioned to make for the UNESCO headquarters in Paris and is estimated at £500,000-700,000.
Categories
Tags