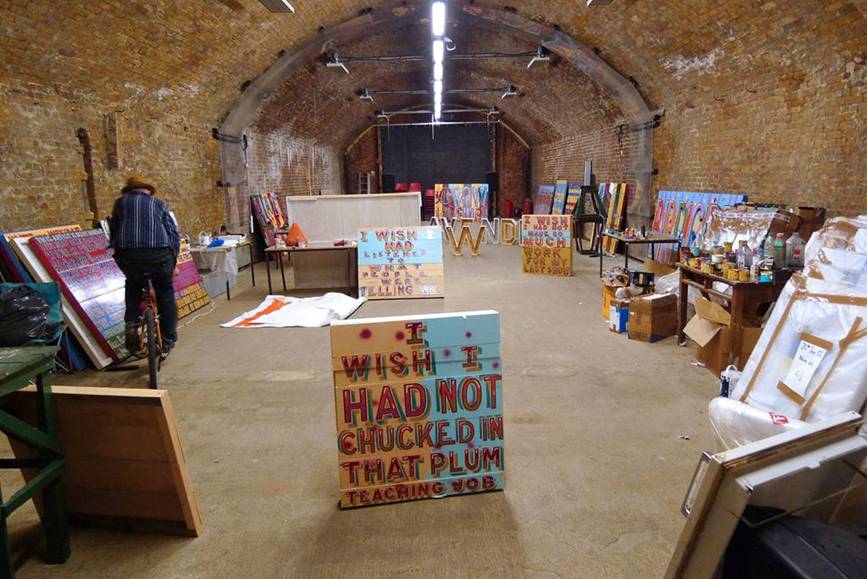 Exhibition: 7 November 2009 – 21 February 2010 In residence: 22 February 2009 – 21 February 2010
Since February 2009, Bob & Roberta Smith have been making the most of the spacious Beaconsfield premises, turning the former Lambeth Ragged School into a prolific site of production for one whole year. As the final months of this epic project approach, Bob & Roberta Smith will mark the end of their time at Beaconsfield with an extensive exhibition in all three gallery spaces, that will showcase the mass output achieved during their time in residence.
On 6 November 2009, Beaconsfield will invite the public to view a culmination of Bob and Roberta Smith's work with a maximalist display in their retro Arch space. The display will illustrate the themes that unite the diverse output of this British Maverick, with an array of recent works made for a plethora of contexts – from international museums to public commissions. The largest work, 'This Artist is Deeply Dangerous' (commissioned by Beaconsfield) will take pride of place in the lofty Upper space where it was painted. This 11 meter long work is the most complex painting Bob and Roberta Smith have done to date and takes inspiration from Tennis Correspondent of the Guardian, Steve Bierley's remarkable article on the artist Louise Bourgeois.
A limited edition woodblock print made for the occasion will be available for sale.
Bob says "The work could be called 'One Song to the Tune of another', let me explain, in the manner of the popular Radio 4 programme 'I'm sorry I haven't a clue', last summer, the Guardian sent its Art's writers to review sports events and its sports writers to review Art event's. Among the results was this amazingly frank analysis of the differences between art and sport by tennis correspondent Steve Bierley. Oddly one visitor to Beaconsfield was Jeremy Hardy who once sang Teenage Kicks to the tune of Jerusalem during an edition of 'I am sorry I haven't a clue.'"
Bob and Roberta Smith believe the activity of art is the important thing. Art is not simply about objects or Artists. "There should be no Artists just people making art." This is the first in the Beaconsfield series Phase, which turns the spotlight on mid-career artists with whom the organisation has had a significant past relationship. Building on his hallmark practice of video and sound installation, the next Phase artist, Mark Dean, will explore questions of the relation between contemporary art and religion, introducing a performative layer to his work
Beaconsfield offers a space for artists and audiences to experience high quality ('beacon'),challenging, new art works in a wide range ('field') of contemporary visual art media through commissions, group exhibitions, performances, publications and events.

www.beaconsfield.ltd.uk
Categories
Tags