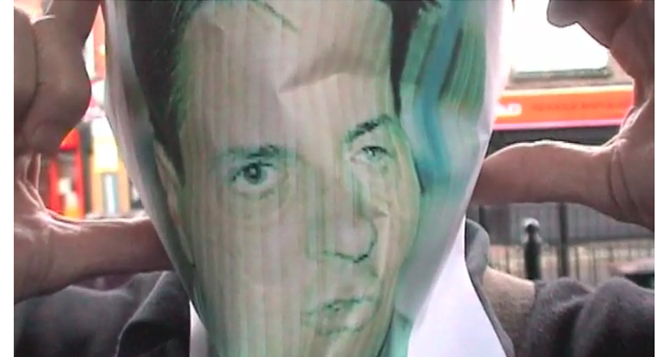 Harold de Bree, Gordon Cheung, Jana Gunstheimer, Luke Jackson, Monica Ursina Jäger, Mark McGowan, Hugh Mendes, Svein Møxvold
In conjunction with the private view of 'Future or Ruin' at CHARLIE SMITH london Mark McGowan will create his most incendiary performance to date:
'In an extraordinary art performance artist Mark McGowan is to dance from Cable Street in East London to CHARLIE SMITH london in Old Street starting at 4.30pm on Bonfire night 5th November 2009, wearing a Nick Griffin mask and dressed with a black shirt.
Cable Street is famous for its battle when Irish and Jewish immigrants stopped Oswald Mosely and his black shirts marching through the East End.
McGowan says,
"This art performance is a piece about freedom of speech. I know there might be some left wing and even right wing people not happy with this event, i am not taking sides it is just a comment on current times and maybe even a homage to Gillian Wearings 'Dancing In Peckham' but with a twist."'
To see preview trailer click on here:
http://www.youtube.com/watch?v=Jvf7Bh-4v8U
Private View Thursday November 5th 6.30pm – 8.30pm
Friday November 6th – Saturday December 5th 2009
In 1921 Adolf Hitler called for a will to power when claiming 'that freedom can eternally be only a consequence of power and that the source of power is the will'. In blaming Germany's current and projected economic misery on the repatriation terms set out by the international community in the Versailles Treaty, Hitler sought to demonise the Jewish financial community and ridicule the 'bolshevism' of the left and 'nationalism' of the right. Consequently, Hitler aimed to re-establishGermany's military might and imperial powerbase by promising to combine social welfare with nationalistic pride through the leadership of the National Socialist party. Throughout the decade the Nazi party continued to agitate and intimidate by using physical violence and unparalleled propaganda until they attained power in 1933, having presented two choices to the people of Germany: Future – the National Socialists; or Ruin – all other options.
Fundamental to Hitler's rise to power were the devastating economic circumstances that Germany experienced post Word War I, providing unsettled and fertile grounds for the Nazi party. In our time the global economic crisis has again coincided with the rise of the far right throughout Europe as unemployment and immigration increase tension and resentment amongst local populations. The British National Party has secured a seat on the London Assembly as well as two European parliamentary seats; in September half of the eighty arrested in Birmingham's race riots were Muslims and allied factions counter-protesting against the English Defence League; Hungary has witnessed a series of Roma and Gypsy killings that are considered the 'most complicated and most serious series of murders in Hungarian history'; Lithuania, Bulgaria, the Czech Republic and Latvia have all suffered street protests, violence and arrests as their economies contract, and unemployment and inflation rise hand in hand.
Disaster and survival; apocalyptic forewarnings; democracy and fascism; power and communication; war and murder; reconstruction and re-enactment; these are the preoccupations of this cross-disciplinary selection of international artists from Britain, Germany, Netherlands, Norway and Switzerland. From de Bree's mimetic remodelling of military hardware to Møxvold's warnings against the terrifying consequences of extreme nationalism via Cheung and Jäger's broader consumerist and environmental concerns; from Mendes' relentless documentation of deceased historical figures to McGowan's brazen re-enactment of Oswald Mosely's 'Battle of Cable Street'; and Jackson and Gunstheimer's complex interweaving of ideology, rationality, reality and fiction, we are confronted with a group of European artists concerned with very European problems.
Categories
Tags