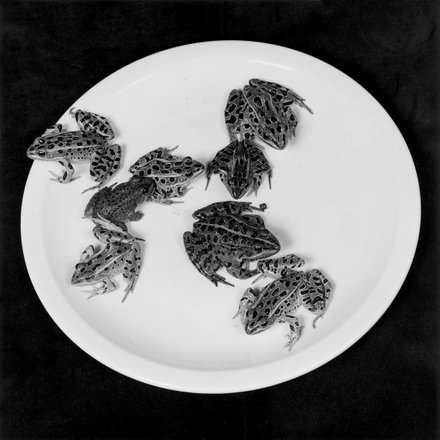 Robert Mapplethorpe, Frogs, 1984 © Robert Mapplethorpe Foundation. Used by permission
To include a perfomance by Patti Smith
Alison Jacques Gallery is delighted to present a new interpretation of the work of acclaimed and controversial American artist Robert Mapplethorpe (1946-1989). Bringing together a range of works in a variety of media, including rarely seen collages as well as photography, the exhibition focuses on the hitherto neglected roles of religious themes and imagery that informed much of Mapplethorpe's practice throughout his career. Since Mapplethorpe's tragically early death from complications arising from AIDS in 1989, the artist has been the subject of numerous exhibitions in museums worldwide and is now considered one of the most important photographers of the twentieth century. This new exhibition offers a timely reappraisal of the diversity of Mapplethorpe's work, and the significance of the sacred and profane in his art.
Alison Jacques Gallery
Tuesday 13 October 2009, 6pm – 8pm
16-18 Berners Street, London W1T 3NJ
About Mark Westall