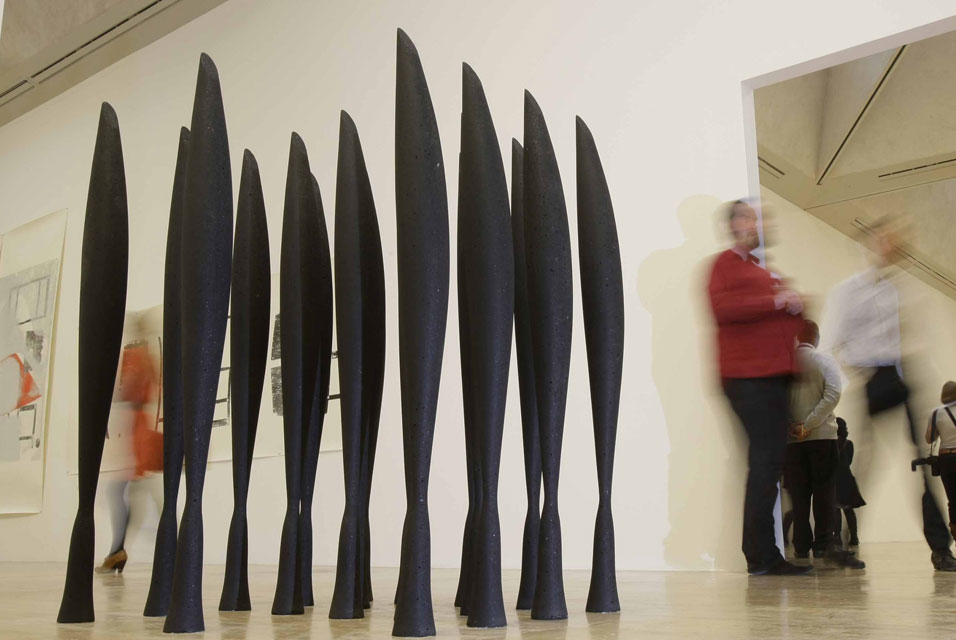 Artworks by four artists shortlisted for Britain's controversial Turner Prize have gone on display at central London's Tate Britain gallery.
The prize always attracts fierce public debate about the nature of art. This year, shortlisted artist Roger Hiorns melted down a jet engine and spayed it through nozzles to form a pile of fine granules. Another finalist, Lucy Skaer, displays the skull of a sperm whale behind a screen.
Artists Enrico David and Richard Wright also were shortlisted for the 2009 Turner Prize in April.
The exhibition of their work opened to the media Monday and will be open to the public Tuesday.
The winner — who will receive 25,000 pounds ($39,850) — will be announced in December.
Enrico David
Enrico David has been nominated for his solo exhibitions How Do You Love Dzzzzt By Mammy? At the Museum für Gegenwartskunst, Basel, and Bulbous Marauder at the Seattle Art Museum. Enrico David is a contemporary surrealist who creates rich and profoundly original painting, drawing and sculpture which are disconcerting, confrontational and beautiful.
Roger Hiorns
For his solo exhibitions Seizure, Artangel commission, Harper Road, London and at Corvi Mora, London. Hiorns creates arresting sculpture and installation combining unusual materials. His exploration of chemical processes took spectacular effect in Seizure, in which a derelict flat in South London was transformed into a magical cave of blue crystals.
Lucy Skaer
For her solo exhibition at the Fruitmarket Gallery, Edinburgh and A Boat Used as a Vessel at the Kunsthalle Basel. Skaer makes drawings, sculptures and films which often take found photographic sources as their starting point. Rooted in reality, yet subjected to a process of elaborate transformation, Skaer's images hover in the space between recognition and ambiguity, figuration and abstraction.
Richard Wright
For the work he exhibited in the 55th Carnegie International, Pittsburgh and his exhibition at the Ingleby Gallery, Edinburgh. Wright creates subtle and exquisite wall paintings that respond directly to the architecture in which they are created. Often awkwardly placed in discreet locations, they combine graphic imagery and intricate patterning from sources as varied as Medieval painting, graphics and typography.
The Turner Prize award is £40,000 with £25,000 going to the winner and £5,000 each for the other shortlisted artists. The Prize, established in 1984, is awarded to a British artist under fifty for an outstanding exhibition or other presentation of their work in the twelve months preceeding 21 April 2009. It is intended to promote public discussion of new developments in contemporary British art and is widely recognized as one of the most important and prestigious awards for the visual arts in Europe.
The members of the Turner Prize 2009 jury are:
Charles Esche, Director Van Abbemuseum, Eindhoven
Mariella Frostrup, writer and broadcaster
Jonathan Jones, art critic, The Guardian
Dr. Andrea Schlieker, Director Folkestone Triennial, and curator
Stephen Deuchar, Director, Tate Britain and Chair of the Jury
About Mark Westall