fig-2 have announced a publication to celebrate fig-2's 50 projects in 50 weeks that took place in 2015 in London (enabled following an Art Happens crowdfunding campaign). Launched on 22 January, the title includes specially commissioned essays and interviews with prominent art world figures including Louisa Buck, Caroline Douglas, Gilda Williams, Catherine Wood and Hans Ulrich Obrist, with introductions by Mark Francis, Candida Gertler OBE, Ed Dolman, Stephen Deuchar, Desiree Bollier, Gregor Muir and Fatos Ustek.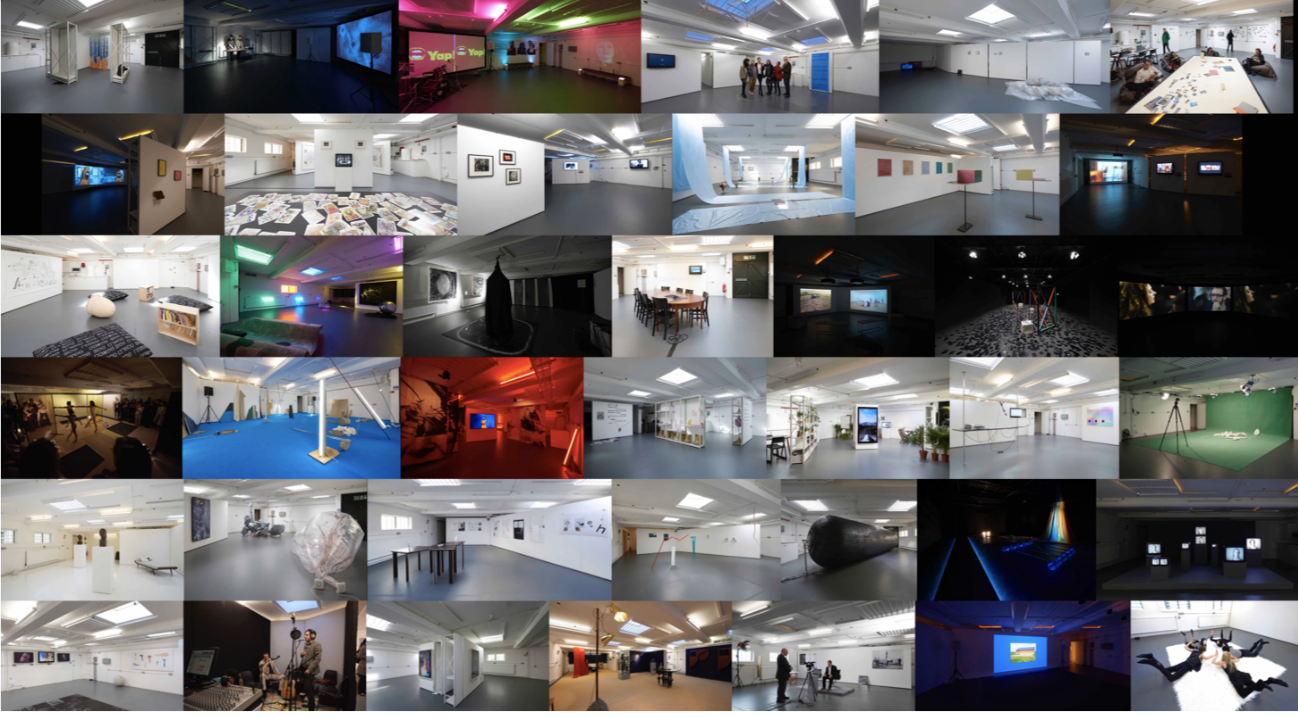 fig-2 at ICA Studio 2015, composite image.
fig-2 also announced a brand new iteration for this year, launching in partner venues across the UK as fig-futures – building both a new collecting model for the country as well as artist and curatorial development opportunities for galleries and practitioners outside the capital.
fig-futures:
The new project will run over 2018 and 2019 in different venues around the UK, hosting 16 shows by fig-2 alumni artists across the course of a year. It will be the first time that the project will take place beyond London and in multiple venues. fig-futures will mirror what fig-2 attempted in 2015 – to capture the aesthetic and critical currency of our times – but this time in 4 new venues, cities and regions. fig-futures was initiated by Outset Contemporary Art Fund to develop a new collecting scheme for the acquisition of artworks into public collections and the concept formalised through conversations between Outset, Art Fund and fig-2.
The participating galleries and project dates are:
Grundy Art Gallery, Blackpool 1 – 26 May 2018 with Allison Katz * Ruth Beale * Rebecca Birch *Amy Stephens
Kettle's Yard, University of Cambridge in September 2018, with collecting partner Norwich Castle Museum & Art Gallery with Oreet Ashery * Broomberg & Chanarin * Patrick Coyle & Francesco Pedraglio * Eva Rothschild & Joe Moran
The Gallery, De Montford University, Leicester in November 2018 with Anna Barham * Kathryn Elkin * Ben Judd * Annika Ström
Plymouth Arts Centre in March 2019, with collecting partner The Box, Plymouth with Laura Eldret * Eva Grubinger * Charlotte Moth * Suzanne Treister
Works by each exhibiting artist will then be gifted into partner collections.
fig-2 publication:
Conceived as a curatorial insight into fig-2's 50 projects in 50 weeks, the fig-2 publication investigates themes driving artistic practice today and an insight into the creative process. Edited and written by the fig-2 curatorial team, and produced with Black Dog Publishing, the publication includes contributions from exhibiting artists and leading figures in the contemporary art world.
Capturing an exhilarating year of cultural production and the furious pace of the fig-2 programme creating 50 projects hosted at ICA Studio in 2015, in association with Outset Contemporary Art Fund and Art Fund – the publication includes curatorial texts, excerpts from artists interviews, preparatory drawings, images of commissioned artworks from the exhibition programme, talks, events as well as offsite projects at Bicester Village.
Following 50 consecutive pairs of full bleed installation images, exhibition texts are then punctuated by commissioned essays. It includes a preface by fig-1 curator Mark Francis, introductions by Outset Contemporary Art Fund co-founder Candida Gertler OBE, Chairman at Phillips Ed Dolman, Chief Executive at Value Retail Management Desiree Bollier, Art Fund Director Stephen Deuchar, ICA previous Executive Director Gregor Muir and a forward by fig-2 curator Fatos Ustek. Art critic Louisa Buck recalls first edition fig-1 in 2000, painting a picture of the second edition of the project and the changes in the contemporary art world in the intervening fifteen years; Director of the Contemporary Art Society Caroline Douglas explores shifting models of philanthropy and patronage in the arts; Serpentine Gallery co-director Hans-Ulrich Obrist discusses curatorial approaches and the role of the institution with Fatos Ustek; Writer and lecturer Gilda Williams uses the fig-2 programme as a vehicle to explore language and differing approaches; Tate Modern Curator of performance Catherine Wood dissects the role and impact of performance ?and performativity on today's art.
The fig-2 publication was made possible with support from the 139 funders through the Art Happens crowdfunding platform by Art Fund, Outset Contemporary Art Fund, Bicester Village and fig-2 publication patrons.
Categories
Tags