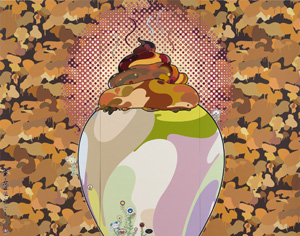 Image:"Planet of Ecology: The Earth" 2008-2009 Acrylic and gold leaf on canvas mounted on aluminum frame 11.5 x 14.6 feet©2008-2009 Takashi Murakami/Kaikai Kiki Co., Ltd. All Rights Reserved.
Courtesy Galerie Emmanuel Perrotin, Paris
The Galerie Emmanuel Perrotin will present an exhibition of major and never-before exhibited works by Takashi Murakami, from September 15 to October 17, 2009 in its two gallery spaces in Paris.
The exhibition Takashi Murakami Paints Self-Portraits will bring together seventeen paintings, including three monumental works, five sculptures and two films. Among the paintings in the exhibition are Murakami's new Chrysanthemums series of tondos (circular-format paintings), which refer to the 17th-century Japanese artist Ogata Kôrin whose white chrysanthemum motifs left a profound impression on Murakami. The flowers stand out on gold or platinum-leaf backgrounds in the purest Japanese tradition. The precious materials and format create a delicate contrast with the fragility of the ethereal plants. Murakami also pays tribute to another influential artist, Andy Warhol, in a series of tondos featuring candy-colored flowers on gold or platinum backgrounds.
For the first time, a set of self-portraits will be exhibited, featuring the artist accompanied by his favorite creatures, including his alter-ego Mr. DOB, whose ambivalent personality shifts from friendly to fierce under the effects of "magic mushrooms." In the large scale painting HIROPON, Me, And My Lonesome Cowboy (2009), Murakami is surrounded by his famous subversive characters. He also appears alongside two of his most recognizable characters, Kaikai and Kiki, as they float amidst his famous smiling flower motifs or among multiple images of the artist's face in the large 3 x 6 meter work entitled Hustle'n'Punch By Kaikai And Kiki (2009), in which he plays on the representation and mystification of contemporary artists.
Another monumental painting entitled Planet of Ecology: The Earth, (2008-2009) is a provocative and almost naïve translation of the artist's preoccupation with Nature and its cycles. Indeed, in a previous animated film Planting the Seeds (2007), the "power of poop" is one of Kaikai and Kiki's key discoveries.
Continuing his collaboration with Kanye West, with whom he worked on the music video Good Morning and the album art for Graduation, Murakami transforms the American rap icon into four Kanye Bear (2009) sculptures, either colored or covered in gold, platinum or bronze.
The Galerie Emmanuel Perrotin organized Takashi Murakami's first monographic exhibition outside Japan in 1995. He has since become recognized as one of the most prominent contemporary artists of his time, and his work has been featured in numerous solo exhibitions at museums and art institutions throughout the world, including The Meaning of the Nonsense of the Meaning in New York at the Center for Curatorial Studies Museum, Bard College in 1999, P.S.1 in Long
Island City, NY (2000), Grand Central Station in 2001, the Fondation Cartier and the Serpentine Gallery in 2002, the Rockefeller Center in 2003, and recently in the traveling retrospective ©MURAKAMI, shown first at the Museum of Contemporary Art in Los Angeles in 2007, then followed by shows at the Brooklyn Museum in New York, the Museum für Moderne Kunst (MMK) in Frankfurt, and the Guggenheim Museum in Bilbao.
As a curator, Murakami challenges accepted notions of history and culture. With his three-part Superflat exhibition, which toured in major museums in America and Europe, he attempted to introduce Japanese artists, animators, cartoonists, etc., to an international audience, under the premise that such categories of creativity are not as rigid in the Japanese system and might all be thought of as "art." The exhibition's final installation, Little Boy, suggested a new interpretation
of history through a political exposition of the A-bomb and postwar Japanese popular culture..
He became known to the general public when fashion designer Marc Jacobs first asked him to reinterpret the Louis Vuitton monogram for their Spring/Summer 2003 line. And thus the collaboration began, as well as through his two animated films, SUPERFLAT MONOGRAM (2003) and SUPERFLAT First Love (2009).
In 2008, Time magazine named him as one of the 100 most influential personalities in the world. This year his monumental work, 727-272 The Emergence of God at the Reversal of Fate (2006–2009), consisting of 16 painted panels, was featured as part of the landmark exhibition, Mapping the Studio at the Palazzo Grassi in Venice.
With a PhD in Nihonga painting from the Tokyo University of the Arts (the former name: Tokyo National University of Fine Arts and Music), Murakami has developed a signature style where the most modern techniques combine with the skill and precision of traditional Japanese art, particularly ukiyo-e (floating world) prints. Inspired by manga and kawaii (cute) culture, his irresistible world is inhabited by monstrous or charming characters, the mischievous descendents of past myths. In 2001, Takashi Murakami established the Kaikai Kiki corporation based in Tokyo and New York, and now also in Los Angeles, a veritable
breeding ground for artists that produces exhibitions, animated films, events such as the GEISAI contemporary art fair, as well as catalogues and merchandise goods. The 'Superflat' aesthetic that Murakami theorized in 2001 attempts to blur the line between high and low art through all mediums including painting, sculpture, wallpaper, animation, fashion, and merchandise.
Categories
Tags