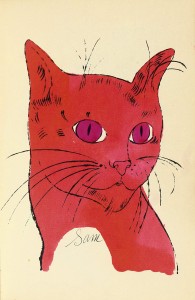 Old Master, Modern and Contemporary Prints Christie's King Street
17 September 2009
The Christie's London bi-annual sale of Old Master, Modern and Contemporary Prints in September will feature a fantastic variety of original prints from the Renaissance to the present day including well-known artists such as Dürer, Rembrandt, Picasso, Beckmann, Matisse, Miro, Bacon, Warhol, Lichtenstein and Hockney.
A range of subjects by Andy Warhol (1928-1987) are on offer in the contemporary section of the sale ranging from Lenin to Marilyn Monroe, including the particularly endearing 25 Cats name[d] Sam and one blue Pussy, circa 1954 (estimate: £35,000-45,000) detail illustrated above. This complete set of eighteen offset lithographs with hand-colouring (including the cover), is one of Warhol's earlier series, which suggests a much more personal tone.
Categories
Tags