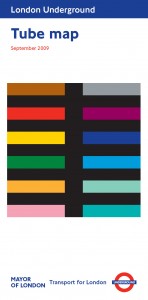 Acclaimed British artist Richard Long has designed the next Pocket Tube map cover for Art on the Underground, which customers can pick up at Tube stations for free from September.
The work, entitled "Earth", shows the different colours of the Tube lines stacked on top of each other, with the black grid between them referencing the Northern line. Long echoes the format of an I Ching hexagram symbolising 'Earth', a figure composed of six stacked horizontal lines from the ancient Chinese Book of Changes. The philosophies of the I Ching recur in Long's work; his current show at Tate Britain opens with two dramatic hexagrams representing Heaven and Earth, from which the exhibition takes its title.
The choice of the Earth symbol for the Tube map is an obvious one for Long, whose work always involves an exploration of the earth's surface, time, distance, geography, measurement and movement. These connect with the I Ching's ideas about the dynamic balance of opposites, the evolution of events as a process, and acceptance of the inevitability of change.
"Earth" will give passengers a chance to think beyond their fast-paced London journeys. The Art on the Underground Programme can offer passengers a moment of contemplation while travelling across the Capital.
Tamsin Dillon, Head of Art on the Underground, said: "I am very impressed by Richard Long's approach to this Tube map cover commission, his combination of the Tube line colours with the I Ching will be compelling food for thought for our customers."
Responding to the recent Richard Long print giveaway by Art on the underground one Tube customer, said: "It takes you away from your day to day world and delivers you to another, to your imagination" while another customer said: "it brings a little magic to the commute…".
Categories
Tags