The much anticipated Burnham Pavilion by Zaha Hadid Architects (ZHA) of London, UK, has officially opened to the public in Millennium Park. The pavilion is located next to the UNStudio pavilion, which opened to the public on June 19. Both are located on the Monroe Street side of the park's Chase Promenade.
More than 7,000 pieces of aluminum – no two alike – had to be individually bent and welded to create its curvilinear form. Then thousands of yards of fabric had to be custom tailored and tightly fit onto the interior and exterior aluminum-tube structure. This first-of-its kind installation stretched the limits of all involved – as a Burnham venue properly should – and its fabrication took longer than the original contractor expected.
Zaha Hadid said, "The pavilion is a classic vehicle for architectural manifestos because their function is not as restrictive as that of a museum or other building. This allows the architectural concepts of the pavilion to dominate.
"Fabric is both a traditional and a high-tech material whose form is directly related to the forces applied to it – creating beautiful geometries that are never arbitrary. I find this very exciting," said Ms. Hadid, the first female winner of the Pritzker Prize for Architecture (2004), who plans to visit Chicago in September.
The ZHA pavilion's unique curvilinear geometries required state-of-the-art fabric technologies executed by Fabric Images. Each piece of fabric was individually sewn and tensioned between the aluminum ribs. Inside is a film installation that offers a fully immersive experience to those who enter.
The inner fabric skin serves as the "screen" for a sound-and-video installation by artist Thomas Gray that impressionistically explores how the Chicago region has transformed during the past 100 years, and asks people to examine their dreams for the future. The creative multi-channel sound track was created by Lou Mallozzi of Experimental Sound Studio, Chicago.
Both the interior and exterior surfaces of the pavilion are bathed in ever-changing lighting designed by Dear Productions.
The two Burnham Pavilions by world-renowned architects, Zaha Hadid and UNStudio's Ben van Berkel serve as focal points for the future-looking centennial. Their high visibility directs the public's attention to the hundreds of exhibits, events, and other activities presented by more than 250 Centennial Program Partners in the three-state metro area.
The privately funded pavilions were commissioned by the Burnham Plan Centennial Committee working in close collaboration with the City of Chicago Department of Cultural Affairs, the Art Institute of Chicago, and Millennium Park Inc. Both pavilions were designed and built to be deconstructed and their materials re-used following the exhibit's closing October 31.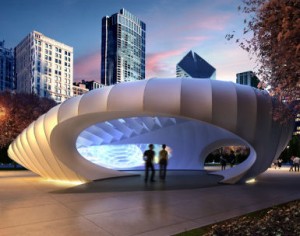 Categories
Tags